I think all of the Santoro images are so artistic and have such a beautiful moody feeling to them. The stamp I used from the Not2ShabbyShop is called, "If Only" (it is currently out of stock, but this project would work wonderfully with any of the Santoro images available at the Not2ShabbyShop). I think she has a kind of wishful, Will-You-Be-My-Valentine? look to her. Thru February 2015, my readers can get 10% off their purchase (including sale items) at the Not2ShabbyShop by using the coupon code: CRAFTYPAWS.
I Copic colored and paper pieced two stamped images. I did one with more traditional brown hair and rose colored dress, paper piecing the bodice from a piece of scrap paper.
Skin: E50, 51, and 53
Blush: R30
Rose and dress: R83 and 85
Hair: E55, 57, and 59
Leaves of rose: YG25 and 17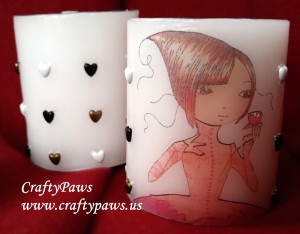 For the second image, I decided to play a little. I used all the same other Copic colors, except the following colors for the hair and dress: B00, 02, 04 and 06.  I also added some white dots, using a white Gelly Roll pen, to her hair to give the impression of little pearls.
I fussy cut out both images and scanned them into my computer using a free software program called paint.net. I cleaned up the images a bit and then printed them out on tissue paper that I had secured onto card stock with some tape. Aside: If you are interested in the color printer I use (I LOVE it), it is this Canon PIXMA MX922 Wireless Color Photo Printer with Scanner, Copier and Fax.
I carefully cut out the images on the tissue paper.  Then I placed each image onto a white candle (you can use other candle colors, but they will alter the colors of your image because the wax will seep into the tissue paper). I covered it with a piece of wax paper (to help hold the candle while heating) and then used a heat gun to melt the candle wax into the tissue paper image. Gingerly remove the wax paper and the image will be embedded into the candle.
To finish off the decorative candle, I used some metal heart studs that I picked up at Michaels, alternating colors and placing them about an inch apart.
The following is a video tutorial of this DIY candle project:
These candles are being entered into the following challenges:
The Pink Elephant Be My Valentine Challenge
One Sweet All About Love? Challenge
Naughty or Nice Are Your Feeling the Love Challenge
Thanks for stopping by and have a great day! WOOF