I know that staining (and yellowing–I have no idea why some stamps yellow with time) does not affect the stamping abilities of stamps. I have stained 2 stamp sets (one acrylic and one photopolymer), and they work perfectly fine. However, the discoloration just bothers me…. I've been stamping for about 4 years, but when I first started, I hated the difficulty of keeping stamps clean. My craft space (which consisted of just a desk and a large IKEA drawer back then) was far away from any sinks and wiping my stamps with baby wipes left a film and fibers on my stamps that got on my nerves. Then there was the fear of losing small clear stamps down the drain while cleaning them "properly" with soap and water. For a while I even decided to just draw my own images and use digis rather than deal with the self-inflicted drama of stamp maintenance.
So now let's jump to present day. I'm now daunted by how many stamp sets I've accumulated over the years. How did I cross this chasm of reluctant stamper to stamp hoard–(erm) fan? Well, the stamp shammy was a game changer for me. I actually use a car washing chamois called The Absorber (27″ x 17″), which is much more economical. You can cut over 20 from one and it costs just a couple of dollars more than one 5″ x 7″ craft store stamp shammy. It feels, works and lasts just the same as a craft stamp shammy and it makes cleaning stamps after using dye inks (like my go-to Momento Tuxedo Black Ink Pad) painless. I just keep one damp in a little bucket on my Raskog cart (keeping it open air helps prevent mold), and I can completely wipe off any dye inks and just put the stamp back in the packaging. It's amazing!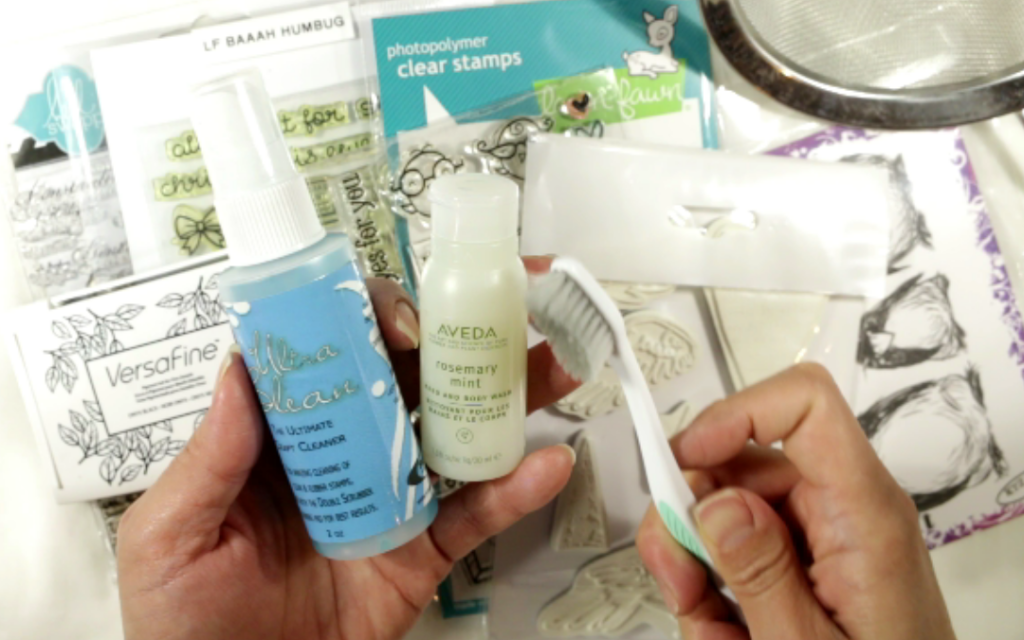 Pigment inks are a little more tricky, and I will say I refrain from using them whenever I can, especially colored pigment inks (which inevitably stain clear stamps). However, when I am going to watercolor or use mixed media, there is no avoiding it. Even still, I use VersaFine Black Onyx Ink more than Ranger Archival Inks whenever I can because it cleans off stamps a bit better without (or with less) staining. I've found that if I am able to immediately clean the stamp after using VersaFine Ink with some Stewarts/Ultra Clean Stamp Cleaner and a bit of scrubbing with a soft toothbrush and follow that up with soaping it up with a bit of body wash (I always take the little bottles of body wash when we stay at hotels) and more toothbrush scrubbing, I can keep even white rubber stamps totally stain-free and clean!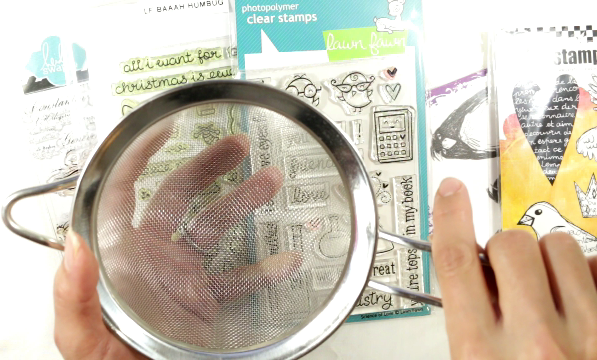 The last tip is about a way to prevent stamp loss. That is, I have found that using a small fine mesh colander to hold my clear stamps in while washing them in my sink has helped me tremendously. No more fear of losing those itty bitty (and slippery) clear stamps down the drain!
The following is a video sharing these and some other tips about stamp maintenance: