I've been very slow to craft this week due to some personal things that came up and some migraines. However, I was really motivated to share this cutsie card with you all, and to announce a FLASH SALE at the Not2ShabbyShop!  This weekend (March 20-22, 2015) much of the store is on sale. PLUS, you can combine sale prices with the coupon code: CRAFTYPAWS for an additional 10% off!
I made this tag card using the Stamping Bella "Valerie Bunny" stamp. She is so adorable, hopping along there in her fuzzy bunny jacket and her springy dress. I stamped it out a few times on different patterned papers so that I could do some fun paper piecing with scraps from my scrap box. I also added some dimension by curling the bunny ears of her hoody and popping up on tiny foam adhesive the pom poms of her strings.  I thought that tiny bit of dimension helped give the illusion of Valerie hopping! LOL
I colored up the non-paper pieced parts with the following Copic colors:
Hair: E55, 57 and 59;
Skin: E50, 51, 53 and R30
Boots: BG10 and 24
Grass on ground and in basket: G43 and 09
Easter eggs: RV1, Y17, BG10 and B02
Lastly, I added a little shine to the eggs with Glossy Accents.
The tag part was relatively simple. I used the Diemond Dies Nesting Tag die set and then fussy cut around two more layers with more blue and green paper from my scrap box. I used an old McGill hole punch tat the top and used bits of various pink, green and blue ribbons to make a little tassle secured with a delicate bow (repeating the colors I used on the image an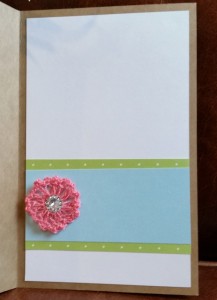 d the scrap papers I had used on the tag frame). Remember if making a purchase at Diemond Dies, use coupon code: thankskristina for an extra 10% off and free shipping on all orders of $35 or more!
I also decided to add a little background layering piece with the same patterned paper I used to paper piece Valerie's dress and edged it with the border punch from the Martha Stewart Crafts Punch Around the Page, Loops Punch Set
.
To add a little more softness, I added a crocheted pink flower from Michaels with a rhinestone center from my stash to the lower right corner. That ended up looking so sweet, that I decided to embellish the inside of the card a bit too and used some more scraps of patterned paper (the same that I had framed the tag with) and another crocheted flower.
The following is a video share of this tag/card:
This tag/card is being entered into the following challenges:
Simon Says Stamp Wednesday Spring Pinterest Inspiration Challenge
Craft-Dee BowZ Anything Goes with a Handmade Bow
Card Mania Spring Challenge
The Pink Elephant Green Challenge
Thanks for stopping by! WOOF