Making homemade embellishments for cards, layouts, altered item projects, etc. can be quick, easy, and give you a great sense of accomplishment.  Another bonus? You will have embellishments that no one else has! I had never tried this before, but I think going forward I am going to be doing this a lot.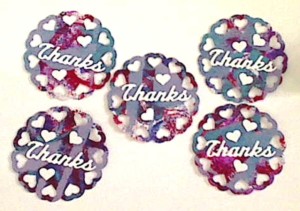 I made some charms. My friend, Bev (YT: NewCrafterBev), who will be receiving all of these, has 3 grand kids and my hope is that they like some of the sports represented by these little sports beads that were the inspiration. I used other beads in my stash along with the sports beads, and these were really fun to make,  just stringing along beads in the chosen color families for each sport. I used amber for football; black, white, clear, and purple for soccer; and blue, black, and clear for baseball. These charms can be added to one chunky charm, the fronts of mini albums, a key chain, or any number of other alter item projects for a little extra umph!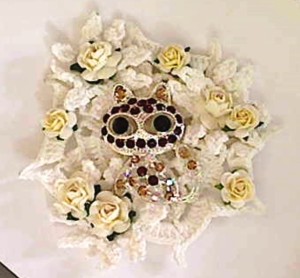 I made simple paper embellishments using a Die-Versions "Thanks" die and some scalloped heart punch outs using my EK Success punch with beautiful hand inked paper I received from my friend Rosa (YT: ColorXplosion by Rosa). Punching out a few extra little white hearts added a little more love to the project.
I also used a blingy cat hair pin as a center for a beautiful crochet doily and flower embellishment. Everything was adhered with Fabri-Tac.  Bev is a cat (and dog) lover, so I know this will be going to a good home. 🙂 How cool is that? You won't find this at any big box craft store; it's one of a kind! LOL
Lastly I made little bumble bee paper clips using tiny crochet doilies and pipe cleaner bumble bees that I wired on. For extra security, I used Fabric-Tac glue to adhere the bee to the doily and E6000 glue on the back sides to cover up the wiring with a little gem.
The following is a share video of these projects:
Thanks for stopping by and have a great day! WOOF