I made this pocket letter for my sweet friend Myra (YT: craftyrats), who recently lost two of her sweet kitties, and could really do with a little cheer. At first I thought the sweet elves (that look like they are full of fun and looking for hugs) from the Ellen Hutson Elf'd stamp set (currently 25% off HERE) would be perfect.  Then I saw that Sandy Allnock had recently created and released a free "Elf'd Essentials" digis set (available HERE) that matched up with one of the elves like clothes for paper dolls (which I used to love as a child).  Oh yes, NOW I could bring a little Christmas cheer in the form of a holiday themed Harry Potter pocket letter (I'm a huge fan of Harry Potter and have read all the books at least twice and seen all the movies countless times! I know, I know, how do I find the time! LOL Actually I like having the movies on in the background while I'm crafting) 🙂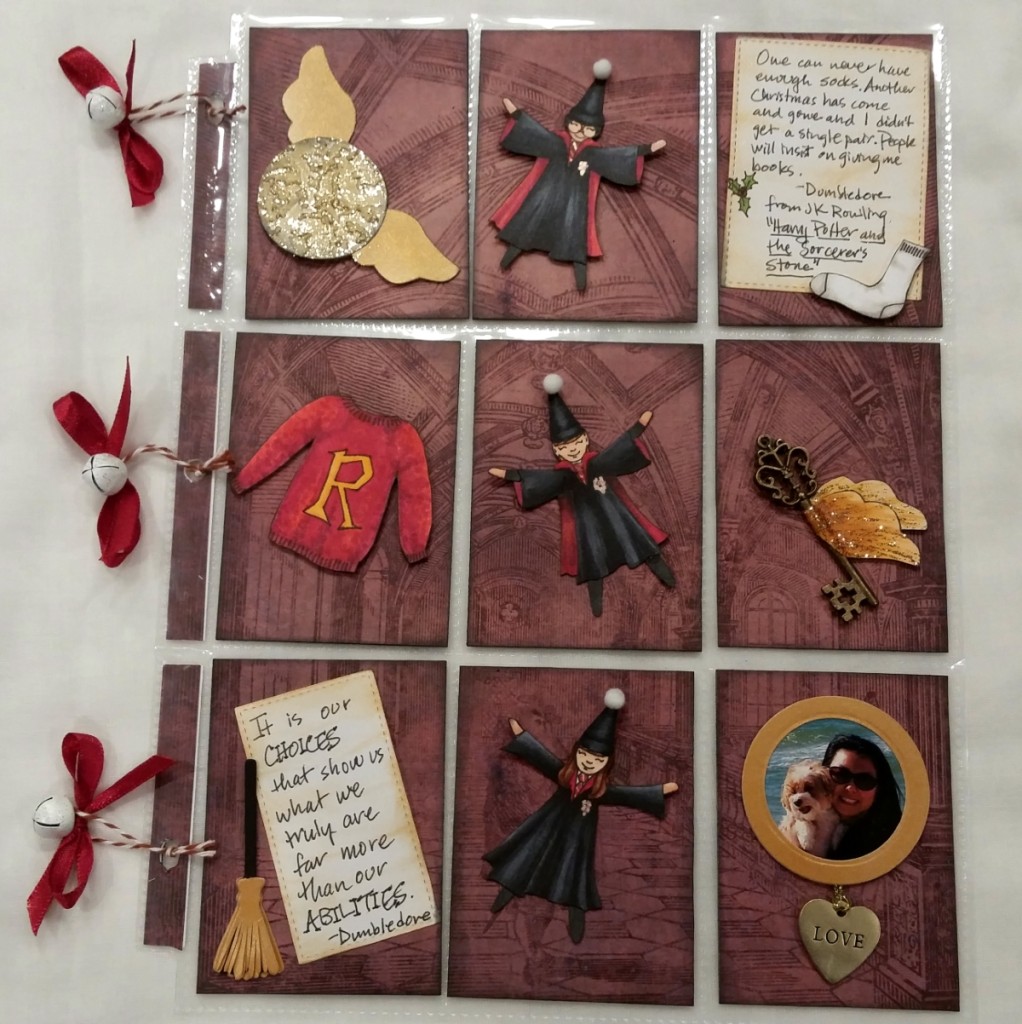 I colored up the standing elf and a couple of the digis (Harry and angel) with the following Copic colors to create Harry, Ron and Hermoine:
Skin: E00 and 11
Red of robe collars and Ron's sweater: R24, 29 and 39
Yellow highlights of Gryffendor ties and the R on Ron's sweater: Y35 and YR04
Black of robes and shoes: C5, 7, 9, and N10
Ron's red hair: E97, E99 and YR04
Hermoine's brown hair: E23 and 29
Harry's black hair: C7 and 9
Golden wings of winged key: YR20, 31 and 24
Sock: W1 and 3
For the background paper I used beautiful patterned papers that looked like the halls of Hogwarts (front) and a crest with a knight like one of the stained glass windows from Hogwarts (back) from the DCWV "Once Upon a Time" stack.
For the pocket with Ron's Christmas sweater, I used a 0.1 pt Copic multiliner pen to draw out a simple sweater with an R and colored it up with a dotting technique to give the impression of a nubby sweater. To create the golden snitch, I used a Tim Holtz Alterations embossing folder to create some texture, used a circle die to cut out the ball, and attached the wings from the digi set.  For the gold coloring, I used a metallic gold gelato for the ball and Delicata gold ink for the wings. To add extra glittery magic, I used gold Stickles in the nooks and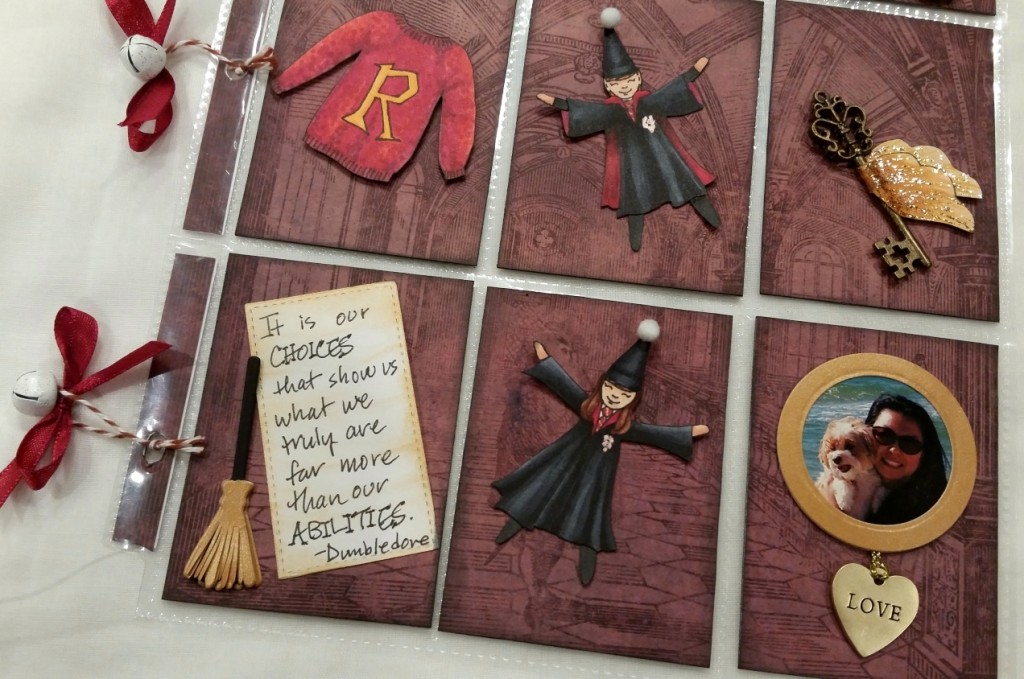 crannies of the ball. To create the winged key, I took a metal key (from a $1 bin at Michaels) and wrapped another copy of the wings from the digi set that I colored up with Copics and glittered up with more gold Stickles.
I also added a couple of my favorite quotes from the stories–one about getting socks for Christmas and another about choices (not abilities) being the true measure of a person–that I thought were really appropriate for this holiday themed pocket letter. For the quote about socks, I drew a simple sock and for the quote about choices I used a little broom die to create a dimensional flying broom. 😀 To make the quotes blend a little better with the colors of the pocket letter, I die cut them with stitched rectangle dies and inked them with more Delicata gold ink.
Finally, for the little extra trimmings I added white glittered jingle bells with red satin ribbon bows and brown and white bakers twine to each of the three holes along the side of the pocket letter. I usually cover this side strip with washi tape, but because the back paper image had a quote that wouldn't fit without adding that little extra bit of the selvage area, I inserted little strips of the background papers into those tiny strip "pockets" (including the last letter "E" of the quote). WOA that was a lot of measuring and Xacto cutting, but it was worth it to get the whole quote in on the back.
The following is a video share of the whole pocket letter with more details (including even the pocket with the picture of me and Biscuit!):
This pocket letter is being entered into the following challenges:
Simon Says Stamp Monday Gentlemen Challenge (I'm going to say Harry and Ron are little wizarding gentlemen-LOL)
Lil Patch of Crafty Friends Anything Goes
Through the Craft Room Door Anything Goes
Crafts Galore Encore Anything Goes
Virginia's View Challenge 21: All About Glitter (on the golden snitch, the wings of the winged key, and the white jingle bells)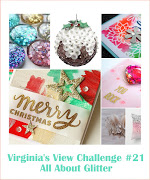 Thanks for stopping by, and have a great crafty day! WOOF