A super sweet crafty friend recently lost her husband and she is facing her first birthday alone this month. I wanted to create an extra special card to let her know she is loved, thought of, and not alone. To do that I created a 3 panel scene card featuring the 3 main characters from Harry Potter using The Greeting Farm "Honor Student" and "Magic Class" stamp sets.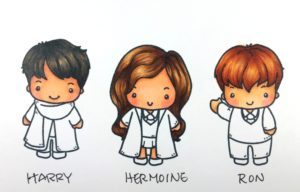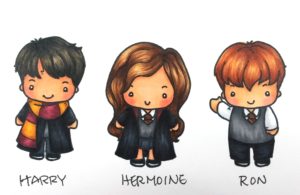 I stamped and Copic colored the three main characters: Harry, Hermoine and Ron. I gave Harry his signature round glasses (coated with Ranger Glossy Accents for shine), a flying broom, and doodled in his lightning bolt scar. Hermoine is holding potions bottles that are topped with Ranger Glossy Accents for a glass-like shine. Ron is holding his wand and is summoning his patronis, which is a Jack Russell Terrier (you knew I'd try to squeeze in a dog if I could, right?! LOL ). I doodled in the Jack Russell patronis using a Cool Gray Copic Multiliner Pen, a Uniball Signo White Gel Pen, and Copic Markers in B00 and B24. I also coated it with Clear Wink of Stella to add a magical shimmer.  I fussy cut out all three characters as well as the patronis with my trusty Fiskars spring loaded scissors, and I inked the edges with a Momento Tuxedo Black Marker for a finished look.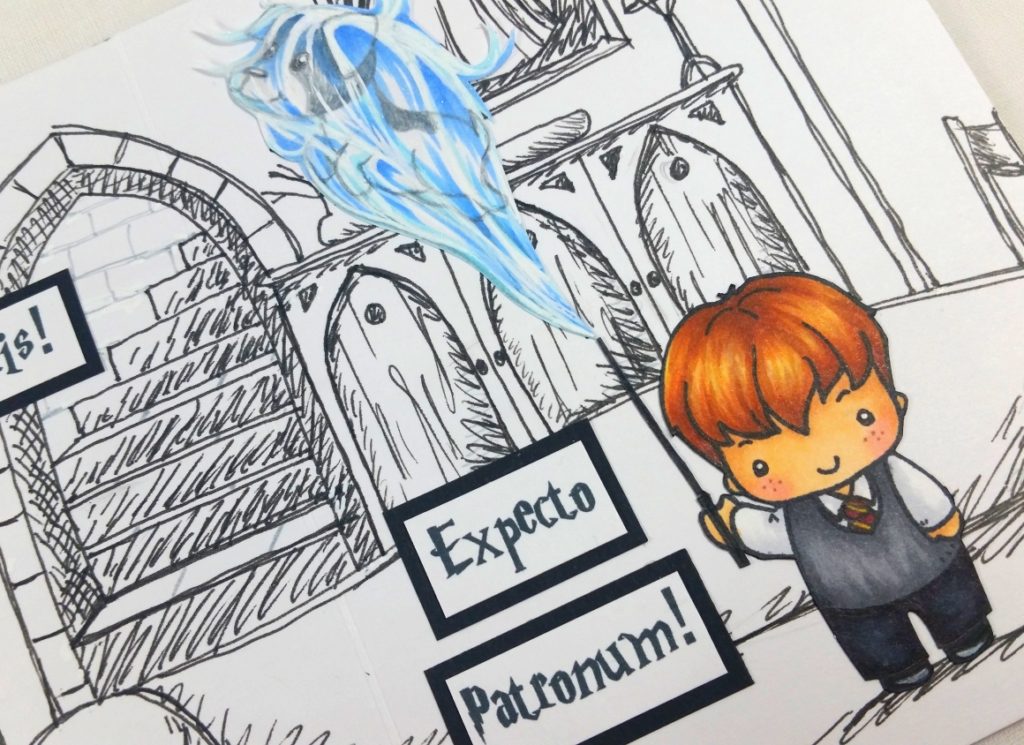 Now to make this extra special … hmmm. I didn't have all the stamps I would need to replicate the Gryffindor common room so I decided to take a shot at drawing all the scenes with a Black Uniball Ink Roller Pen. I looked at lots of pictures on the Internet and just went for it. I drew the big couch they often sat in first. Then I drew in the staircase that led up to the boys' quarters in the background. I also drew in a side club chair, portrait paintings, a cabinet, tabletop accessories, etc. I kept the drawing style loose and sketchy, which I think helped me get down the general look and feel without getting too caught up in the details.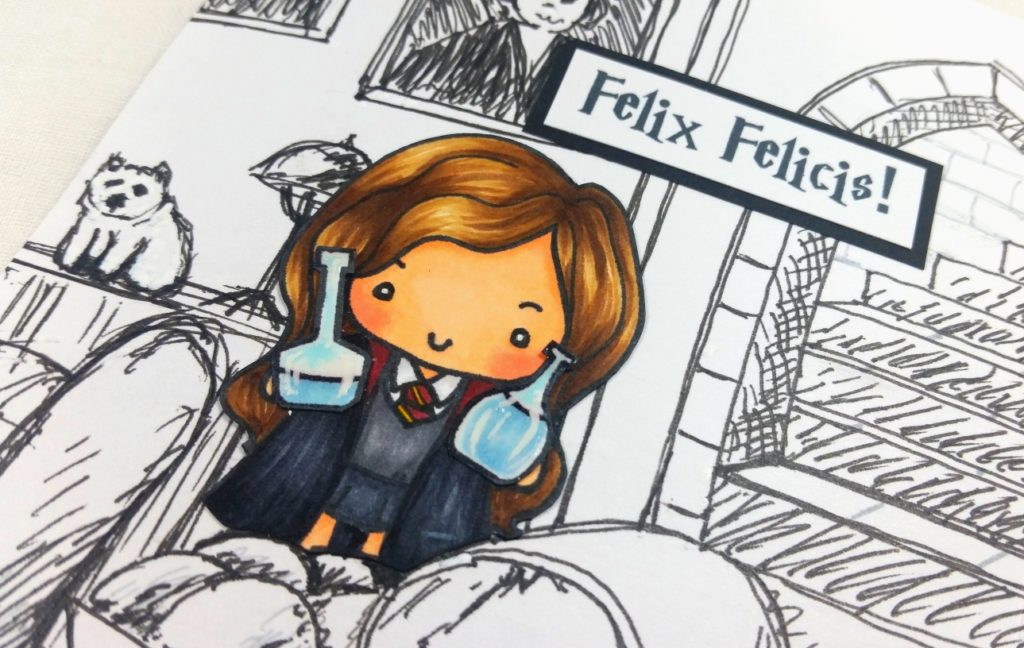 Then for the card front, I thought about creating a scene of the Fat Lady painting who guarded the entrance to the Gryffindor common room. After a lot of Googling, I found a great picture of Dawn French as the Fat Lady, that I thought I could download from the Internet and manipulate to look like a sketch. I used the free paint.net software program to take the color image, make it black and white, alter it to look like a pen drawing, and have it fit into a frame that I stamped out from the Santoro Gorgeous Girl Toadstools Stamp Set (which I sized down to fit on an A2 card (5.5″ x 4.25″)).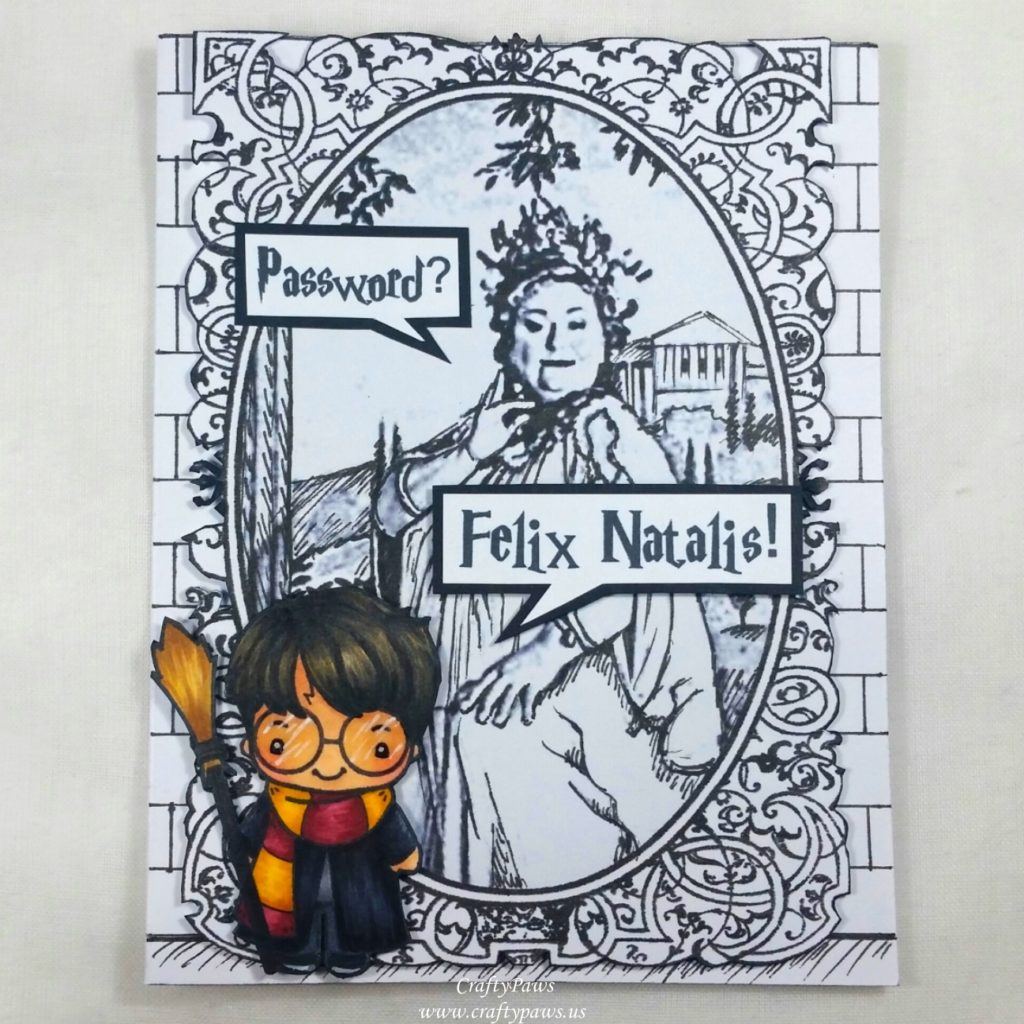 I printed out the Fat Lady portrait, doodled over top to make the image look more sketchy to better match the interior scene sketching I did, and fussy cut out the intricate frame. I popped up the portrait on double sided foam adhesive to give her a little dimension from the background stone wall that I doodled in along the edges of the card front base.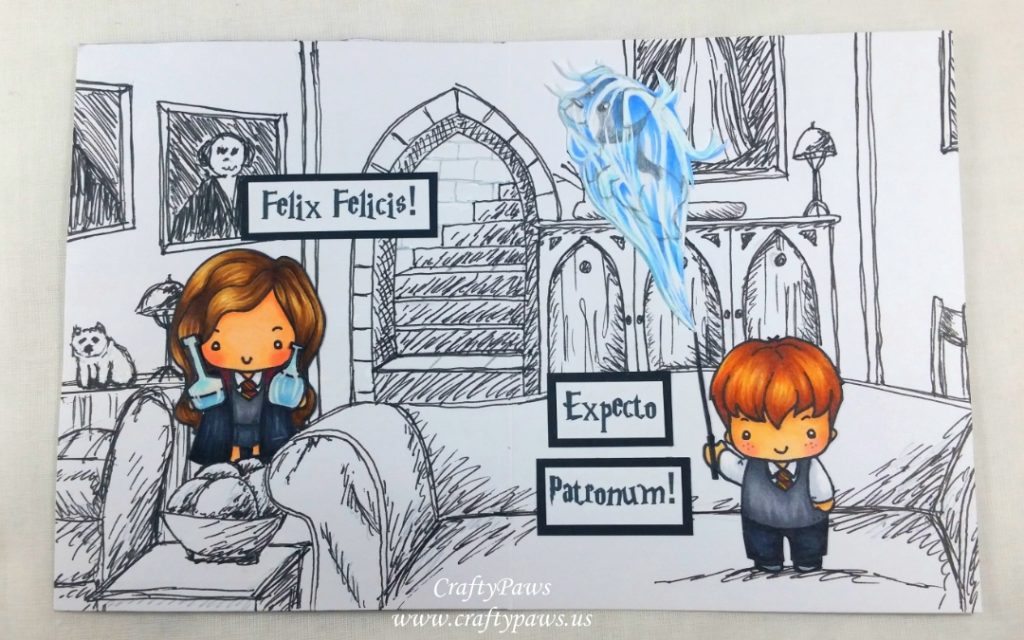 As I positioned Harry, Hermoine and Ron on each panel of the card, I made sure I left room to add sentiments that I printed from my computer using a free Harry Potter font. I printed out "Password?" for the Fat Lady; "Felix Natalis!" (happy birthday in Latin) for Harry; "Felix Felicis!" (the liquid luck potion from "Harry Potter and the Half-Blood Prince") for Hermoine; and "Expecto Patronum" for Ron and his Jack Russell Terrier patronis. As all the sentiments say, I want to wish my friend, Sue, a happy birthday, a day filled with all good luck, and protection from bad things.
The following is a video share of this card: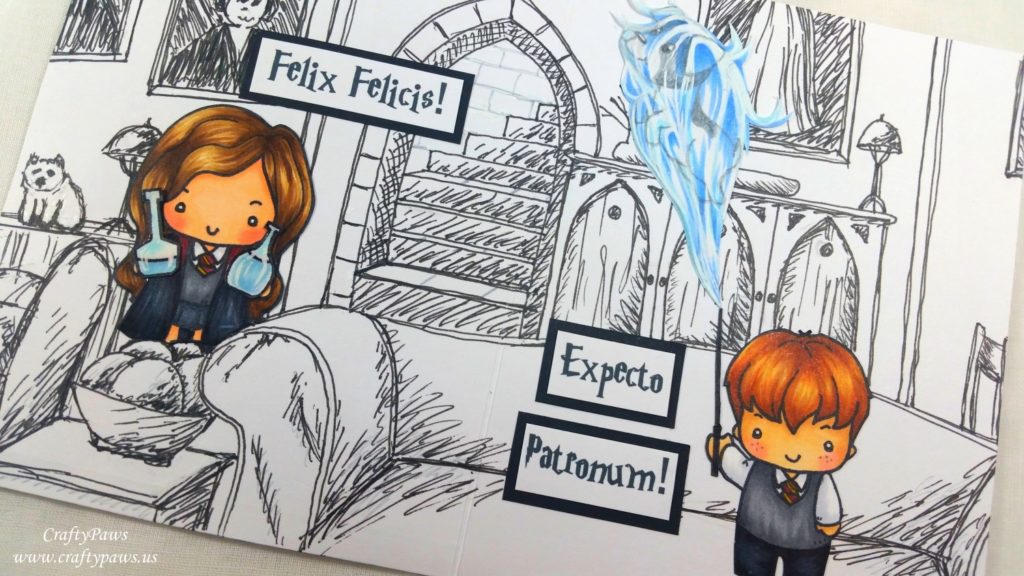 Disclosure: Many of the supplies I've used for today's project are linked. Some may be affiliate links, which means if you make a purchase I receive a small commission at no extra cost to you. I truly appreciate your support toward the costs of running this blog!
This card is being entered into the following challenges:
Crafter's Castle Anything Goes with Optional Dimensional Challenge
Simon Says Stamp Monday A Trio of Something Challenge
Simon Says Stamp Wednesday Happy Birthday Challenge
Word Art Wednesday Anything Goes Challenge
Creatalicious Anything Goes Challenge with Optional Friends/Friendship Challenge
Lil Patch of Crafty Friends Anything Goes Challenge
Through the Craft Room Door Anything Goes Challenge
Crafts Galore Encore Anything Goes Challenge
613 Avenue Create Anything Goes with Optional Use Vellum Challenge
Crafty Gals Corner Anything Goes Challenge