In the crafty community on Youtube, there is an amazing practice of sending RAKS (Random Acts of Kindness) or "Happy Mail". When I first joined the community and received my first RAK, I was blown away. My hubby and my nephew (who was staying with us at the time) were incredulous. What kind of Eutopia is this?!
Well, now that I have been part of the community for about 9 months, I have had an incredible number of beautiful creations sent to me, whether as entries to challenges I hosted or RAKS or Happy Mail. In reflecting about my birthdays for a challenge hosted by a YT friend, Maureen (YT: Scrappin Maureen), I decided I would make a layout about this phenomenon and my great fortune in crafty love.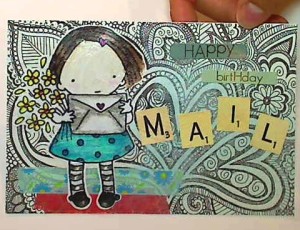 The main picture on the layout is of a huge book shelf filled with all the incredible creations I have received from crafty Youtube friends.  I have been blessed, and I am so thankful for having joined YT and making such wonderful friendships. I feel as though I have found MY people–kindred spirits. And now I can't imagine life without being part of this wonderful community.
The layout was made with papers and cut outs from the Amy Tangerine Sketchbook pad, the Dear Lizzy Neapolitan pad, and the Heidi Grace Daydream pad. The zentangles on the layout and the coordinating 4″x6″ Project Life (PL) style card were gifts from my friend Judy (YT: JuJu Pem) — aren't they amazing! The free digital image I colored and used in both the layout and the coordinating  card is Pure Innocence.
The following is the video sharing the layout and card:
The PL style card with the washi tape is also being entered into the Ribbon Carousel Blog Third Birthday Challenge
The layout and PL card aboug happy MAIL is being entered into the Simon Says Stamps Monday Challenge
The layout and PL card with Pure Innocence holding spring flowers is being entered into the Simon Says Stamps Wednesday Challenge
The layout with the polka dot papers and striped background on the Polaroid cut out is being entered into the Paper Crafting Journey Spots and Stripes Challenge
The LO and PL card with the Pure Innocence image with the flowers and the zentangle with flowers is being entered into the One Sweet Challenge for May
Thanks for stopping by! Please subscribe if you wish, and have a great day. WOOF