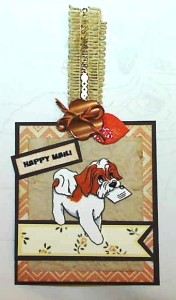 Hi folks!  I'm not feeling well today so this is going to be a short post. I just wanted to share with you all my latest free digi. He's called "Happy Mail" or "Special Puppy Delivery". He's modeled after my little Havanese, El Bandito aka Little Baby Dito Grande (LOL). Hope you enjoy playing with this latest digi.
He's available for free download for the next month HERE.
I made two tags with him, coloring him up with Copic markers: E11, E13, YR24 and C3. I made little gift tags using lots of different patterned papers from my scrap box. The clean and simple one has a little bit of detail with stars punched out of striped and polka dot papers and  a hand dyed seam binding ribbon. The prim one was made with lots of scrap patterned and textured paper, a fun twine and sequin ribbon, a flower button, colorful baker's twine, and a air clay orange leaf.
The following is a video sharing this digi and the tags
The second tag is also being entered into the Sugar and Spice Crafty Challenge.
Thanks for stopping by! Big hugs, Kristina  ~WOOF!