I know, I know, I am really behind. These are the first 2 holiday cards I've made this year.  It's time to be realistic. Non-crafty friends and family, will be getting a family portrait card with some sticker embellishments. For the few crafty friends I have living abroad, I'm going to be mailing these cards tomorrow, and hoping they get to their recipients before the new year. LOL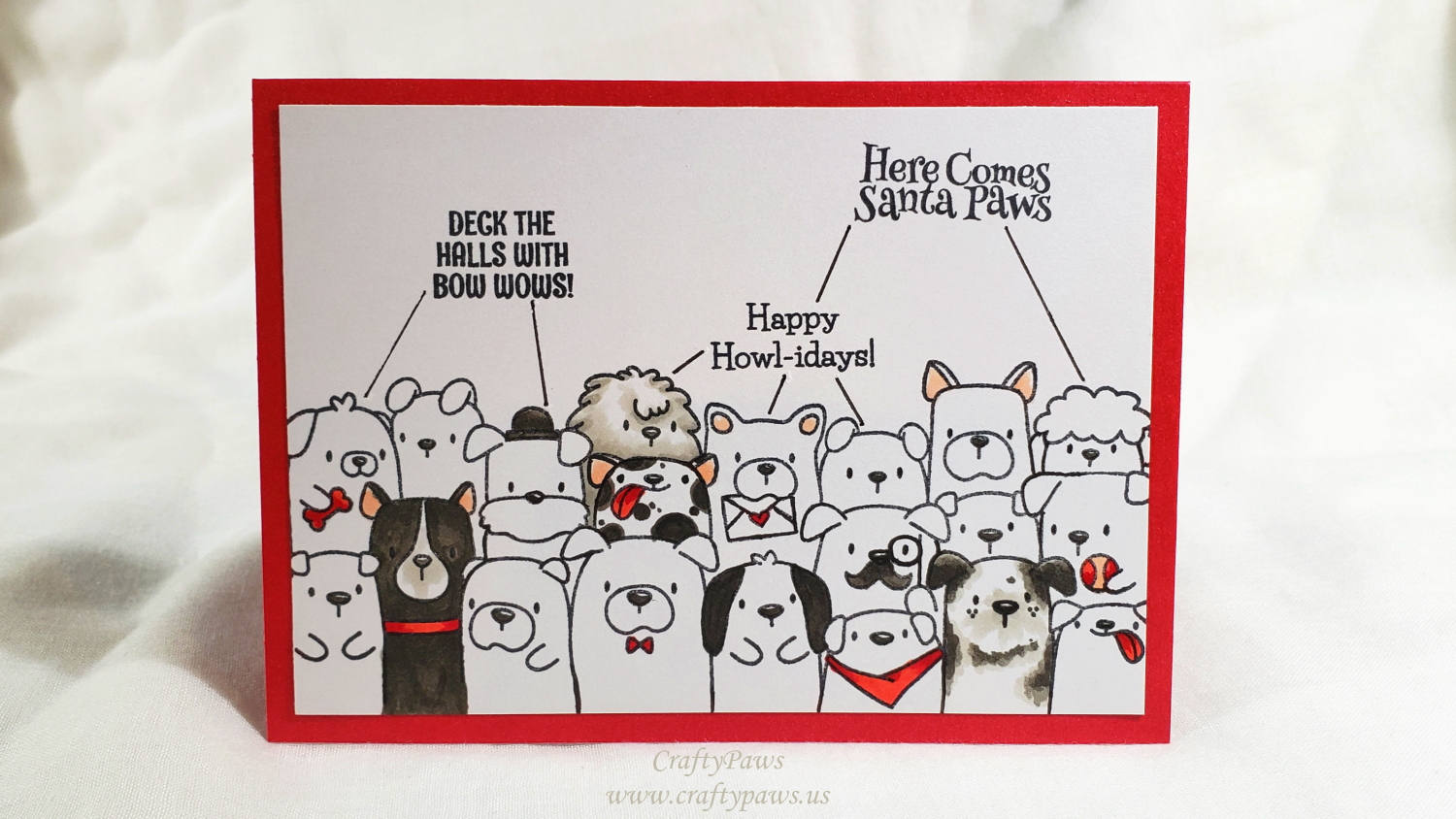 For these two cards, I used the adorable pack of pups from the Mama Elephant "The Dog's Woof" stamp set. For one card, I limited the coloring to a few of the pups in warm greys with red highlights for pops of color. Doing this spotlight coloring also saved a lot of time. 🙂
Warm Greys and whites: W1, W2, W3, W5, W7
Reds: R30, R24, R29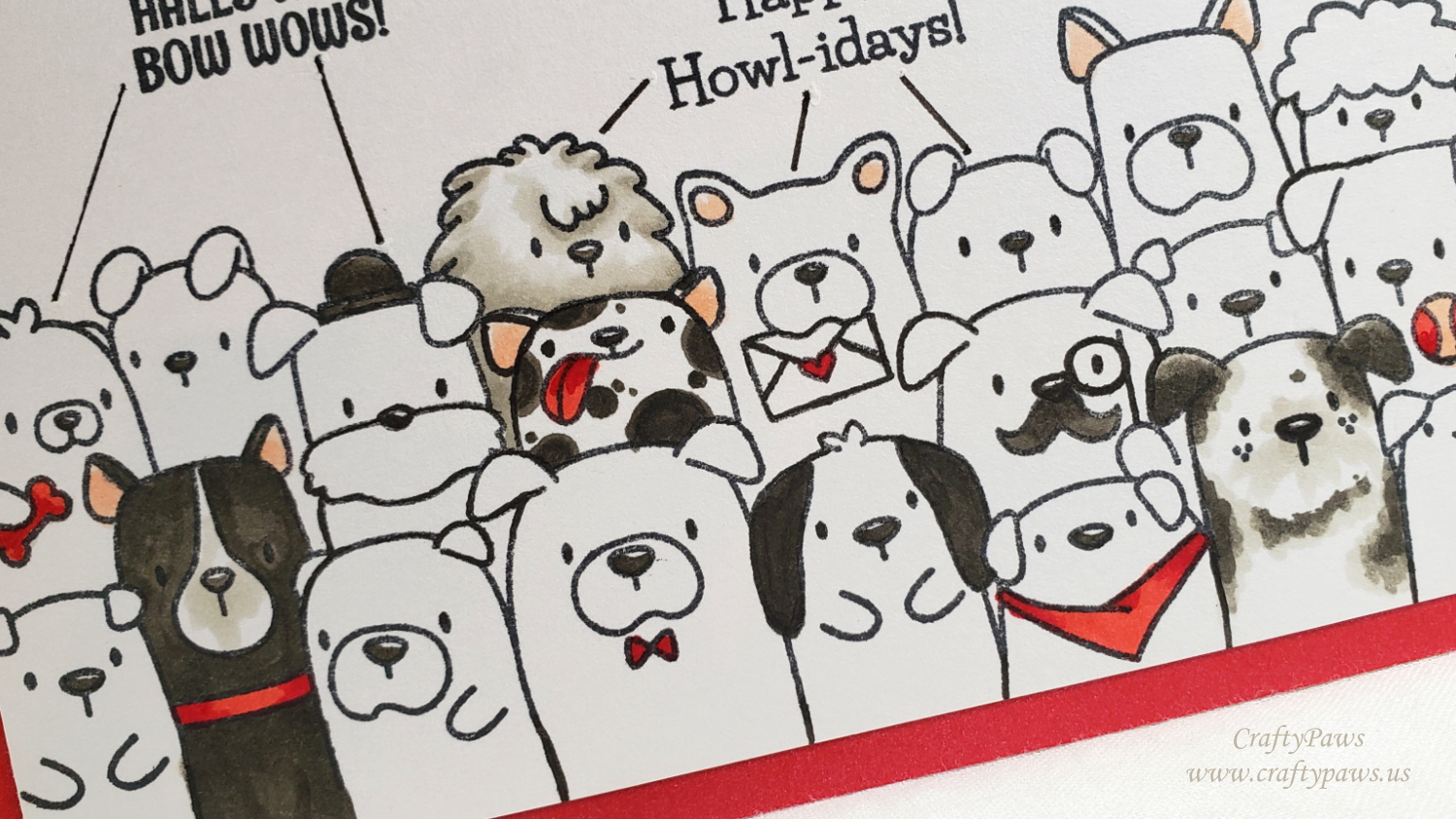 For the second card, I used the same warm browns and reds but added some warmer golden and brown tones to color up the entire pack:
Warm Greys and whites: W1, W2, W3, W5, W7
Reds: R30, R24, R29
Golden tones: E11, E21, E13, E23
Browns: E13, E15, E23, E25, E59
Uniball Signo White Gel Pen for highlights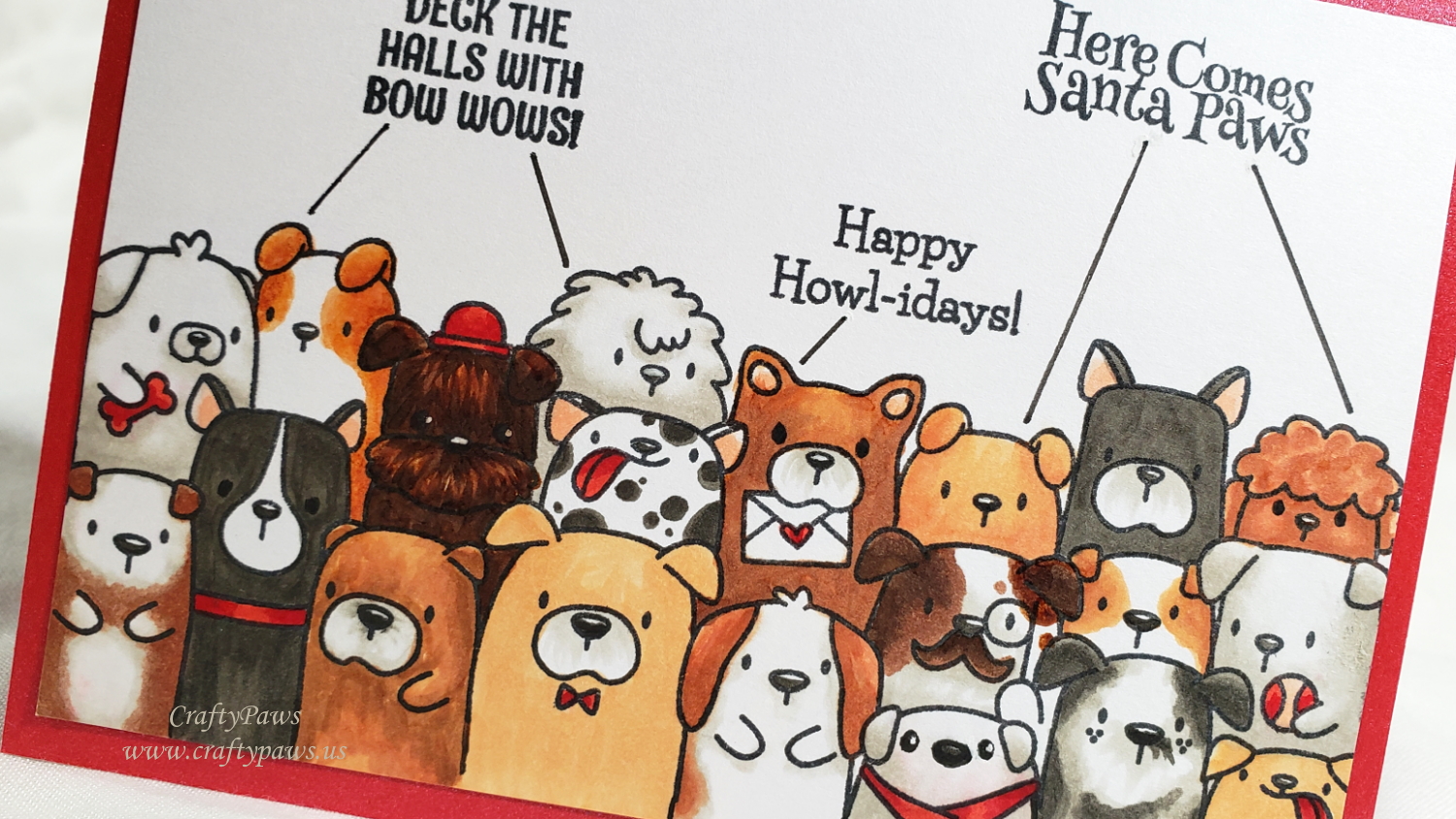 For the small sentiments, I used the Art Impressions "Santa Paws Set" and then drew in speech lines with a Copic Multiliner Pen in 0.1 pt Black Pen and a ruler. I loved how using these 3 different sentiments: "Deck the Halls with Wow Wows!", "Here Comes Santa Paws", and "Happy Howl-idays!" in the otherwise blank top half of the card front adds interest and a kind of rhythm.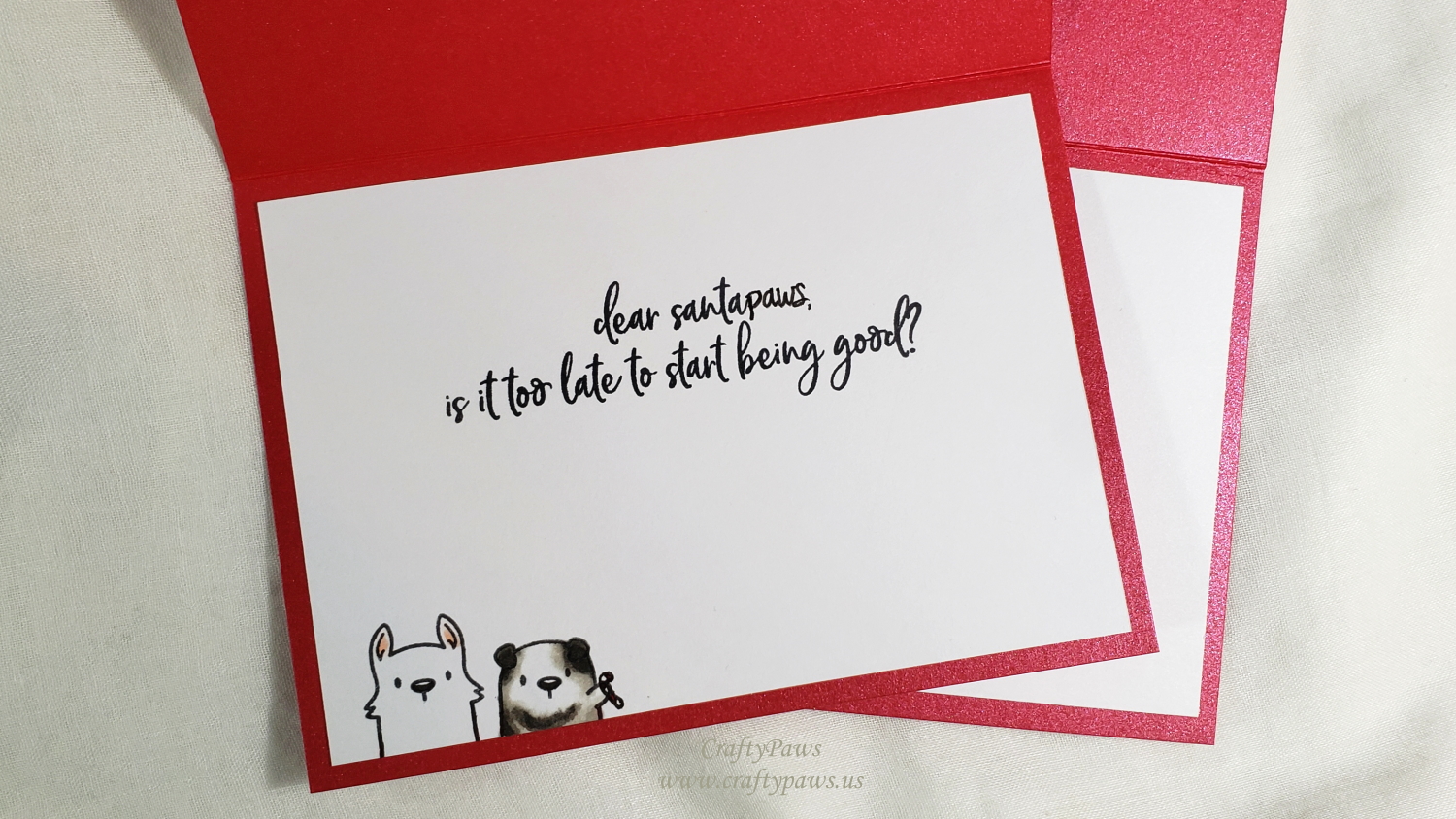 For the inside liners of the cards, I added two more pups from the Mama Elephant "The Dog's Woof" stamp set to add a little extra somethin' somethin' to decorate the inside. I used a funny Picket Fence Studios sentiment from the "Inappropriate Christmas" stamp set for the main sentiment. I altered it a tiny bit using a Copic Multiliner 0.05 pt Black Pen by adding "paws" to the end of "santa" to make the sentiment read, "dear santapaws, is it too late to start being good?"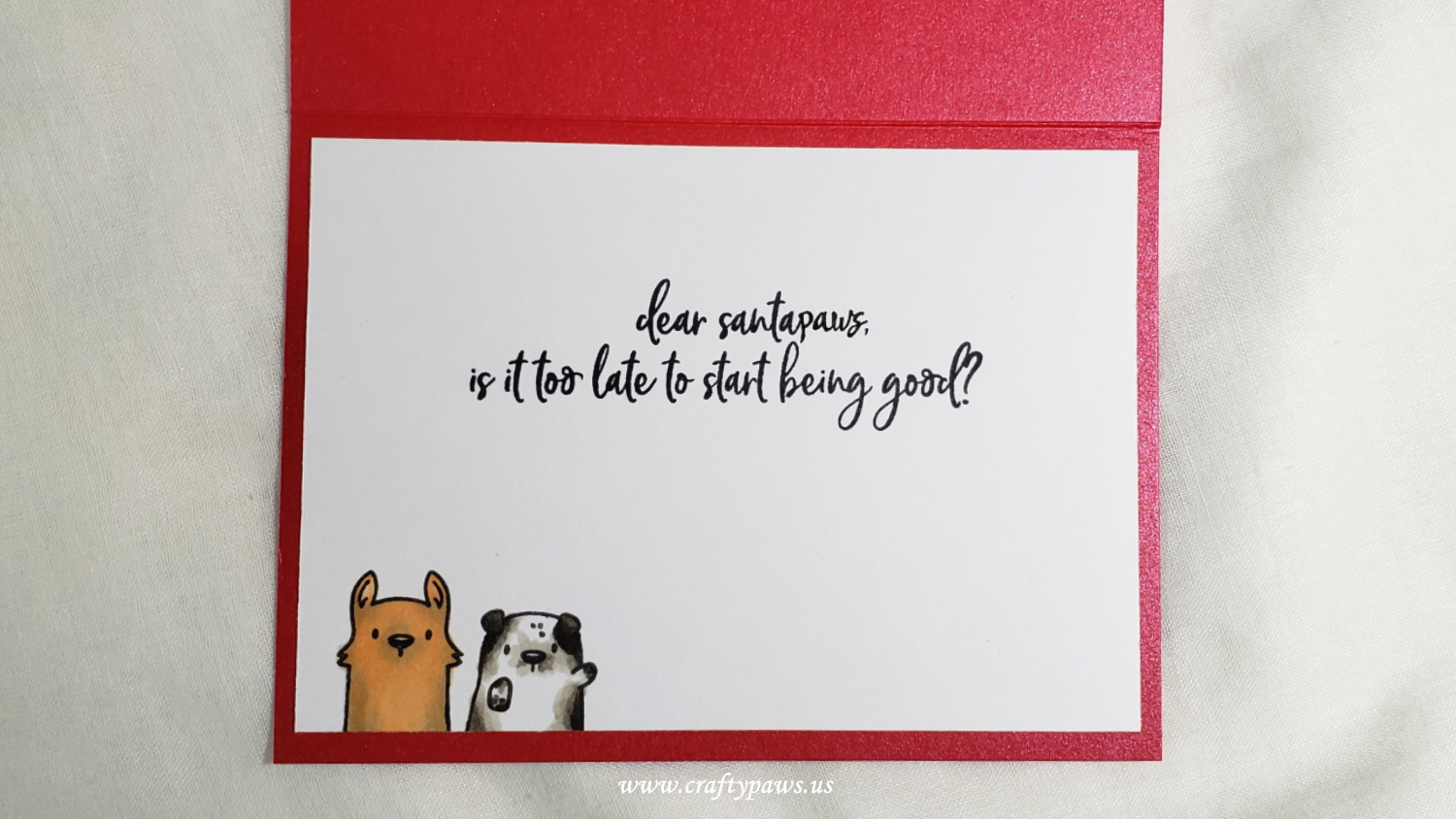 These single layer cards are relatively quick to craft and perfect to mail internationally (no bumps or extra weight). Hope you all are healthy, happy and well during this holiday season! Be safe and stay crafty. Big hugs, CraftyPaws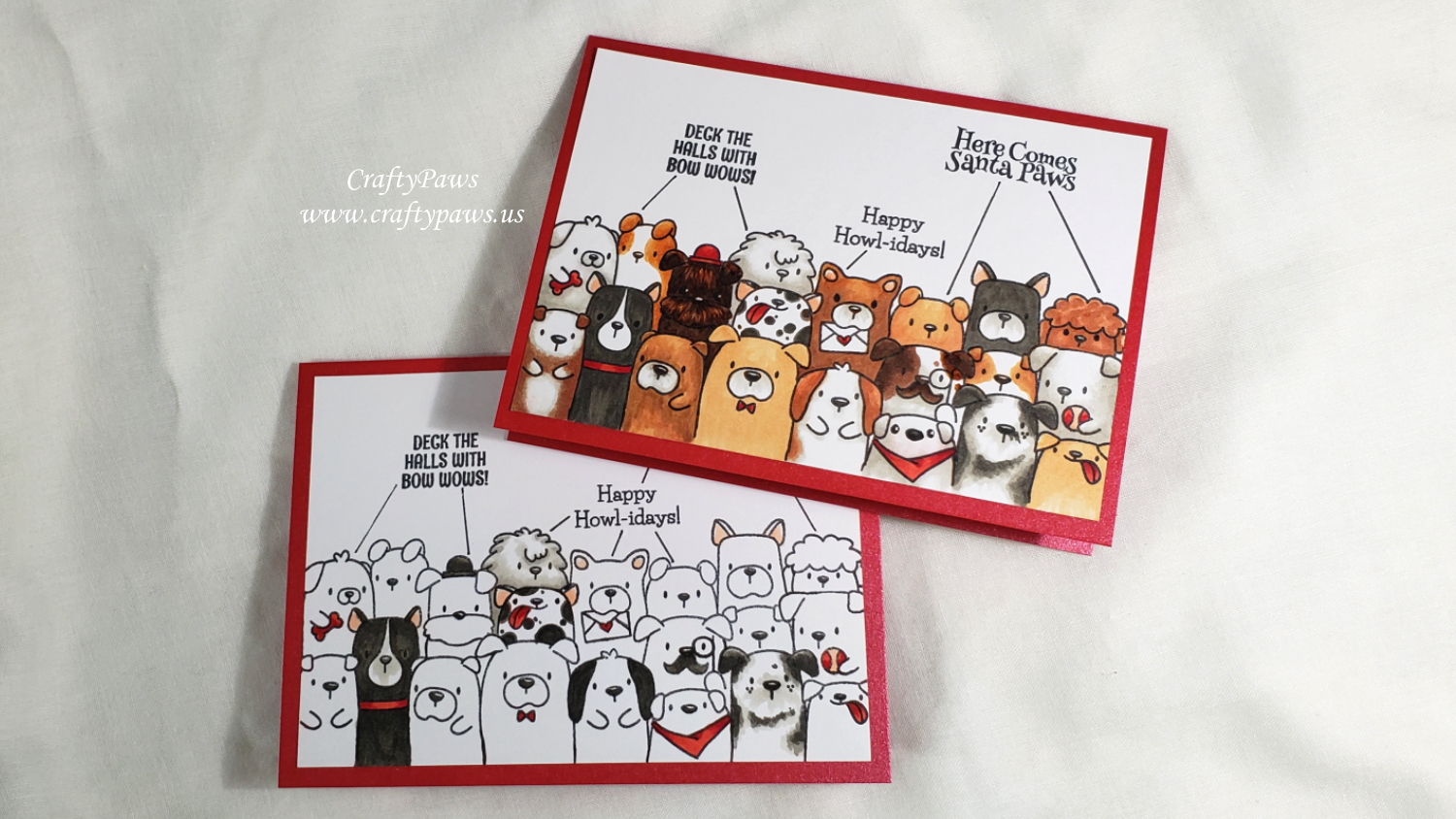 CLICK on the following picture to watch the process video of crafting these cards: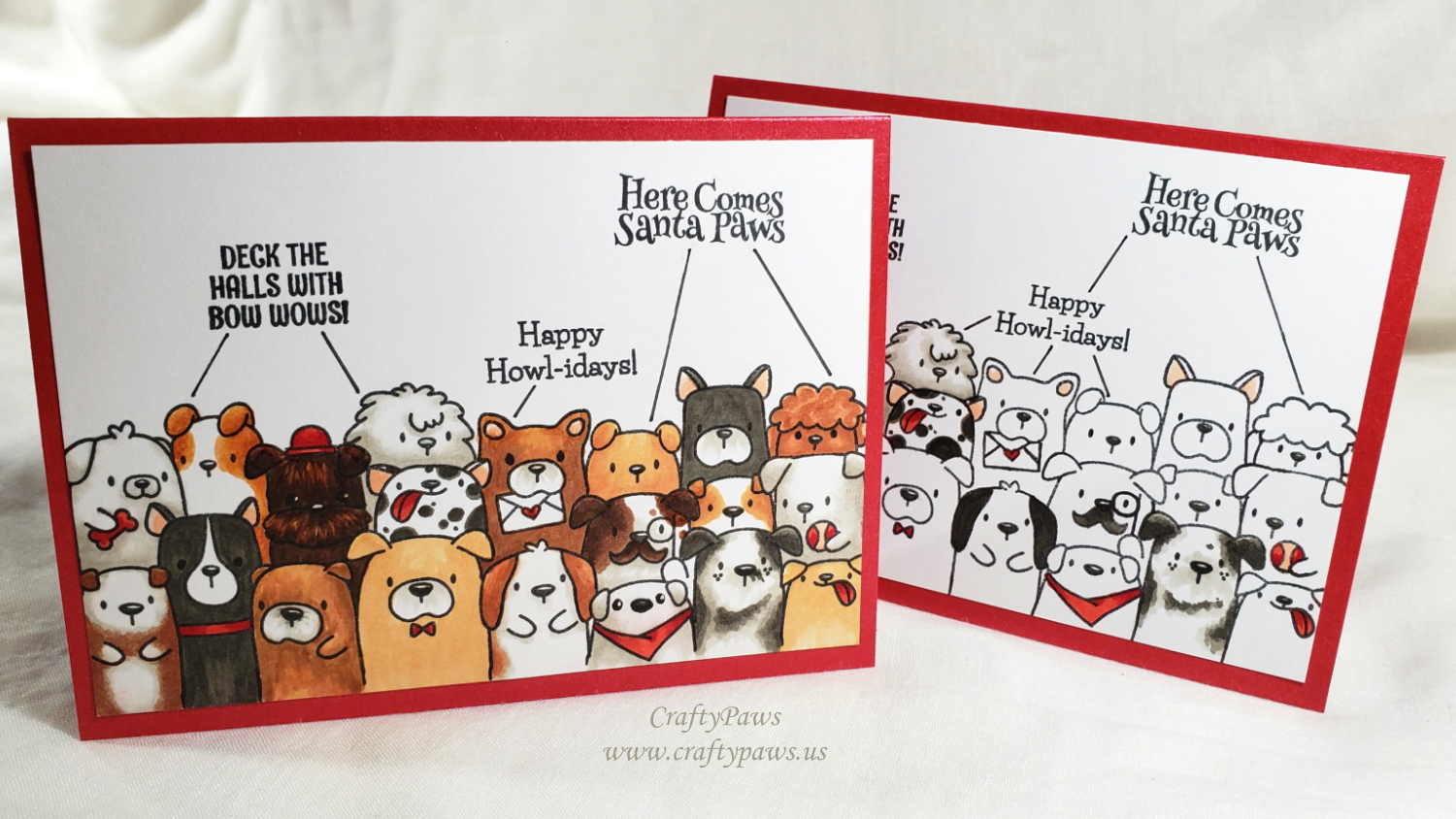 Disclosure: Many of the supplies I've used for today's project are linked. Some may be affiliate links, which means if you make a purchase I receive a small commission at no extra cost to you. I truly appreciate your support toward the costs of running this blog!
These cards are being entered into the following challenges:
Simon Says Stamp Wednesday Christmas Critters Challenge
Creatalicious Anything Goes with Optional Christmas Challenge
Word Art Wednesday Anything Goes Challenge
Lil Patch of Crafty Friends Anything Goes Challenge
Art Impressions Reason for the Season Challenge
Through the Craft Room Door Anything Goes Challenge
Crafty Gals Corner Tis the Season Challenge