Happy Fourth of July!  Hope everyone is appreciating the freedoms, liberty, and security we enjoy in the world today.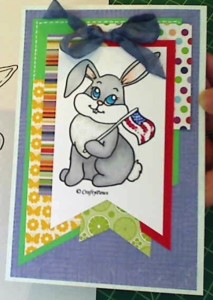 In my family, we are spending this weekend also celebrating my father's 80th birthday (his actual birthday is the 7th). It is a big milestone, and we have a lot to be grateful for so we are going to do our best to show him how much we love and honor him.
I whipped this little Patriotic Bunny up to share with you all. I just put him on a simple card base and added a hand dyed seam binding bow.  Initially, I didn't know how I wanted to use him so I looked through my scrap box and picked out some bright and poppy colored papers.  I used lots of scraps to create a fun "patchwork" banner behind him.
I colored him up with many of my new Copic markers (so excited to start playing with all the 142 colors I won on an eBay auction a few weeks ago). The bunny body is N0 and N2 and "whites" are shadowed with W3. Pinks of ears and nose is R20. Flag is B24, B29 and RV29. Blue of Eyes is B02 and B05.
This card is being entered into the Raisinboat Red White and Blue Challenge
Remember to take the time to tell folks that are important to you that you love them, and have a great weekend!
The following is a video sharing this digi and card:
Thanks for stopping by! Please subscribe if you wish. WOOF