In honor of Stamptember, I wanted to simply stamp and image and have fun coloring. So I made this CAS card that is almost a 1 layer card (I had to pop up the image — I just couldn't help myself!). I was so excited to finally get the Penny Black "A Wizard" Stamp because I and so many of my friends and family are Harry Potter fans.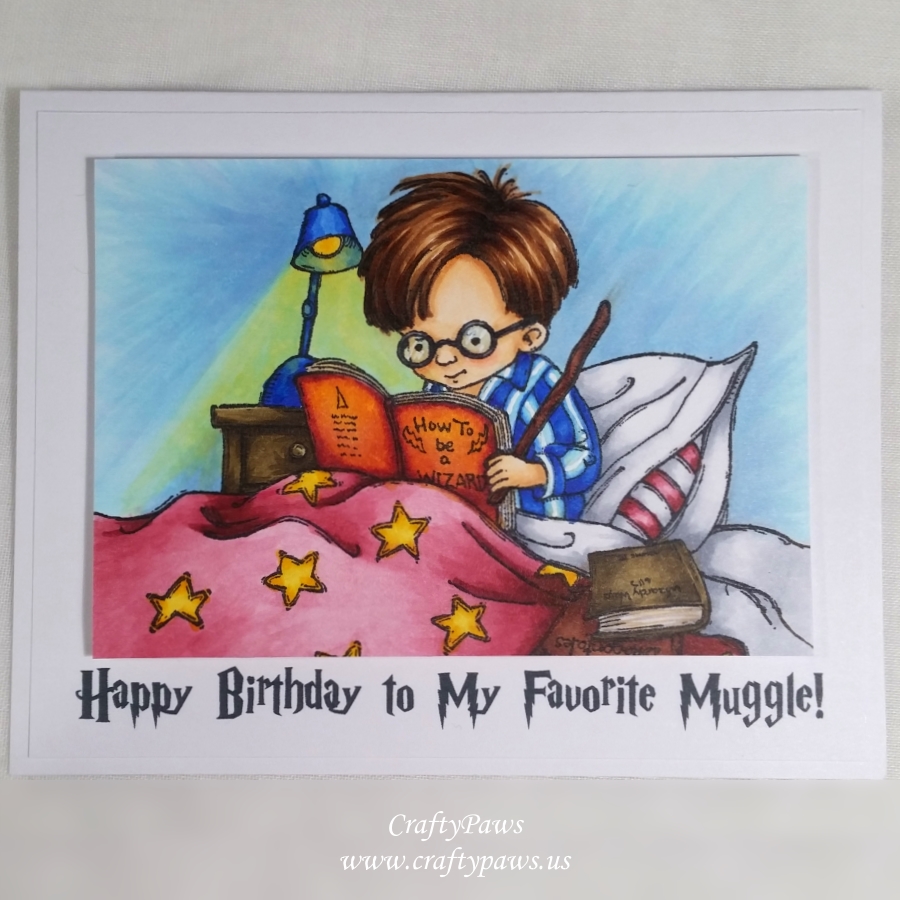 I experimented with some new color combinations, and just had fun coloring (it was so therapeutic). These are the colors I used:
Skin: E50, E51 and E53 with R30 for blush
Hair: E55, E57, and E59
Glasses: C5 and C8 for frame and B000 for glass with Uniball Signo White Gel Pen for reflection lines
Burgundy blanket and pillow stripes: R81, R83, R85 and R89
Book in hand: R81, R83, R85, R89, Y35 and Y38
Red-Brown of book on bed and wand: R81, R83, R85, R89, E23, E25 and E29
Nightstand and top book on bed: E84, E87 and E89
Book pages: C1 and E51 with 0.3 pt Copic Multi-liner in Warm Gray
Pajamas: Dark Blue: B24 and B29; Light Blue: B000 and B21 with Uniball Signo White Gel Pen for white pin stripes
White sheets: C000, C0, C1, C2 and C3
Stars on blanket: Y13 and Y19
Wall: B000 and B41
Lamp: B21, B24 and B29
Lamp bulb and light: Y00, Y11, Y15 and Y19
For the birthday sentiment, "Happy Birthday to My Favorite Muggle!" I downloaded a free Harry Potter font and printed it out on a bit of cardstock. Then I cut down the colored image and the printed sentiment layer so that it would fit nicely on a standard A2 size card. As I mentioned, I popped up the entire image on a piece of fun foam just to give a little dimension to the card.
Click on the following picture to watch the Copic coloring process video: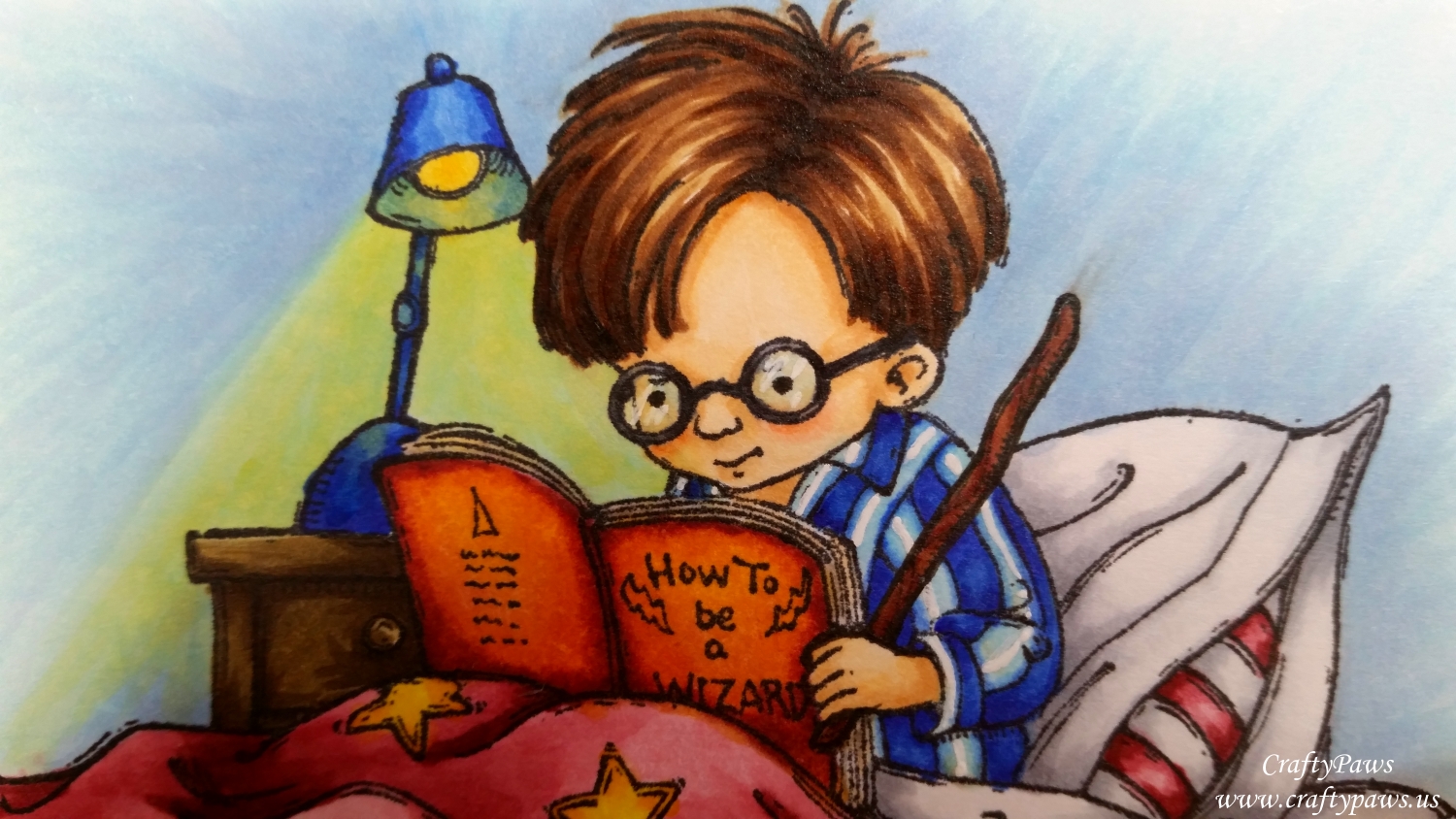 Disclosure: Many of the supplies I've used for today's project are linked. Some may be affiliate links, which means if you make a purchase I receive a small commission at no extra cost to you. I truly appreciate your support toward the costs of running this blog!
This card is being entered into the following challenges:
MFT Birthday Project – CAS Birthday Challenge
Simon Says Stamp Monday Stamp It On Challenge
Simon Says Stamp Wednesday Stamp On It Challenge
Lil Patch of Crafty Friends Anything Goes Challenge
Crafty Gals Corner Anything Goes Challenge
Cute Card Thursday Anything Goes Challenge
Catch the Bug Make Us Smile Challenge
Through the Craft Room Door Anything Goes Challenge – WINNER
Stamp Sensations I Spy a B Challenge – boy, books, blanket, bulb, blue
MFT Sketch Challenge #401