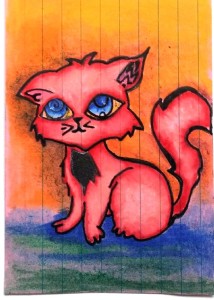 Oh my goodness, can I tell you how thrilled and honored I am that ColorXplosion by Rosa chose one of my first digis to be the basis of one of her hand carved stamps!  She chose Soft Kitty (which is now retired) to create a linoleum carved stamp.
Here is a link to her video sharing the project.
How cool is that?!  I didn't even know you could carve linoleum like that but I'll be sure to try this neat technique soon. Headed to Home Depot today to see if I can find the carveable linoleum at a good price.
Apparently you can also use a carved stamp to letter press it with a die cutting machine like a Big Shot. Here is Rosa's share of those results!
Thanks for stopping by! Please subscribe if you wish, and have a great day! WOOF