I had so much fun designing and crafting this Halloween bendi interactive scene card for the 2016 Diemond Dies Halloween YouTube Hop. From start to finish, it only took about 5 hours! That's fast for me. 🙂
Here are the bendi card dimensions I used:
1. Back panel (white card stock): 6.5″ x 6.5″
2. Background grassy hill (ground on back panel): 6.5″ x 4″
3. Middle grassy hill layer (attached from left): 5.25″ x 1.25″
4. Front grassy hill layer (attached from right): 6.5″ x 1″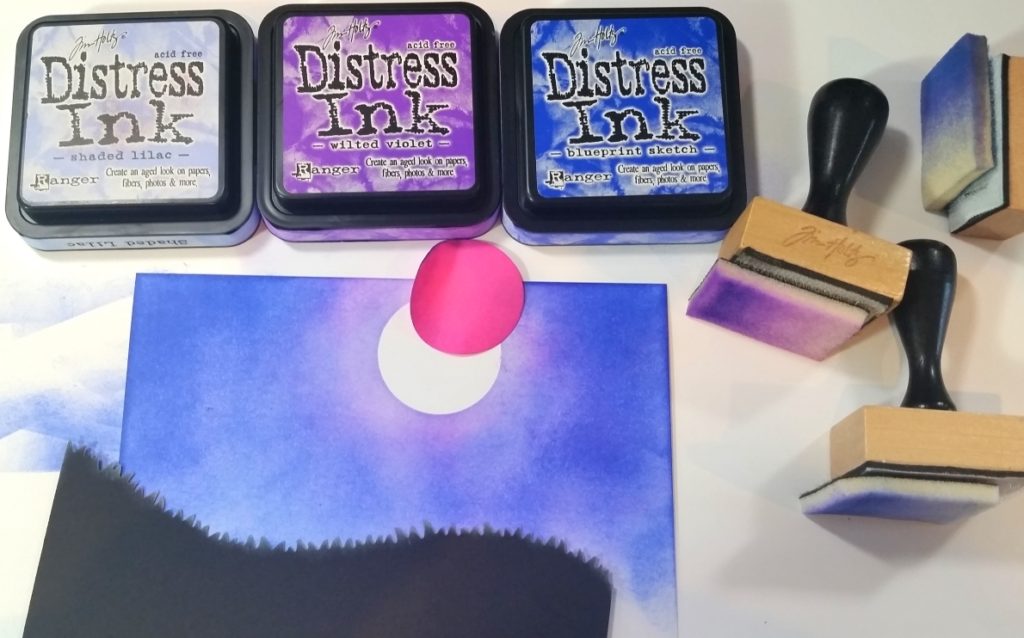 To create the back panel scene, first I die cut a circle using one of the dies from the Diemond Dies Die-Normous Stack-Ems Circle Nesting Die Set from Post-It paper to create a mask and then blended on Tim Holtz Distress Ink in Shaded Lilac, Wilted Violet, Blueprint Sketch and Black Soot to create a Halloween night sky on panel #1. Then I die cut a shiny moon with the same circle die out of ivory shimmerz paper, lighly inking over top to give the hint of the craters. I cut a grassy edges from panels #2-4 from black card stock with MFT's Die-Namics Grassy Hills die set, and inked the cut edges with Tsukineko Brilliance Moonlight White ink with a finger dauber. I think the shine of the moon itself and how it reflects off of every element on this card not only makes each piece more visible but also adds a haunting glow.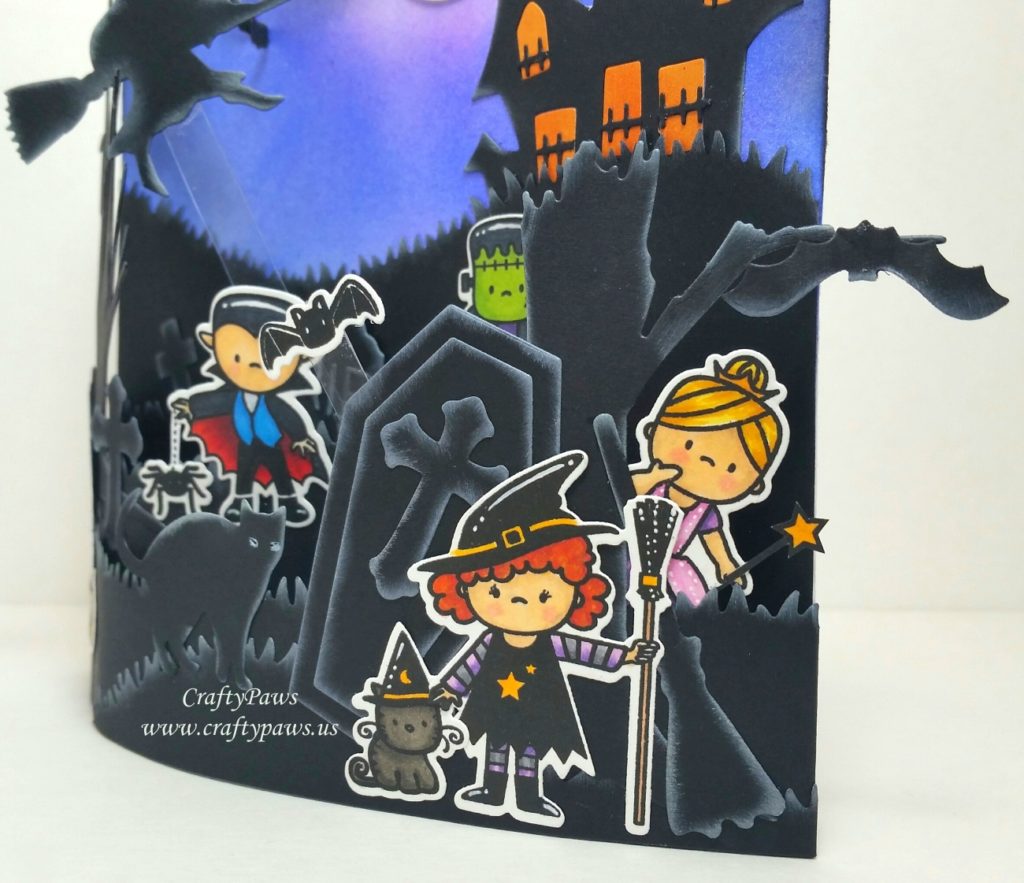 Then I scored panel #3 at 1/2″ from the left side and panel #4 at 1/2″ from the right side. These two folded edges are glued to the back of each side of the back panel #1, but first, we need to make the tabs at 1/4″ from the opposite side of the folded sides of each panel. Just hand cut those tabs and then make a slit on back panel #1 at 4″ from the left that will fit the tab from panel #3. Lastly make a slit on panel #3 at 2″ from the left that will fit the tab from panel #4. That's it for the bendi card structure.
Now on to the fun of decorating the card! I used the following Diemond Dies dies on black card stock and inked up all the edges with more of the Tsukineko Brilliance Moonlight White ink with a finger dauber so that each die cut would show up on the black backgrounds:
Spooky House – die cut once in black and a 2nd time with orange card stock for the shine from the windows
Flying Bats – 3 of the smallest bats for the sky scene and 1 of the medium size hanging upside down on a CC Designs Spooky Tree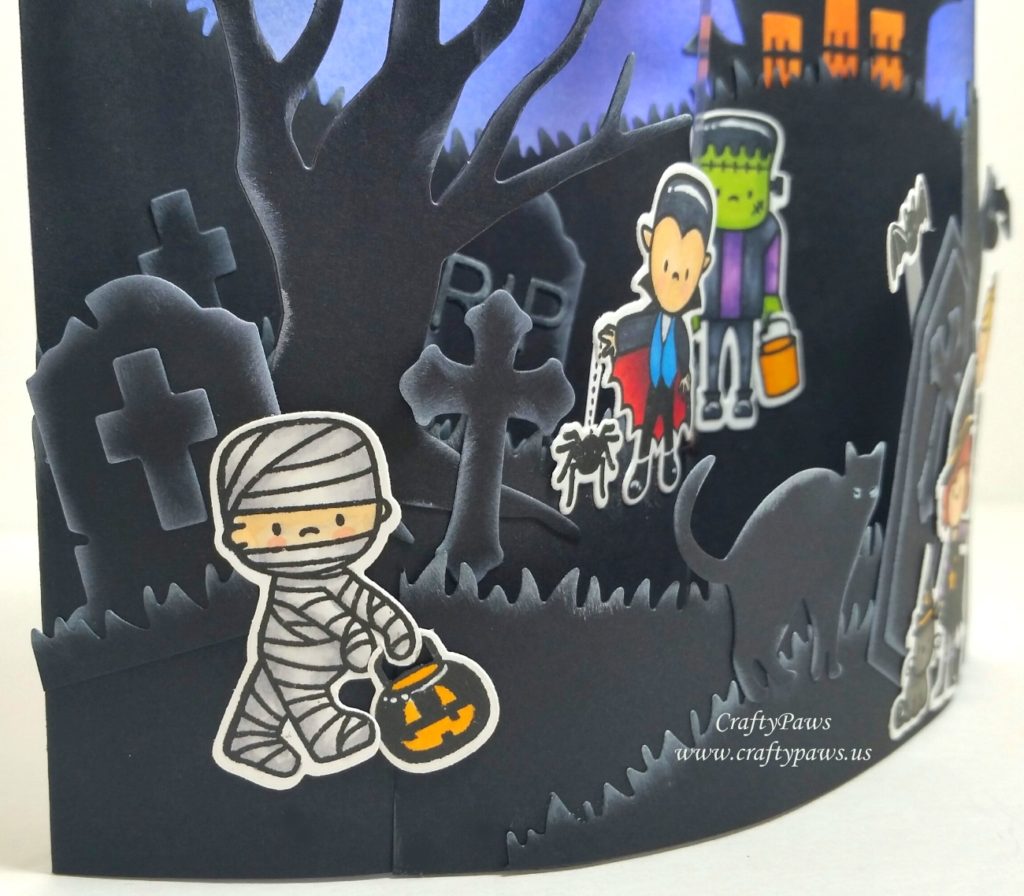 Frankenstein Set – stitches used for window sills of haunted house and head bolts used as crosses on tombstone and as a grave marker
Witch Die – attached to a clear plastic strip with a brad to the middle panel #3 so that she can fly through the sky (this is a super easy way to create an interactive element)
Spooky Tree – to anchor the left side of the card
Coffin Dies Set – for coffin at right leaned up against the tree on the right and cross headstone by tree at left
Tombstone Dies Set – plain tombstone with cross from head bolt from the Frankenstein Set and RIP tombstone with letters die cut twice, inked and layered to add a little dimension
Cat Die – black cat in foreground, stalking the scene with her glowy eyes that I colored in with a Tim Holtz Distress Marker in Picket Fence (I love how this white marker coats even the darkest card stock)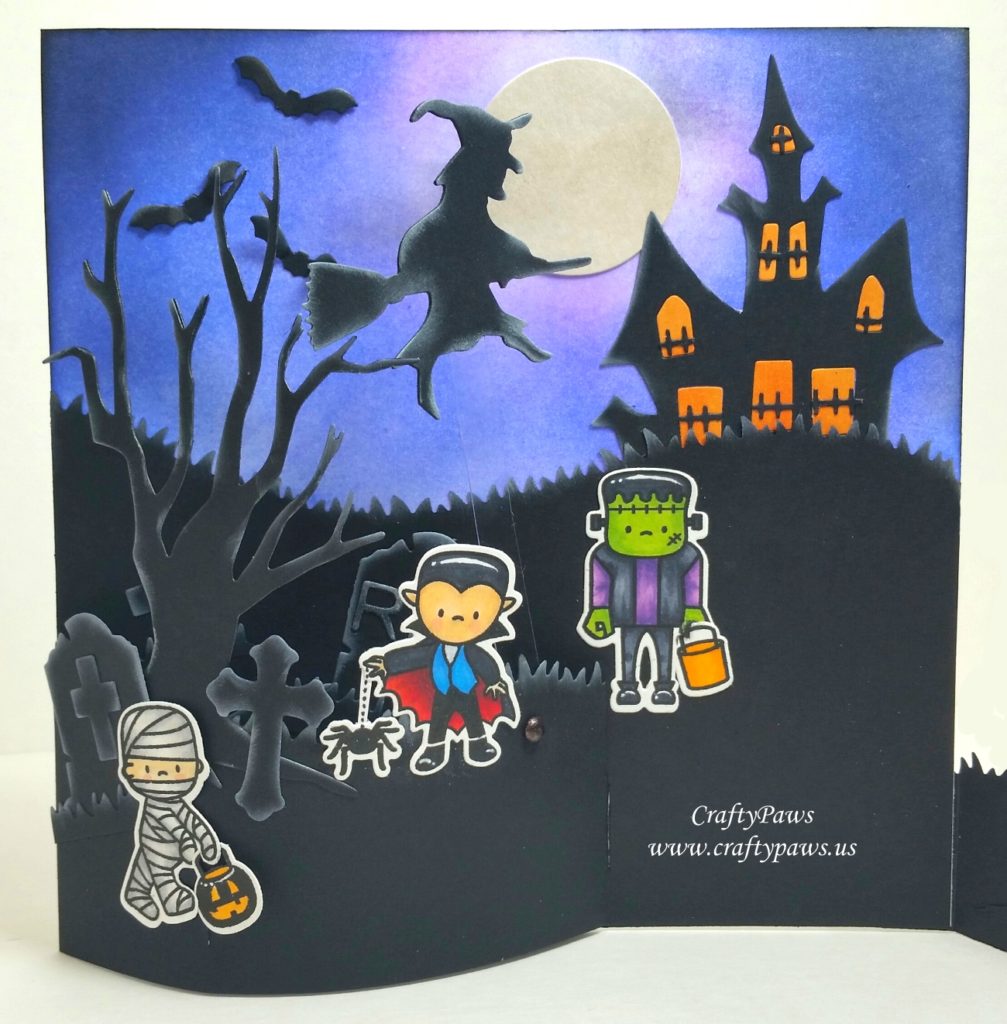 Then when I had found the perfect place for each of these die cuts to create the multi-layered scene, I added all the cuties from the Mama Elephant Bootastic stamp set, Copic colored as follows:
Skin throughout (except Frankie) – E51, E21 and R20
Gold/yellow throughout – Y15 and 38
Purple throughout – V12, 15 and 17
Princess: Hair: Y15 and YR24; Pink parts of dress: RV52 and 55 with white Gelly Roll pen dot details
Mummy: N0, 3 and 5
Vampire: Vest B04 and 06; Hair, cape and shoes: C8; and Red parts of cape: R24, R37 and C6
Frankenstein: Vest and pants: C6 and 8; Skin: YG25 and 17
Witch: Stripes: N3, N5, V12 and V15; Hair E13, E07 and Y38; Cat: W3, 5, and 7; and Broom: E11 with white Gelly Roll pen dot details
The following is a video showing the card assembly and the hop details:
If you're interested in getting loads of Halloween inspiration, hop along on YouTube, leaving comments on each hop stop. Each design team member will be giving away a $10 gift certificate to Diemond Dies to a commenter on their videos. Must be a YouTube subscriber of Diemond Dies to win. Here are the hop stops:
Diemond Dies: https://www.youtube.com/user/DiemondDies
Kristina (CraftyPaws): https://www.youtube.com/user/KraftyPaws
Michelle Smith: https://www.youtube.com/user/michsmith1973
Janice H.: https://www.youtube.com/user/cleanerjanh
Rosa G.:  https://www.youtube.com/user/kitty3640
Olga Vasquez: https://www.youtube.com/user/olgavas34
Use Diemond Dies special coupon code "kristina15" for 15% off and FREE worldwide shipping, no minimum purchase required (good now through November 12, 2016). After that date, use coupon code "thankskristina" for 10% off and free worldwide shipping on all orders of $35 or more.
This card is being entered into the following challenges:
Simon Says Stamp Monday Autumn Challenge
Card Mania Let It Shine Challenge
Fab 'n' Funky Celebrate Halloween Challenge
Lil Patch of Crafty Friends Anything Goes Challenge
Addicted to Stamps and More Make Your Marke Challenge
Creatalicious Anything Goes Challenge with Optional Halloween
Just Keep on Creating Anything Goes Challenge
Not Just Cards Anything Goes Challenge
Crafty Gals Corner Anything Goes Challenge – WINNER
Crafty Your Passion Anything Goes Challenge