I wanted to send along some get well soon paper clips for my friend Gail's special daughter, who has been fighting a terrible illness in the hospital for the past 2 weeks. I thought she and the whole family could use some cheer, and I wanted to make a little something from the heart that would hope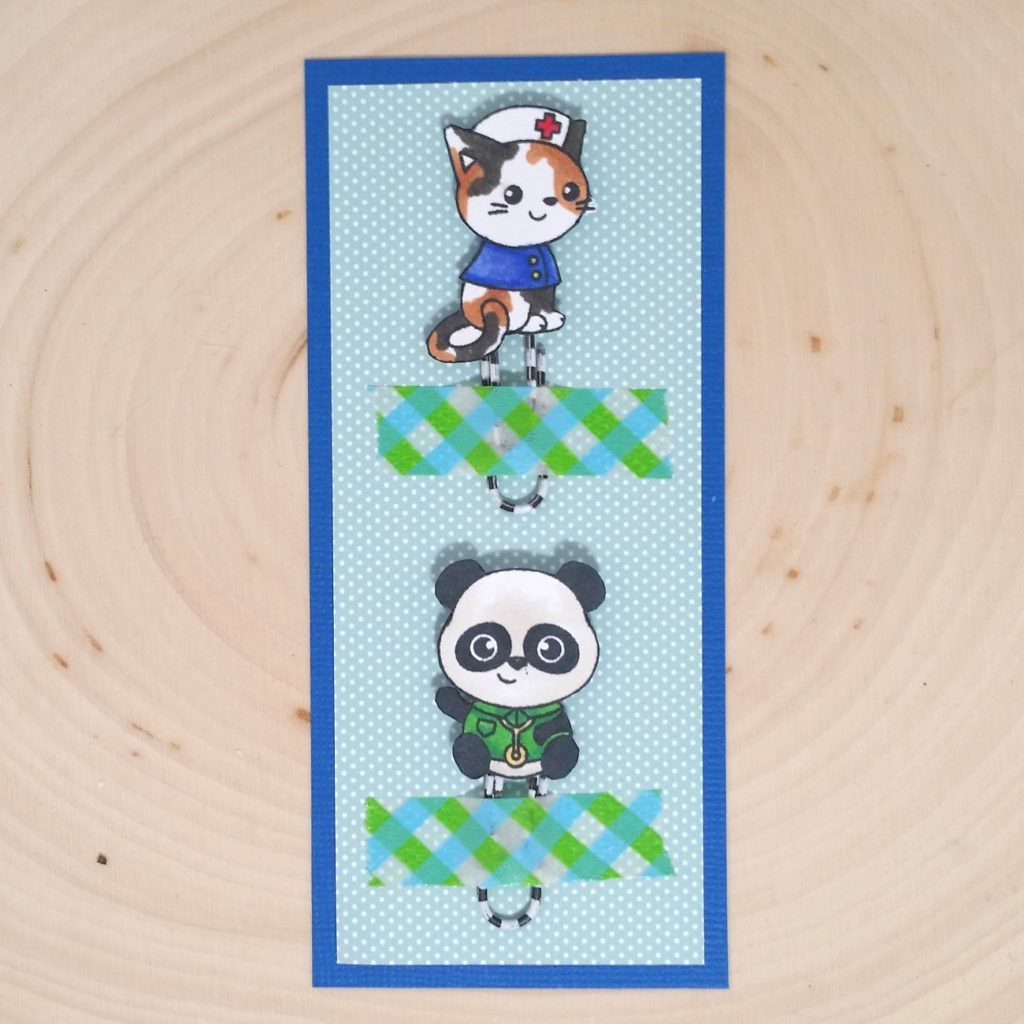 fully brighten their day, let them know they are loved and in our thoughts and prayers, and be useful too!
I had been gifted from a wonderful crafty IG friend, Mandy (@littlespaceofmyown), adorable critter stamp sets from Clearly Besotted, called "Hooray for Heroes" and "Under the Weather" that I thought would be perfect for this project. I colored each critter up with the following Copic colors:
Panda doctor: G14, G17, W0, W1, and YR31
Kitty nurse: E23, E33, W7, B21, B66, B29 and R29
Sleeping bear under gingham blanket: E23, E25, and R20
Sitting bear in yellow polka dot blanket: E33, E23, and E53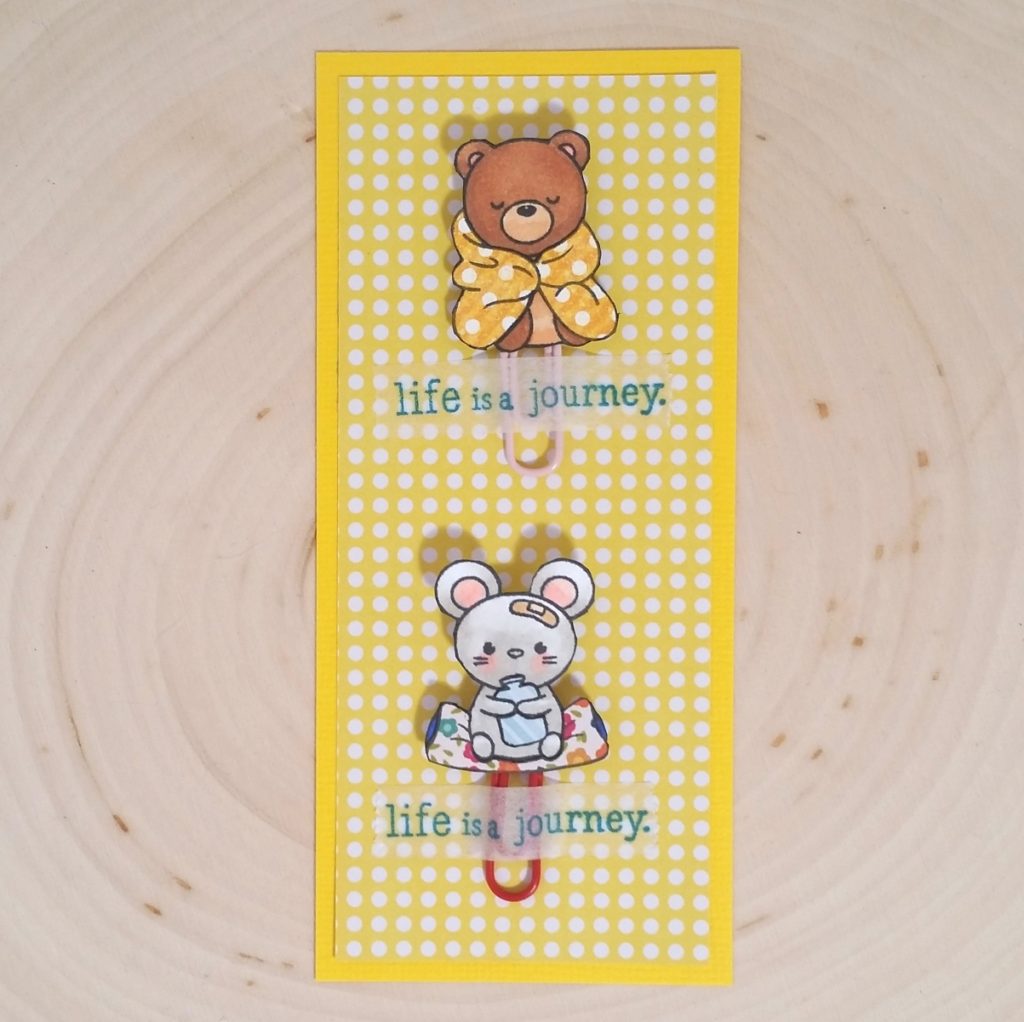 Giraffe with thermometer: E51, E21, E53, E23 and E25
Mouse with hot water bottle: W0, W1, R30, and R20
Using up a variety of brightly patterned paper scraps, I also paper pieced the blankets, cushion and water bottle of the 4 Under the Weather critters. I wanted these paper clips to be cheerful and uplifting and I thought using these bright papers would help accomplish that.
After fussing cutting all the critters and their paper pieced accessories, I edged each piece with Momento Tuxedo Black Marker to give a nice finished look. Then I hot glued each completed critter onto a paper clip, backing each one with coordinating patterned paper for stability.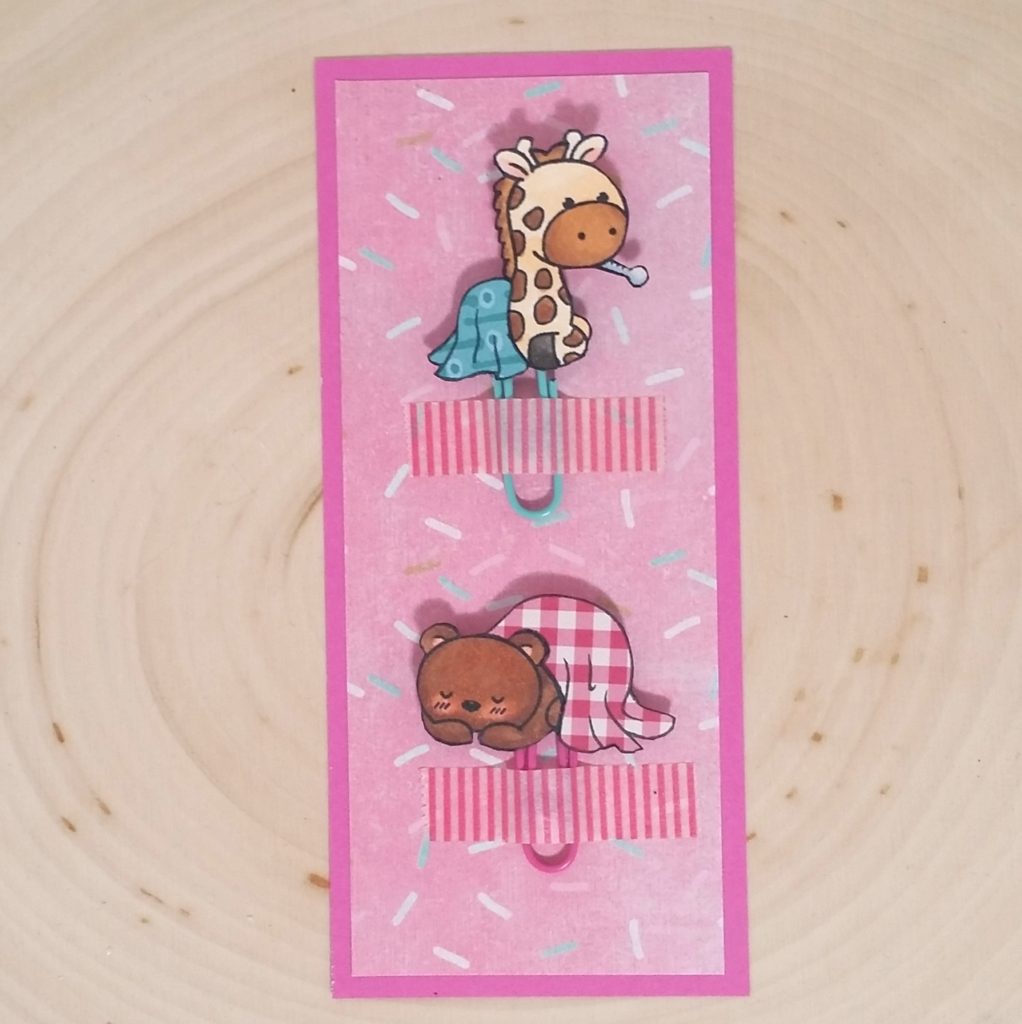 Then I took the extra step (which I rarely do) to try to package up these paper clips on pretty patterned and polka dot paper scraps that I matted with sturdy matching card stock. All of them were finally adhered with fun washi tape, which could be removed for use.
The following is a video share of this project made with love:
These paper clips are being entered into the following challenges:
Simon Says Stamp Wednesday For a Special Girl Challenge
Lil Patch of Crafty Friends Anything Goes Challenge
Word Art Wednesday Anything Goes Challenge
Crafty Purple Frog Love is All Around Challenge
Crafty Gals Corner Polka Dots or Stripes Challenge
Addicted to Stamps and More Make Your Mark Challenge
Penny Black and More Anything Goes Challenge
613 Avenue Create Anything Goes with Optional Rubber Room – No Digis Challenge
Crafts Galore Encore Anything Goes Challenge
Through the Craft Room Door Anything Goes Challenge