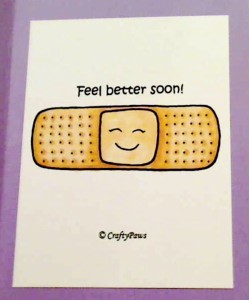 I don't have any get well sentiments. I think that generally they are just not as much fun as cute little animals or boy and girl images, so I tend not to buy them.  At the suggestion of my crafty friend Brenda (YT: Brendahdp77) I decided this week's digis would be for get well cards.
That's right, there are two freebies this week.  I thought I would make a cute "Got a Bug" digi. Then of course, because I needed a sentiment for the inside of the card, I thought I would do a companion, "Feel Better Soon!" band aid digi.
They are really simple to color up and use to make a CAS card for an ailing friend. The Copic colors I used for the bug were BV00 and 02, with B02 eye shadow. 🙂 I used colors to coordinate with my lavender Bazzil card stock base and my scraps of paper from my scrap box.  For the band aid inside, I used E21 and 13.  A little bit of Glossy Accents on the bug's eyes, and we can call it done. 🙂
Hope you like these digis!
Thanks for stopping by, and please subscribe if you wish. WOOF!