I have a dear friend, who even when she is going through difficult times, always thinks of others. Just recently, not long after leaving her job of over 15 years, she was packing up her house to sell and she came across a book that she thought might help me with my migraines. Without a second thought, she took the time to mail it to me with an incredibly sweet and thoughtful note. I wanted to send her a special card that I hope would reflect how much her friendship and kindness means to me.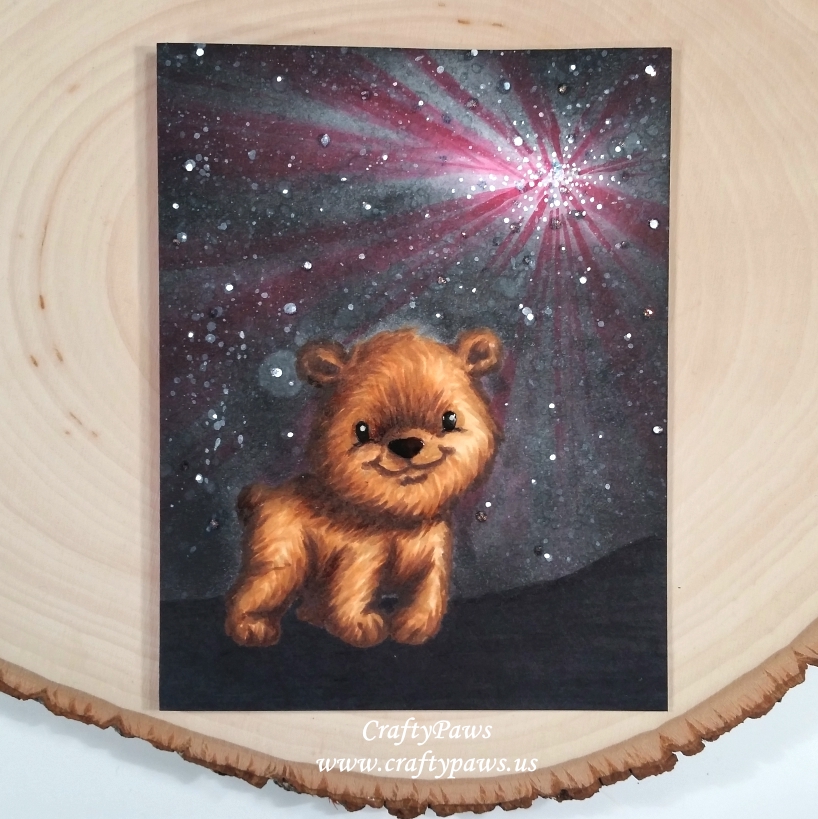 I did some no line coloring, stamping out the bear cub from the Some Odd Girl "Winter Friends" stamp set (retired) but changed it from a polar bear to a brown bear (since my friend is moving to an area with brown bears). I used Momento Desert Sand ink and used the following Copic colors: Silhouetted ground: N9, N10 and 100; Bear cub: E51, E53, E55, E57, E59 and E79; Pink streaky sky: R81, R83, R85 and R37.
To make it into a warm summer night sky, I blended on Tim Holtz Distress Ink in Black Soot to darken the sky background over top of the pink streaks emanating from a point where I wanted to place a special star.
For a soft star-filled look, I splattered lots of water on the sky area and dabbed up the released ink with a paper towel. Next, to add brighter stars, I flicked on watered down Copic Opaque White with a paint brush. Lastly, to add even brighter stars, I added white dots, especially where I wanted the special star to shine brightest by dabbing a pick directly into the Copic Opaque White.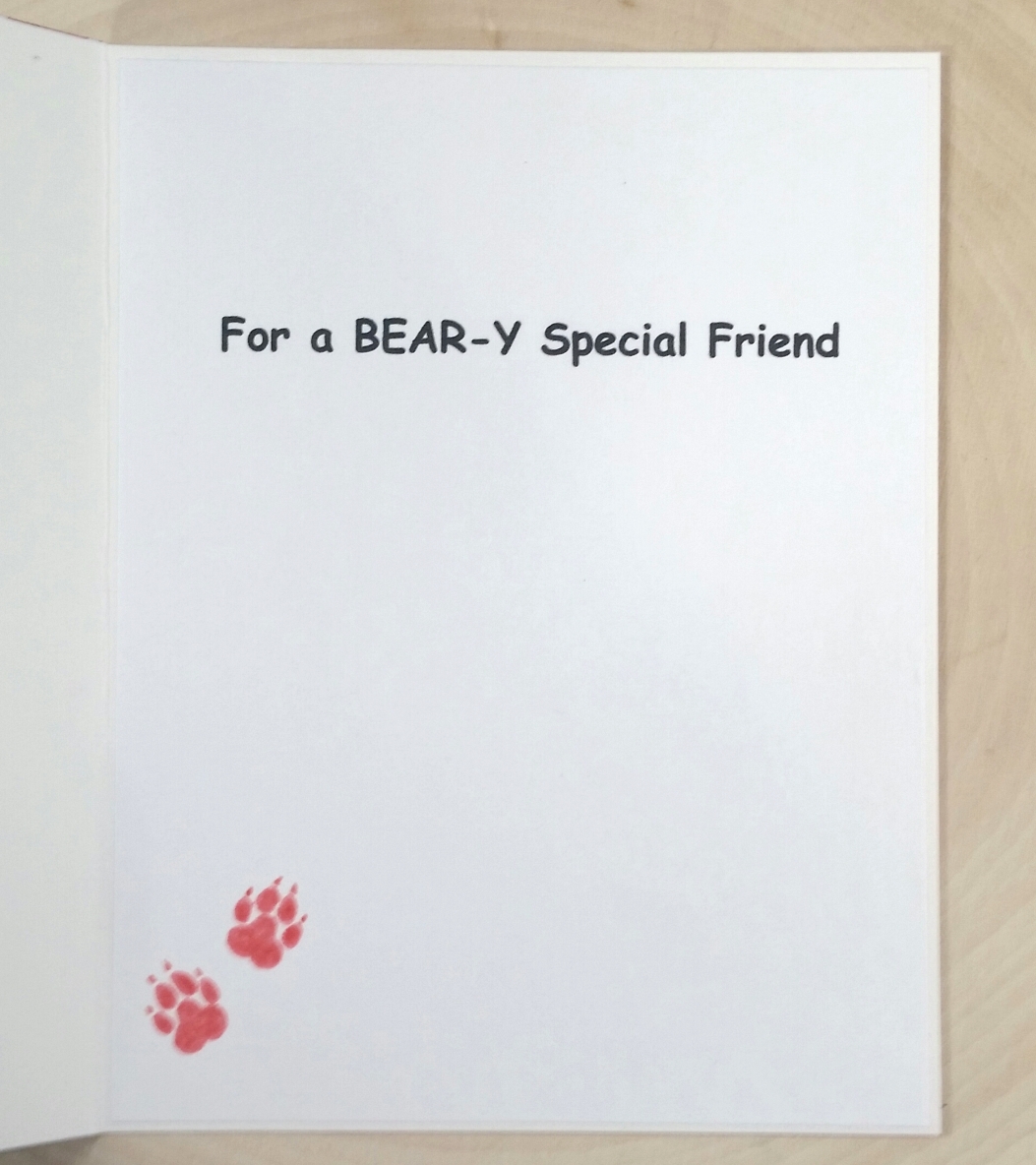 To add that extra sumthin' sumthin', I also added dots of Ranger Icicle Stickles; the glitter in the Stickles dots added a rainbow of colors that in the right light (see top photo), makes the sky look magical. For a finishing touch, I added shine to the bear cub's eyes and nose by topping both with Ranger Glossy Accents.
For the inside of the card, I printed out on my computer the punny sentiment, "For a BEAR-Y Special Friend". Then, to further connect the inside of the card with the front bear image, I stamped out two dog paw prints with Tim Holtz Distress Ink in Worn Lipstick in the lower left corner. I know, dog paw prints for a bear? But yes, with the simple addition of claws using the fine point side of the matching Tim Holtz Distress Marker in Worn Lipstick, I altered the dog paw prints into bear paw prints! 🙂
The following is a no line coloring process video of the bear cub:
This card is being entered into the following challenges:
Card Mania Life is Colorful Challenge
Simon Says Stamp Wednesday A Bit of Sparkle Challenge
Simon Says Stamp Monday Little Critters Challenge
Addicted to CAS Pink Challenge
Creatalicious Anything Goes Challenge with Optional Stencils
Word Art Wednesday Anything Goes Challenge
Fab 'n' Funky Create a Background Challenge – WINNER
Lil Patch of Crafty Friends Anything Goes Challenge
613 Avenue Create Anything Goes with Optional Make a Container Challenge
MarkerPOP Starry Nights Challenge