It has been nagging at me that I never completed the chunky charms collection of The Greeting Farms Hatters girls that I started a while back (video tutorial HERE). So when I was able to buy a perfect display hanger at Joann's for 50% off, I took it as a sign that I needed to get on that.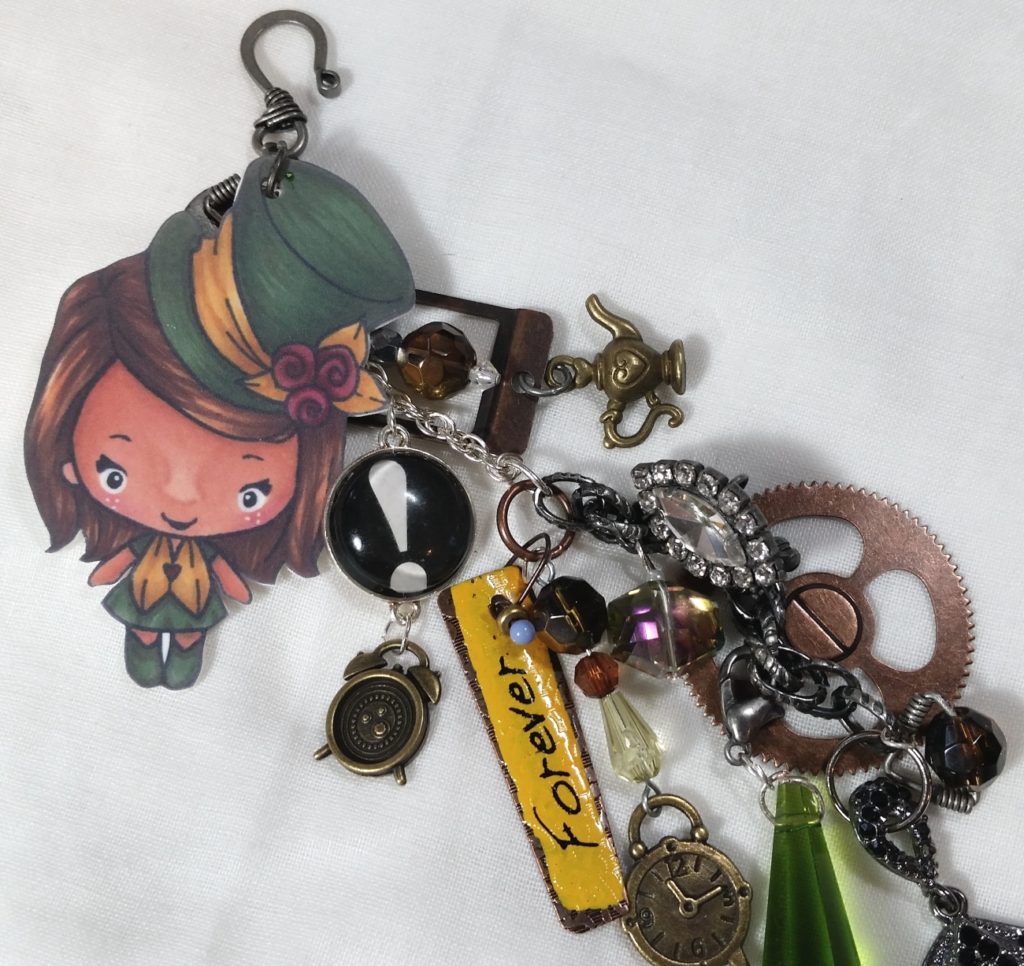 I took the last Hatter girl that I had colored up in greens and gold with the following Copic colors: Skin: E000, 00, 21, 11, with R20 blush; Green part of outfit: G85, 94 and 99; Yellow/gold part of outfit: Y21, Y26 and YR24; Red flower trims: R83, 85 and 89; Hair E97, 99 and 29; and I scanned her into my computer.
I lightened the image by 50% and then printed her out on Shrinky Dink paper. I fussy cut her out and punched a standard 1/4″ hole in her hat (this will be shrunk down like everything else to 1/3 the size). Then I used my heat tool to shrink her down to create a durable charm. Her face came out a little ruddy (perhaps I should have lightened the image a bit more), but that's okay since I figured she could just have had one too many pints or something. LOL
Then I poured through my collection of beads, bobbles, junk jewelry and charms that I thought would coordinate with her. I used antique bronze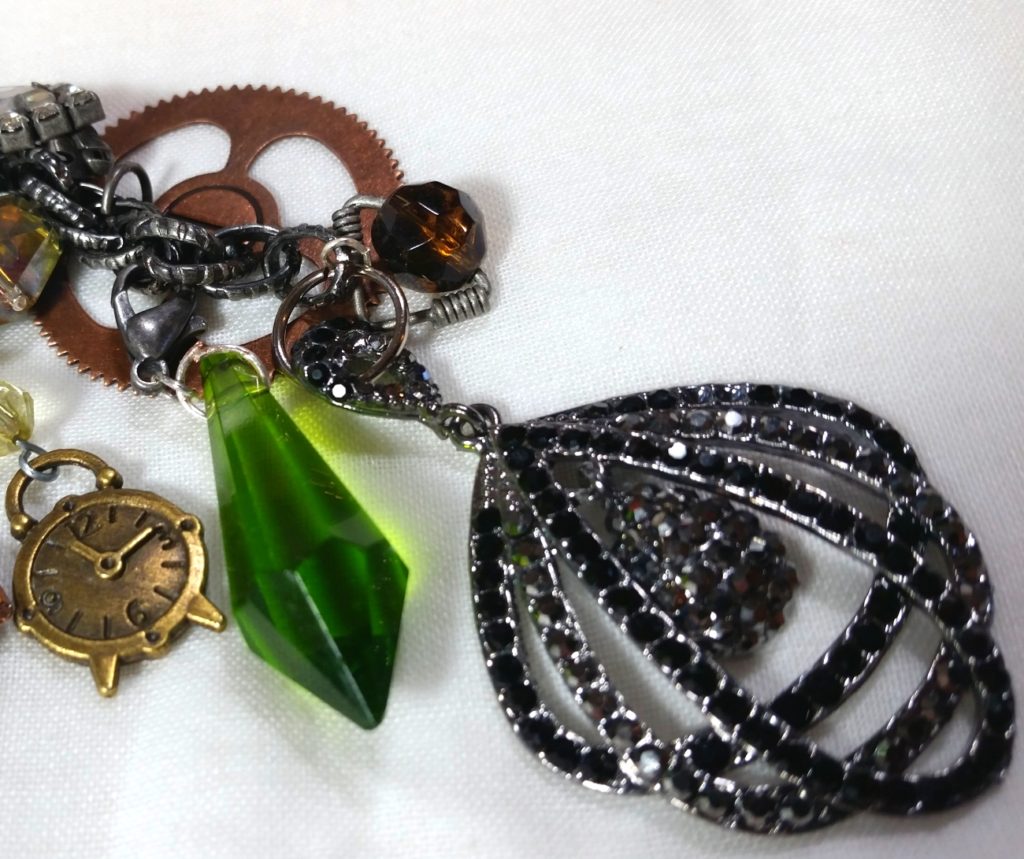 gears and clocks from my friend Candace (YT: Candace Scarborough), a sparkly gunmetal crystal earring — one of a pair from my friend Kim (YT: Kimbercreations), a teapot charm from my friend Laura (YT: Lauraluvslace), a marquis shaped rhinestone broach from my friend Myra (YT: craftyrats), a green crystal from my friend Alice (YT: kintri), and various beads and metal pieces from my stash (most of which I don't remember the source but a few of which I know are from Susan Lenart Kazmer's Industrial Chic collection).
There is a crazy mix of metals and findings, but I love the cutsie–industrial–found objects kind of look to this chunky charm. XD Keep an eye out for tomorrow's post of my final Hatters chunky charm, which will be in a Queen of Hearts theme!
This chunky charm is being entered into the following challenges:
Simon Says Stamp Wednesday Anything Goes Challenge
Crafty Gals Corner Anything Goes Challenge
Crafts Galore Encore Anything Goes Challenge
Creatalicious Anything Goes Challenge
SanDee & Amelia's Steampunk/Industrial Anything Goes Summer Challenge
Craft Your Passion Anything Goes Challenge
Not Just Cards Anything Goes Challenge