Yesterday my mother asked me to make her a card that she could send to my brother. For those of you who don't know, my brother is in end stage renal failure, and as you can imagine, all of this has consumed much of my mother's thoughts, prayers and energies (prayers and blessings for my brother and family are much appreciated 🙂 ).  My mother has always talked about family being everything and that we can achieve anything together. So I thought I would try to make a card that represented our family unified in love and thoughts for my brother.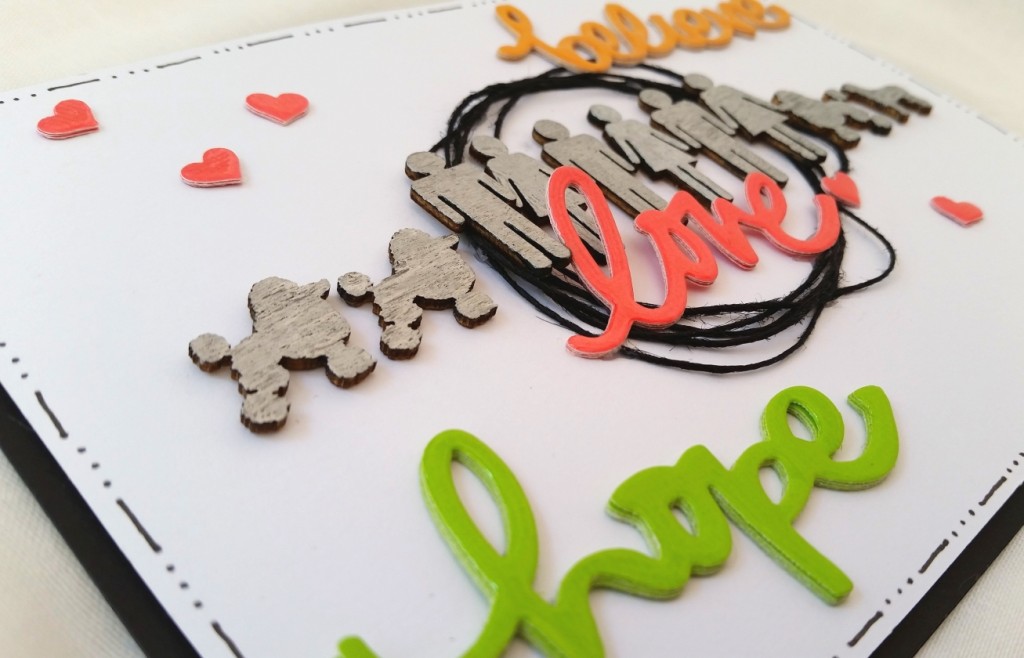 I used some American Crafts Studio Calico Wood Veneer Potty People
(3 couples to represent the 3 siblings and our spouses) and dogs (3 poodles and a Havanese to represent the dogs in our family too).  I first painted them with black acrylic paint, but the card was starting to look too dark, so I re-colored them with a silver metallic Sharpie marker.  I think in a row like that, they create a nice pattern and rhythm.
I used some American Crafts black twine that I coated in museum wax (it's what you use under vases and glassware to keep them from being knocked over–I used to live in earthquake-prone So Cal so I used to use a lot of this) to smooth out the texture, and created loose circles behind the potty people to go along with the quote that I printed out for the inside sentiment.  It reads, "Our family is a circle of strength and love. With every birth and every union, the circle grows. Every crisis faced together makes the circle stronger." Using a plain black Uniball pen, I also drew in a dash and triple dot pattern along the edge of the card front to give a finished look and connect with the lines of the black twine.
The card was looking pretty stark at this point so I found some bright citrus colored card stock scraps in lime green, pink grapefruit and lemon yellow to cut out "believe" and "hope" from Little Yellow Bicycle's Believe Dream Hope Scripted Word Die Set
  and the "love" from Love Laugh Smile Scripted Word Die Set
.  I cut out each word 4-5 times (depending on the thickness of the card stock) and glued them together to give the words some depth (like Thickers) and stability.  I also used Glossy Accents to add a shine to them.
The upper left and lower right of the card were looking a bit bare, so I decided to use the tiny scrap of  the pink grapefruit card stock to punch out some tiny hearts using an EK Tools open heart scalloped circle punch. Again I layered the tiny hearts to give them some depth and added Glossy Accents over top to give them more of a puffy sticker or enamel dots look.
The following is a process video of making this card:
This card is being entered into the following challenges:
Simon Says Stamp Monday Citrus With A Twist Challenge
Through The Craft Room Door Anything Goes Challenge
613 Avenue Create Anything Goes Challenge
Lil Patch of Crafty Friends Anything Goes Challenge
CASology Numbers Challenge
CAS-ual Friday Pretty Patterns Challenge
Thanks for stopping by and have a wonderful crafty day! WOOF