I wanted to do a fall layout for the front page of my one year YouTube anniversary binder that I am using to collect and store all the challenge entries that I have been receiving from crafty friends. I recently picked up a great Tidly Inks stamp set called "I Wuf U" from Simon Says Stamps and what attracted me to this set was the little girl with her two dogs (one of which looked very much like my little Bandito). I knew I wanted to alter this stamp to represent me and my two dogs, but Biscuit is a miniature poodle.  What to do, what to do?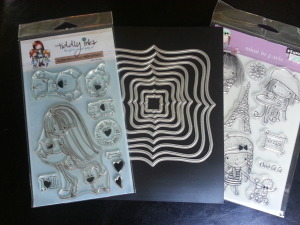 For the images representing me and Bandito, I could just use the Tidly Inks stamp, masking off the second dog part of the stamp with tape and removing the tape before stamping.  Using a free program, called paint.net, I tweaked the adorable poodle from the Penny Black "Mimi in Paris" stamp set, which I stamped and scanned it into my computer. I cleaned up the rough stamped image, flipped it (so it faced the direction I wanted) and then printed it out a tad larger (because Biscuit is a bigger than Bandito).
I colored up all the images with the following Copic markers and fussy cut everything out to assemble on a wood veneer paper background mat that I cut using the Diemond Dies Top Note die set (Use Coupon Code: "thankskristina" for 10% off your entire order and free worldwide shipping on orders of $35 or more!  PLUS they are having a sale from now through October 5, 2014).  Skin: E50, 51 and 53; Blush E30; Poodle: E55 and R30; Havanese: W1, E23 and E25; Hair: C7, C9 and B24; Shoes: E74 and 79; Top: E55 (and white Gelly Roll pen); Dress: YT95, 97 and 99 (and black with Uniball pen); Leash: YR02, 04 and 07. I loved using these autumnal colors, esp. because I'm not a real girly girl.
Because I wanted to use a special gold foil faux wood grain paper in a way to highlight this celebratory layout, I created a sunburst effect using a straight edge and scissors with that paper and a contrasting large photo print fall leaves patterned paper. To finish off the edges where the different patterned papers meet up, I used thin strips of washi in a dark chocolate polka dot.  For embellishments, I used various die cuts and stickers from the Jellibean Soup "Birthday Bisque" collection, which had a lot of fantastic appropriate sayings in the perfect colors for this layout (esp. when inked around the edges with Tim Holtz Distress Inks in forest moss and walnut stain). I also added some crocheted doilies and laces to add softness as well as some champagne and tangerine bling pieces to add sparkle.
The following is a video share of this layout:
This layout is also being entered into the Simon Says Stamp Color Recipe Work it Wednesday Challenge and
the Kraftin' Kimmie Stamps Wonderful Wednesday Anything Goes Challenge and
the Inspired by Stamping Monthly Challenge Inspired by Gold