This March I had a lot of birthday projects and cards to make and for whatever reason fairies seemed to take center stage. The card in the top photo I did in teals and blues that came from the fabulous dragonfly paper gifted to me by Bev (YT: NewCrafterBev). I colored her up with my Copic markers (hair: Y R20, 24 and 31; skin: E000, 00, and 11 with R20 for cheeks; hat and jacket: B02 and 24; wings and tights: C3 and B02; socks: C5; boots: C3, 5, 7 and 9) and just started drssing up the card with doily trims, flower appliques, turquise bling, and sat her on a turquise die cut bench. Add a little Glossy Accents for the eyes and boots and a little bit of cotton candy Stickles and voila!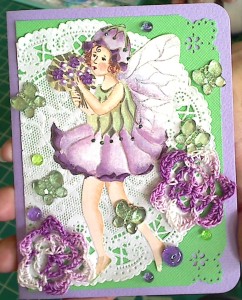 The next card I did in purples and greens using a fairy die cut in those colors. By adding layers of cardstock, a paper doily base, little crocheted flowers, pale green bling butterflies, and homemade enamel dots (to add some magical sparkle), the card looked rich and interesting. I used a Martha Stewart corner doily punch to add interest to the green cardstock layer and inside I used the whole punch around the page set to  make a white base for writing my birthday wishes.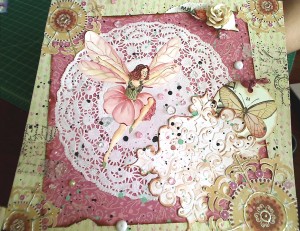 The last project I did was a fairy layout. I am not usually a 12 x 12 layout person (unless it is for a special album for an event like a milestone birthday present for my dad's 70th or my wedding), but this large fairy and the super large paper doily seemed to demand a big format. Can crafty items do that? LOL  Anyway, I used some beautiful Heidi Grace papers, did a lot of distressing and fussy cutting of "wheels" and embossed papers, and splattered some watered down paints (which I mixed to match the papers) to come up with the layout in the photo at right. Because sometimes it is hard to know when to stop, I added a couple flowers, lots of enamel dots and some Tim Holtz washi tape to add more interest. Very shabby chic and a bit vintage I think.
The following are the videos in which I share the cards (along with one other that I made with a kitty digi I drew specifically for my friend Dee (YT: BlackCatCrafts13)) and the layout:
Please subscribe if you like, and thanks for stopping by! WOOF