I am absolutely beside myself thrilled that I have been asked to be a guest designer for MarkerPOP.com! For my first guest design team project, I chose the super cute WPlus9 "Going Places" stamp set and the La La Land Stitched Cloud Border die set to make this scene card.  It's one of a series of cards that I made for my hubby to celebrate our 6th wedding anniversary, and I thought the "YOU MAKE EVERY DAY an adventure" sentiment from the stamp set was perfect to celebrate what has been a wonderful, love-filled marriage–through thick and thin and everything in between.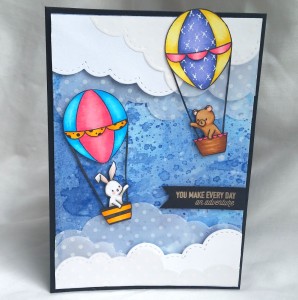 To create the semi-stormy sky background, I used three Tim Holtz Distress Inks in Tumbled Glass, Salty Ocean, and Chipped Sapphire on 140 lb Strathmore watercolor paper. The layered smooshing technique (yep, I think that's the technical term–lol) is a great, easy way to create unique backgrounds with lots visual texture and interest.
For the cloud formations, I used the La La Land Stitched Cloud Border dies with some fun polka dot vellum paper and shimmery white card stock.  Having 2 different cloud dies to combine, tilt and mix and match makes for wonderful layered looks.  I alternated with the vellum and the shimmery card stock and also popped up the card stock layers with double sided foam adhesive for extra depth.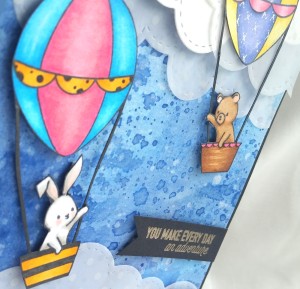 I used the following Copic colors for the adorable little bunny and teddy flying away in the hot air balloons:
Bunny: W1, W3 and R30
Teddy: E31, E35 and R30
Teddy's balloon and basket: BV01, 02 and 04; Y11 and 15; RV21, 23 and 25; E31, 35 and 37
Bunny's balloon and basket: B000, 01 and 04; RV21, 23 and 25; Y35 and 38
Besides the basic masking of the bunny and teddy to put them into the baskets, the trickiest part of making this card was fussy cutting out the critters in their hot air balloons. The lines connecting the balloons to the baskets were so thin. But really, just using a sharp X-acto knife and taking my time, it wasn't too bad.  I did tear one of them, but the repair was easy (it's all in the video below).
To match the black card stock card base (I have recently started a love affair with black card bases–I just love the way the colors on cards seem to pop from the dark card base "frames"), I stamped out the sentiment onto black card stock with VersaMark ink and used Sparkle N Sprinkle platinum opaque extra fine embossing powder. I cut a banner out of it, and popped it up on foam adhesive to match the depth of the cloud formations and the critters in their hot air balloons.
The following is a process video of making this scene card:
This card is being entered into the following challenges:
Simon Says Stamp Monday Stamp and Die Cut Challenge
Simon Says Stamp Wednesday Stamp and Hop Challenge
Through The Craft Room Door Anything Goes Challenge – WINNER
613 Avenue Create Anything Goes with an optional Love Me Do Challenge
Crafts Galore Encore Anything Goes Challenge
Time Out Make Your Mark Challenge
Thanks so much for stopping by and joining me for this exciting crafty moment! WOOF