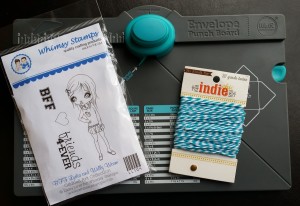 I think I finally understand the appeal of making a mini album. Don't get me wrong. I love receiving them and I think they are truly art from the heart, but I really thought they were too much work when you could just buy an album to put pictures in. LOL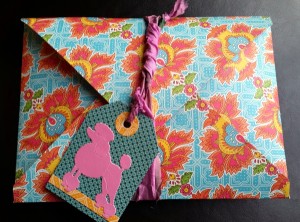 Making this mini album that has a kind of 3D effect and functions as a gift/card/gift card holder really opened my eyes. I made this for my niece who is soon turning 20 and is away at college missing her dog. For this special gift, I swallowed hard and cut into 3 of my treasured Graphic 45 papers: "Opulent Sunset" and "Lap of Luxury" from the Bohemian Bazaar Collection and "Exquisite Motif" from the Olde Curiosity Shoppe Collection.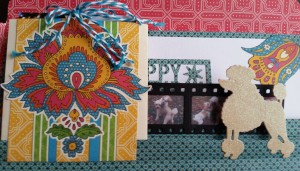 The focal point of the album was the super cute NEW Whimsy Stamp called "BFF Lydia and Willy Worm" from the Oddball Art Collection, which I received from the Not2ShabbyShop.  I colored her up with the following Copic markers: Skin: E50, 51, 53; Hair: RV 52, 55, 66, and 69; Skirt and shoes: W1, 3, 5, 7; Hair bow: W7 and 9.  I also paper pieced her sweater, after masking off the worm of Willy Worm.  I also added sparkle with Wink of Stella to her hair and Glossy Accents on her eyes.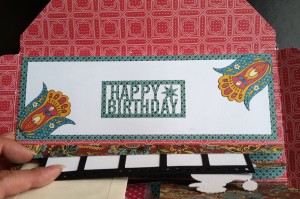 Not2ShabbyShop my readers get 10% off their entire order (including sale items) by using the coupon code: CRAFTYPAWS
Note: Jamie is in the process of moving her shop, so if the link above doesn't work, please check HERE.
I also printed out and shared a quote that I try to remember and that I thought would be good to share with my niece during her turbulent college years: "Happiness is a choice."  Inking up the paper with Peacock Feathers and adding gunmetal grey sparkly bling to each of the letters helped make the quote tag coordinate nicely with the rest of the mini album/card.
The following is a video share of the project, including some process instruction on masking, stamping, paper piecing, and Copic coloring:
This envelope mini with the Happiness quote is being entered into the Simon Says Stamp Monday H Challenge
This envelope mini with my new Whimsy Stamp from the Oddball Art Collection is being entered into the Simon Says Stamp Work it Wednesday New Challenge
This envelope mini/card for my niece's birthday is being entered into the Seize the Birthday Anything Goes Challenge
This envelope mini/card with all the bright colored papers and bright pink hair on the girl image is being entered into the Simon Says Stamp Wednesday All Things Bright and Beautiful Challenge
With the sparkle from the Wink of Stella in her hair and the bling on the happiness sentiment, this envelope mini/card is being entered into the Oddball Art Add Some Sparkle Challenge
Thanks for stopping by and have a great day! WOOF