This is the first fry box that I have made and altered. I made it out of a Recollections envelope (see video below for how to tweak it to make the fry box). Then I just had fun embellishing it using crocheted trim with sequins, delicate blue lace, Chinese braided trim and handmade flowers.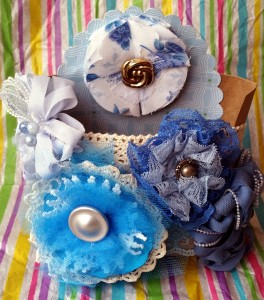 Separately, I colored up another Stamping Bella Valerie Bunny from the Not2ShabbyShop. I colored her with the following Copic colors:
Hair: YR31 and 24
Skin: E50, 51 and 53 with R30 for blush
Bunny hoody and boots: BG 10 and 13
Easter eggs (which I also coated with Glossy Accents): RV1, Y17, BG10 and B02
Like on my card yesterday, I also paper pieced the dress and the hoody so that I could roll up the ears and dress hem for a little dimension and to add to the illusion of Valerie hopping. I also paper pieced the pom poms of her hoody and adhered it with foam adhesive for a little extra fun.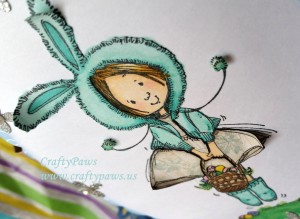 FLASH SALE at Not2ShabbyShop March 20-22, 2015! Everything is on sale except Santoro, Magnolia and Gorjuss. PLUS you can use my coupon code: CRAFTYPAWS for an additional 10% off of already reduced prices! NOTE: Sale prices are reflected only in the check out cart so click to add to your cart to see the discount pricing
I used the Diemond Dies Scalloped Oval Nesting Die Set and the Oval Nesting Die Set to cut out and frame the image. I also used an extra scalloped oval die cut to line the back since that would be visible from the other side of the fry box.  Remember if making a purchase at Diemond Dies, use coupon code: thankskristina for an extra 10% off everything and free shipping on orders of $35 or more
The following is a video share of this altered fry box:
This Altered Envelope Fry Box is being entered into the following challenges:
Card Mania Spring Challenge
Simon Says Stamp Wednesday Spring Pinterest Inspiration Challenge
The Pink Elephant Green Challenge
Thanks for stopping by and have a great day! WOOF