A crafty friend, Marisa (YT: mam1016), who has had a very rough year battling cancer and turning 40 this month, asked friends to make a postcard in any style of our choosing and to share a happy birthday memory in 40 words or less on the back.  When I turned 40 I too was having a tough time due to health issues that caused me to leave a career that I had worked to build for decades, so I knew I wanted to participate and share some good memories that I hope will help lift her spirits.
I have had this fantasmic Charmaine Flannery's Defiance stamp from Sweet Pea Stamps for a while now and have been itching to ink her up as the air turns cold and we are approaching October. The stamp is very detailed, and I love to watercolor with Tim Holtz Distress Markers with fine images like this–watercoloring is so forgiving!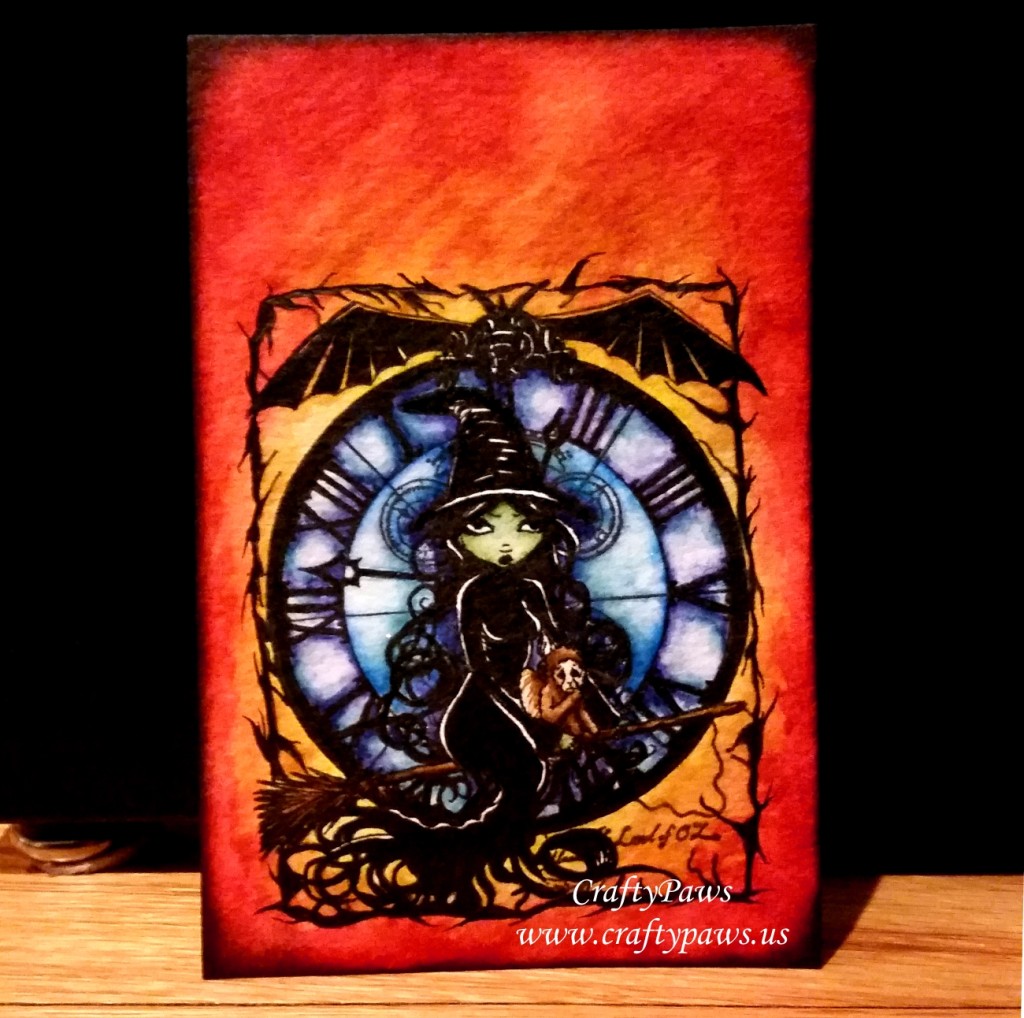 I knew I wanted to create a back-lit image with the clock face colored in an way that would look like it was illuminated from the inside–think warbly old stained glass.  While I wanted Elphaba (the Wicked Witch from the West) to have a little color, I wanted most of her to look silhouetted, with highlights that would seem like reflected light from the clock.  I also wanted the rest of the background to be ombre colored to mimic a fiery sunset in autumn colors.  I used these Tim Holtz Distress Markers to achieve this look and a Faber-Castell Pitt Pen in B point to ink in the silhouetted areas:
Face of clock: Broken China, Salty Ocean, Peacock Feathers, Chipped Sapphire
Elphaba's skin: Mowed Lawn, Salty Ocean
Flying monkey: Antique Linen, Tea Dye, Vintage Photo
Broom: Tea Dye, Vintage Photo
Background: Mustard Seed, Spiced Marmalade, Wild Honey, Festive Berries
When I thought I was done with the coloring, I used black Versafine ink and a finger dauber to distress and ink the edges of the card.  Then I noticed that the stamped image had a thin cracked edging. It didn't seem substantial enough to match the way I had silhouetted the main image so I took a thin Uniball pen and kind of doodled around the cracking to make it look more like a thorny thicket-like frame.  Oh yes, I liked this much better. 🙂  I added some clear wink of Stella over the top of the clock face to add a shimmer and was relieved to find that the India Ink from the Faber-Castell Pitt Pen did not bleed at all. YAY!
The following is a process video of this watercolored card:
This card is being entered into the following challenges:
Simon Says Stamp Work It Wednesday STAMPtember Challenge
MarkerPOP Halloween Challenge
Simon Says Stamp Wednesday No Designer Paper Challenge
One Sweet Halloween Challenge
Simon Says Stamp Monday Ombre Challenge
Oddball Art Fall Is In the Air Challenge
Cardz TV Fall Icons Challenge
The Shabby Tea Room Swirls and Twirls Challenge – WINNER
Thanks for stopping by and I hope you have a spooktacular day! WOOF