I am not much of a seamstress. I am basically self taught and after a horrible sewing machine accident that had a needle completely piercing and stuck in my right index finger I was a little gun shy (to say the least). However, when a dear crafty friend asked folks to make her a little holiday stocking to distribute to seniors with holiday cards, I knew I wanted to try to make one.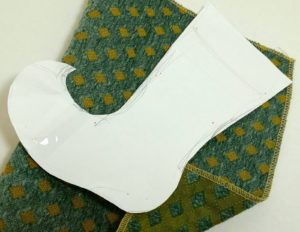 I didn't have a pattern, but I thought how difficult could that be? I just drew a little stocking on some copy paper with a bit of an upturned toe. I pinned it onto some beautiful peridot green and blue sample upholstery fabric (you can often get these for free when fabric lines are being discontinued if you ask store clerks nicely), and then cut around the pattern, leaving a 1/4″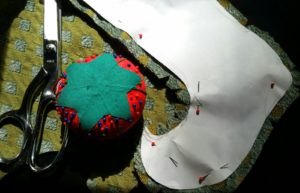 extra all the way around (for a seam allowance) and an extra 1.5″ at the top (so I could turn down the cuff). I cut away some little triangles of fabric where I knew I would need to ease the fabric into tighter areas (like in the toe or rounded heel). Then with right sides together, I sewed all around the stocking, except the top 1.5″.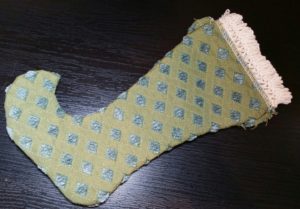 The next step was to invert the sewn stocking, and then complete the sewing of the remaining top edges. I also decided to sew on a bit of natural fiber trim along the raw cuff edge to hide the unfinished fabric. Two rows of that trim seemed to add a nice fluffiness. After turning down the cuff, I was pleasantly surprised to see that it looked like the elfin stocking I had imagined in my mind when I started!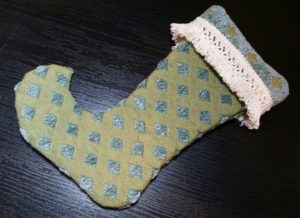 To add a bit of homespun vintage charm and whimsy, I hand sewed some crocheted flowers, fun buttons, and even a jingle bell to the toe. I hope the senior who receives this stocking (that I'll be filling with some yummy chocolate treats) will enjoy this little bit of homemade holiday love. 🙂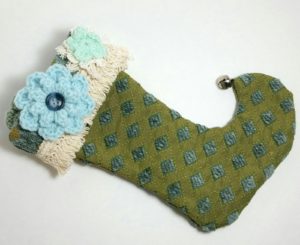 This holiday stocking is being entered into the following challenges:
Simon Says Stamp Work It Wednesday Peridot Challenge
Lil Patch of Crafty Friends Anything Goes Challenge
Word Art Wednesday Anything Goes Challenge
Creatalicious Anything Goes Challenge
Addicted to Stamps and More Holidays Challenge
Not Just Cards Anything Goes Challenge
Craft Your Passion Anything Goes Challenge
613 Avenue Create Anything Goes Challenge
Through the Craft Room Door Anything Goes Challenge – WINNER