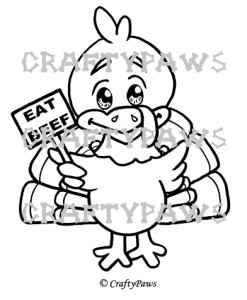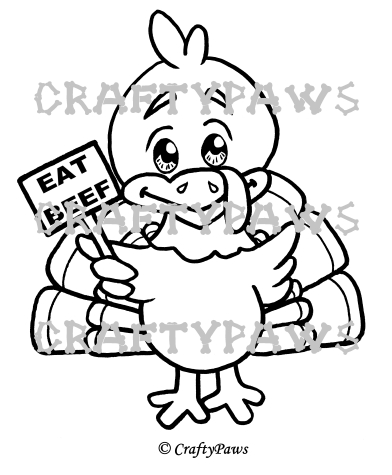 As free digi release day fell just 1 day before Halloween, I thought it was too late to draw up another Halloween digi. Sooo…I decided to look toward the next holiday and draw up a little turkey in anticipation of Thanksgiving!
As a vegetarian, I thought about making the sign read, "Eat tofurkey," but I thought more folks would understand and be able to get more use from the digi if I had the sign read, "Eat Beef." 🙂  This little Thanksgiving digi is called, "Eat Beef" and is available HERE.
If you are in a region of the U.S. that has Chick-fil-A restaurants, this digi might also remind you of their cow campaign in which cows urge folks to, "Eat mor chikin" (apparently cows can't spell). Those billboards always crack me up.
To make the card, I started with a soft orangy card stock from Bazzill and layered a couple small scraps from the American Crafts "Night Fall" paper pad. Before adhering it onto the card base, however, I decided to create a place for the little turkey to "stand" so I wrapped a snippet of green seam binding and topped it with a few turns of chocolate twine from American Crafts.  I tied a small little bow on one side, cinching the 3 twine strands so that the turkey could be a "bird on a wire." LOL
As for the digi itself, I used the following Copic colors, adding Glossy Accents to the turkey's eyes, beak, and feet for some shine.  Green: G94 and 99; Beak and feet: Y35 and 38; Red portions: R22, R08 and E07; Tan: E50 and 53; Blue head: B32 and 34; Chocolate brown: E25 and 29; and Sign: C1 and 3.
This card is being entered into the Simon Says Stamp Wednesday Anything Goes Challenge and
The Paper Nest Dolls Anything Goes Challenge and
The Pink Elephant Anything Goes Challenge
Thanks for stopping by and have a great day! WOOF