For the past few weeks, I have had very little time to craft. I've been dealing with some terrible litigation for my parents (finally the cases have been resolved and dismissed), come down with dermatographia (unknown cause but getting better slowly), and started on a ketogenic diet to try to cleanse/reboot my body and lose some weight (so far 13 pounds down in 3 weeks!). I am so thankful that we seem to be through the worst of things lately and I am especially thankful for my sweet little Bandito. He always makes me smile and I am so grateful that I still have him after the loss of my dearly departed Biscuit. In his honor, I crafted a Halloween costume that I thought I could whip up in a couple of hours with things I had on hand.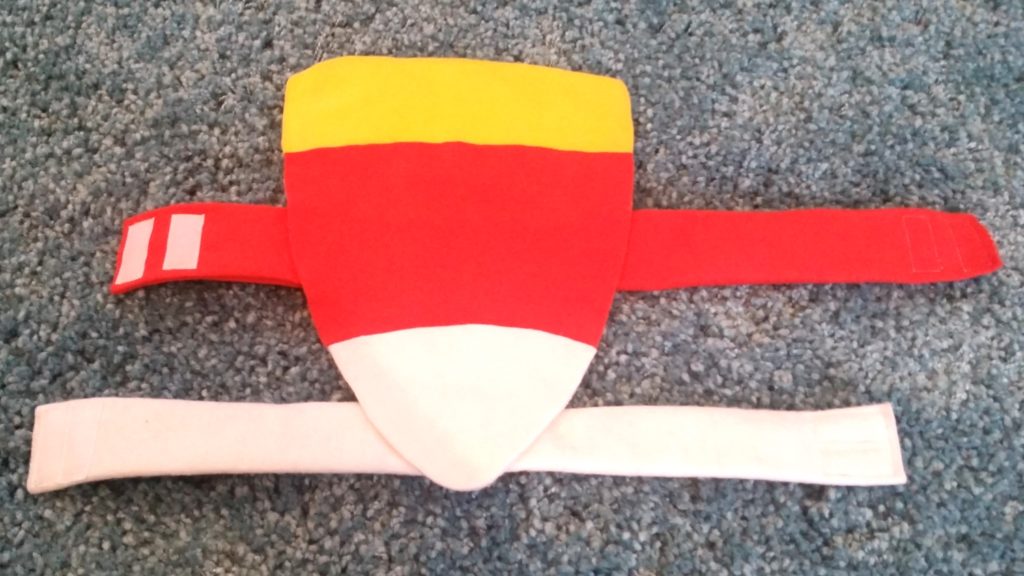 I didn't have a pattern or anything like that, but I figured I could just doodle a candy corn shape onto some white, orange and yellow felt with a marker and hand fussy cut them out. First I cut the whole candy corn shape out of white felt (measuring about 8.75″ x 12″), then I cut additional colored segments out in yellow, orange and white felt with a slight curve at the top and bottom of each so that the candy corn would have a rounded look. I didn't want to bother with lugging my sewing machine out, so I used Beacon Fabric-Tac to glue the pieces together.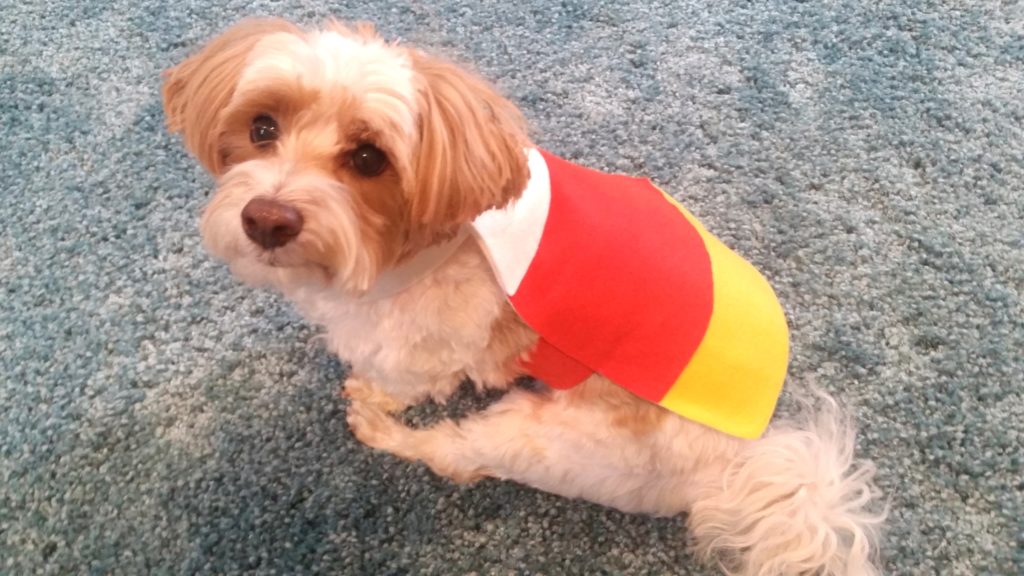 Then I thought about how I was going to attach this around my Bandito's torso and neck. The easiest way I could think to do it was to add straps. For the belly straps, I cut 4.5″ wide orange felt straps that I folded over and glued length-wise (with a 0.3″ overlap) for added durability. One side was 10″ long and the other side was 5″ long (lengths will vary depending on your pet's girth). For the neck strap, I cut a 4.5″ wide white felt strap that I folded over and glued length-wise (with a 0.3″ overlap) again for durability.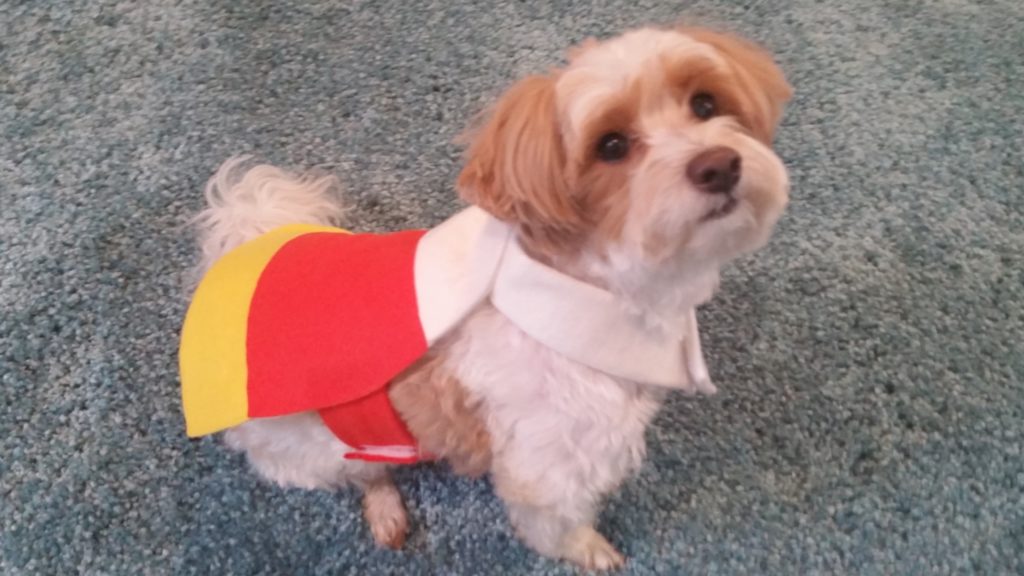 All that was left was to figure out the closure. I thought the easiest would be to use 3/4″ hook and loop Velcro sew-on tape. I could have used sticky-backed Velcro tape (then there would have been zero sewing!) but because I had used felt rather than regular woven fabric for the costume, I thought the sew-on type of Velcro would work better and be less likely to tear the costume. I didn't have any of this in my stash so I had to run out to the store for it, but after that quick errand, it was super easy. I sewed two strips of the Velcro to each of the straps (double-checking my measurements for placement before sewing), and voila! It was so easy, and now I have a unique candy corn costume for my pup! Doesn't he look adorable?!
Disclosure: Many of the supplies I've used for today's project are linked. Some may be affiliate links, which means if you make a purchase I receive a small commission at no extra cost to you. I truly appreciate your support toward the costs of running this blog!
This costume is being entered into the following challenges:
Simon Says Stamp Monday Halloween/Spooky Challenge
Simon Says Stamp Wednesday Halloween/Spooky Challenge
Word Art Wednesday Anything Goes Challenge
Creatalicious Anything Goes With Optional Use of Purple Challenge
Just Keep on Creating Anything Goes Challenge
Simon Says Stamp Work It Wednesday Give Thanks Challenge
Crafty Gals Corner Halloween Colours Challenge
Crafter's Castle Anything Goes With Optional Winter/Christmas Challenge
The Corrosive Anything Goes October Challenge
Crafts Galore Encore Anything Goes Challenge