Mr. CraftyPaws and I got our first Christmas tree after we moved from our tiny apartment in NYC 5 years ago to a regular-sized house in Atlanta. That first year, I made every single Christmas tree ornament, and as you can imagine lots of them featured Biscuit and Bandito. With each subsequent Christmas I added to these handmade ornaments, making our tree a true representation of our family. With the passing of my sweet 17 year 4+ month Biscuit this spring, I have not had the heart to take down her pictures (which are still all over the house, especially in my craft room), and now I face holiday decorating with mixed feelings.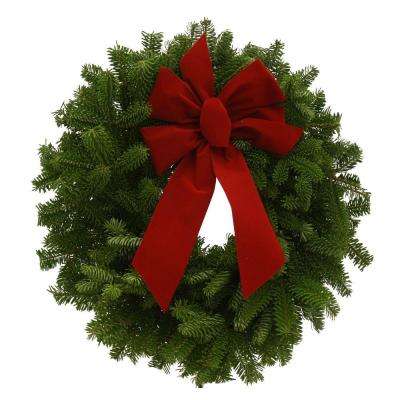 I just couldn't face dealing with all those memories so rather than following the tradition of getting our tree after Thanksgiving, Mr. CraftyPaws and I decided that we would keep the holiday decor simple this year and perhaps just hang a couple of wreaths.  So I picked up a simple live wreath for $8 at Walmart (this was even cheaper than the $10 live wreaths at Trader Joe's, but I might go pick one of those up since I think they're made of Boxwood).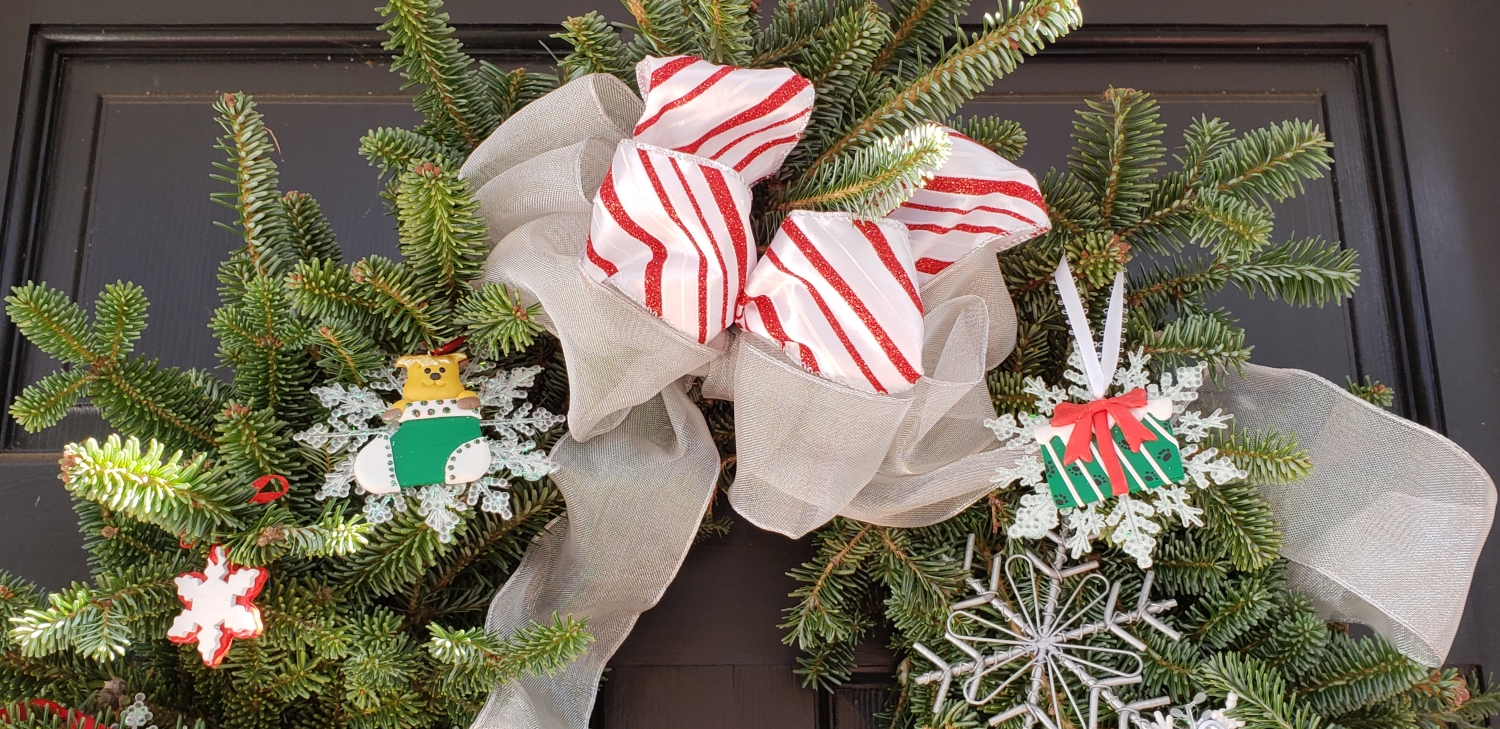 First I had to take off the cheap plastic/faux velvet bow, and made a triple loop bow from silver metal mesh wired ribbon and a double loop red and white sparkly satin wired ribbon that I secured to the top of the wreath with twist ties. Then I dragged out my Rubbermaid container where I had stashed post-holiday clearance buys from Michaels' $2 grab bags (yes, these are from before they raised the prices to $3 and then $4) and the Dollar Tree years ago.
I tried to keep the same types of decorations in odd numbers for a pleasing look and started by tying on 3 small red and white wooden snowflake ornaments and 3 rough metal and wire snowflakes; these were the old Michaels pick-ups. Then I re-discovered some shimmery plastic snowflakes with clay embellishments layered on them that I had put together from the Dollar Tree. One of them had a little apricot poodle head at the center of a poinsettia flower, but somehow it seemed right to have this little reminder of Biscuit front and center on the wreath.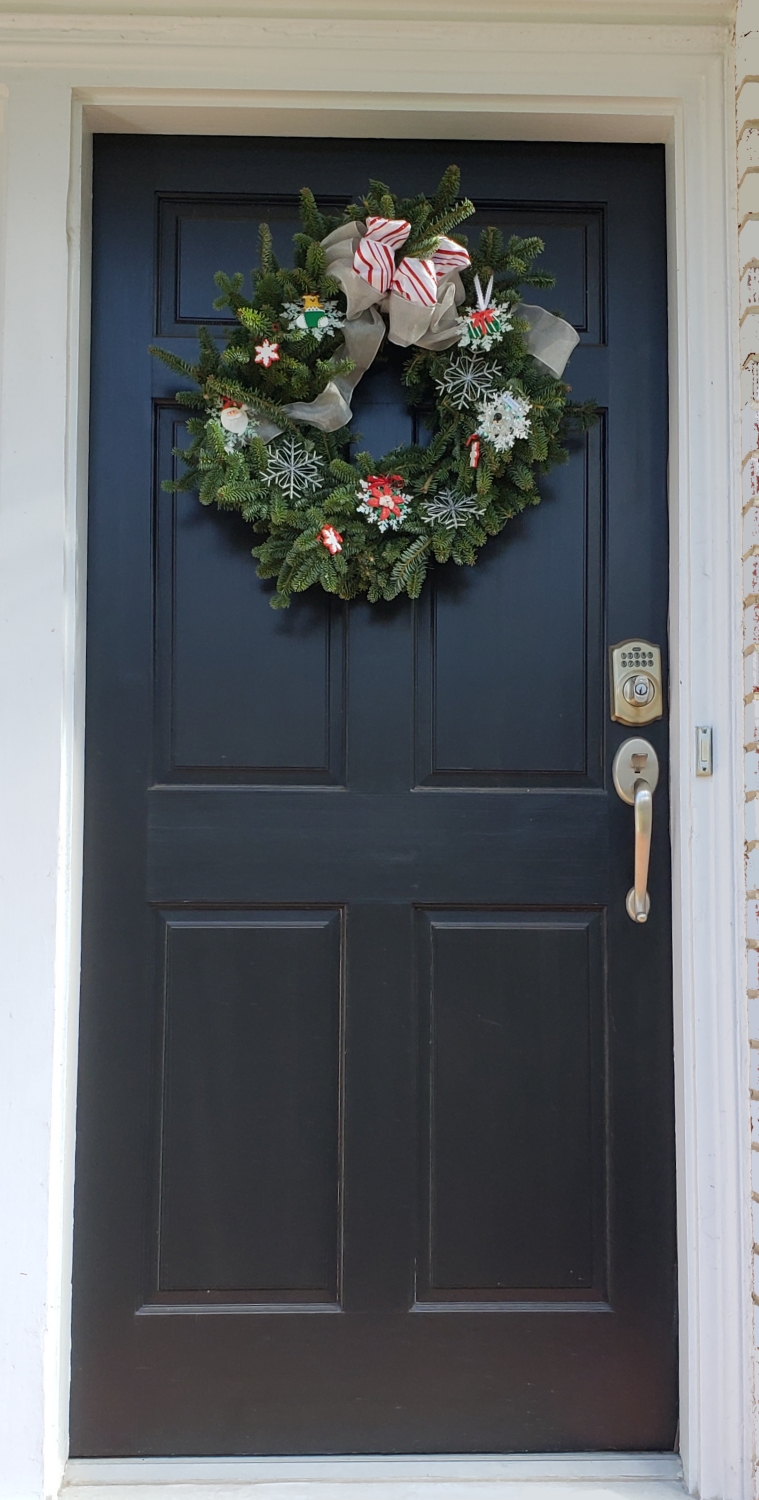 This last picture is how the wreath looks hanging on our front door. I am pleased with the simple, layered homespun look. It's personal but it wasn't emotionally taxing for me to craft. In fact, it was enjoyable enough that I am considering doing another one for our side kitchen door! I love how warm and welcoming it looks when folks approach our home from the cold outside.
This wreath is being entered into the following challenges:
Simon Says Stamp Wednesday Baby It's Cold Outside Challenge
Word Art Wednesday Anything Goes Challenge
Creatalicious Anything Goes with Optional Layer It Up Challenge
Lil Patch of Crafty Friends Anything Goes Challenge
Fab 'n' Funky Christmas Challenge
Just Keep On Creating Anything Goes Challenge
613 Avenue Create Anything Goes with Optional Winter/Christmas Challenge
Crafts Galore Encore Anything Goes Challenge
The Corrosive Challenge Anything Goes