Ok, some of you may think this is a drawing of my little Bandito (who is a Havanese), but it isn't! It is a drawing of my friend Robin's (YT: tngirl224) dog, Zoe.  Zoe is a Biewer (pronounced like "diva" but with a "b") Terrier and is absolutely adorable.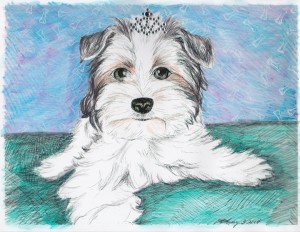 Robin had asked me to do a drawing of her fur baby, and while I normally don't take drawing commissions, I wanted to express my appreciation for all the charitable work she does so I immediately said, "yes." Robin is one of those really special people who always does things to help other people, make this world the type of place we all want to live in, and is so genuine that you can't help but become a fan.
Anyway, I did the first drawing using my old stand by Uniball ink pen. Then after I was done, I thought I don't feel the warm cuddly feeling that I'm sure Zoe exudes in real life. So I scanned in the picture into my computer and colored up the copy using my Derwent Inktense water color pencils. I also added some pink bling to highlight her little tiara, and used Glossy Accents to her eyes and nose. I really like how it came out, and I hope Robin does too.
The following is a video sharing this drawing and colored print.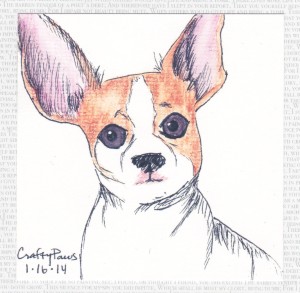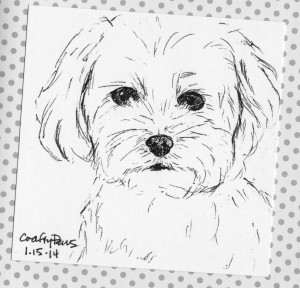 I thought I would also share a couple of small drawings I did for my friend, Elaine (YT: todaylibrary) of her dogs Mandy and Gunner. I know she absolutely loves her dogs so I wanted to create something that I hoped would be meaningful for her, and hopefully find their way into a keepsake piece she made of them (which they did — she shares it in a video on her Youtube channel).
Please subscribe if you wish, and thanks for stopping by! WOOF