I wanted to make a special project that would go into a memory capsule representing some of my thoughts about 2016. To do this, I decided to do a little water color stamping with the adorable Art Impressions "Dog Stackers" stamp set, but go nontraditional with the colors t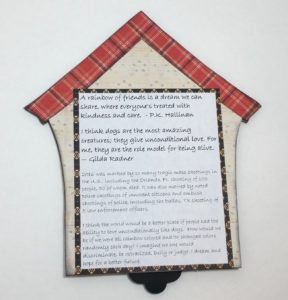 o create a doggy rainbow since I wanted the dogs to represent a paradigm after which we people could model ourselves.
That is, 2016 was marked by so many tragic mass shootings, police shootings, and ambushes of law enforcement officers, and I thought, "wouldn't the world be a better place if we could all just be accepting of one another and loyal like dogs?" Let me see if I can put it more clearly by sharing the quotes I found and printed to add to the back of this project to explain the sentiments I wanted to convey:
"A rainbow of friends is a dream we can share, where everyone's treated with kindness and care." — P.K. Hallinan
"I think dogs are the most amazing creatures; they give unconditional love. For me, they are the role model for being alive." — Gilda Radner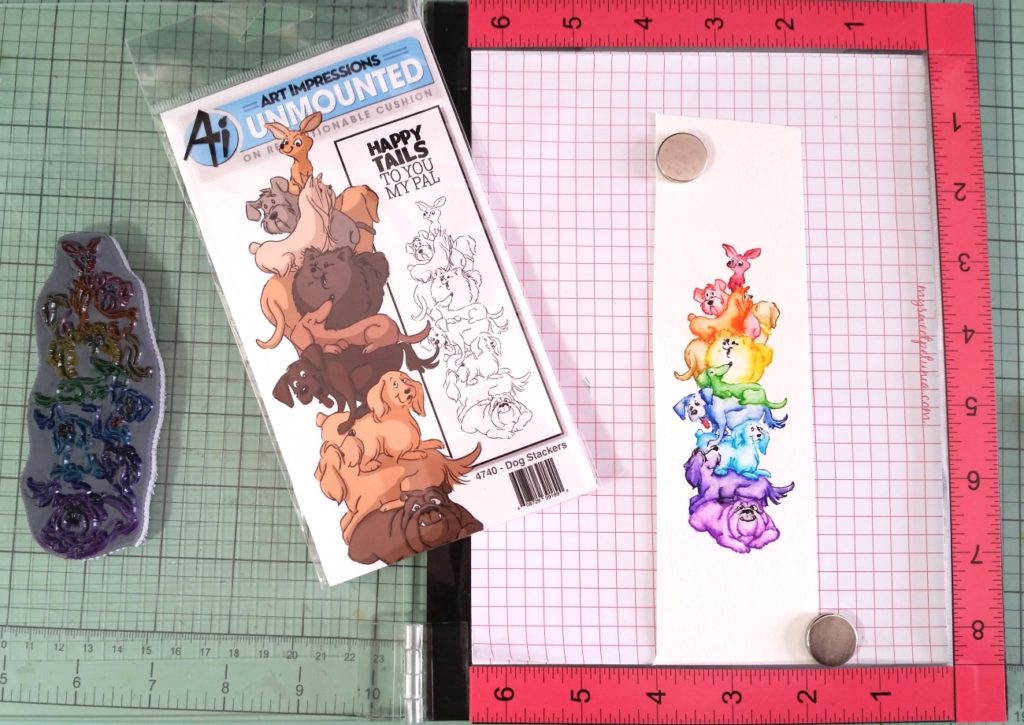 I used 140 lb Strathmore watercolor paper, a Pentel waterbrush, and the following Zig Clean Color Real Brush Markers (listed from top to bottom with Black (010) being used for eyes, noses and the ground) to color up these pups: Geranium (029), Light Carmine (021), Orange (070), Beige (072), Yellow (050), May Green (047), Cornflour Blue (037), Cobalt Blue (031), Violet (080), and Light Violet (081).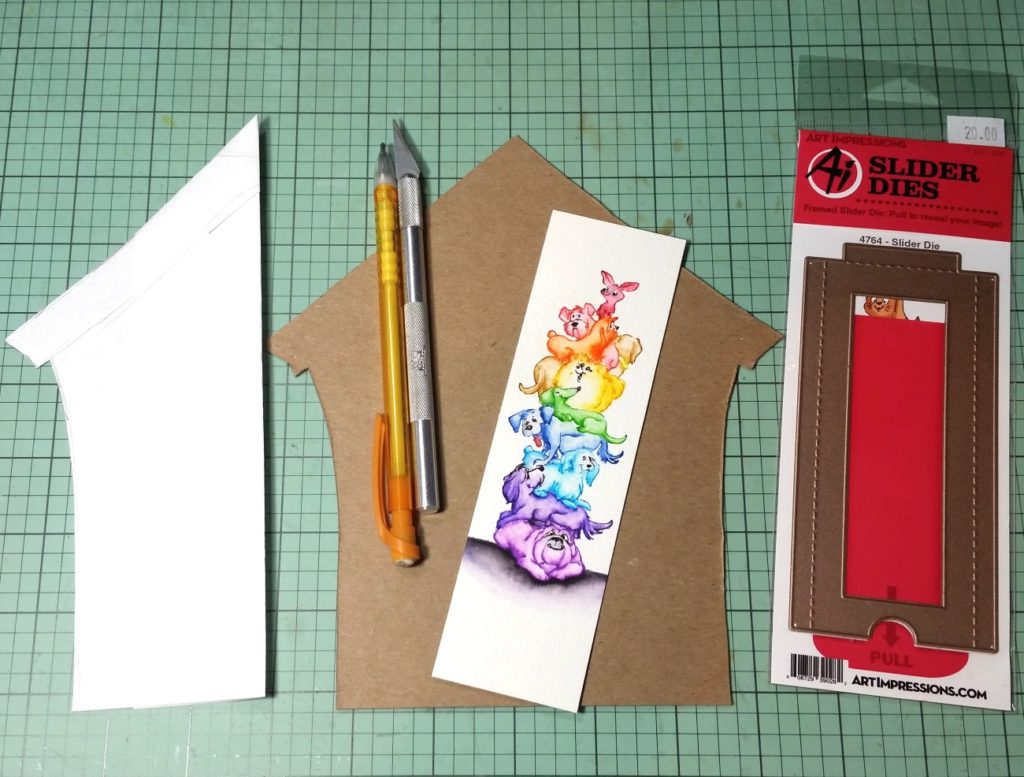 To make the house, I free hand drew half of a simple house shape onto some copy paper and cut it out.  I used that as a template to trace onto some heavy weight chipboard, flipping the template to trace both sides of the house. I then cut the chipboard with an X-Acto knife.  Then it was a matter of decoupaging on scrap papers to decorate the house. I added heart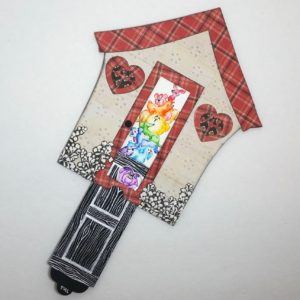 shaped paned windows using some Graphic 45 "Good Ol' Sport" red plaid papers, the two smallest of the Diemond Dies Heart Nesting Die Set, and hand cut in the panes from the centers. I used more of that same paper to create a red roof and also the door frame slider using the Art Impressions Slider Die (this coordinates with all the Art Impressions stacker line of stamps). To create the slider mechanism, I cut a piece of black card stock on which I doodled a paneled door with a silver glitter Gelly Roll pen, using the third smallest of the Diemond Dies Nesting Tag Die Set to make a nicely finished pull tab. To finish off the door, I added a little black doorknob by using a standard hole punch and more black card stock to punch out three small circles that I glued together to add a little dimension. I also used the smallest heart die to cut out a little peep hole in the door so that the top-most tiny Chihuahua could be seen even when the door was shut.
Note: My readers can get 10% off and free worldwide shipping at Diemond Dies by using the coupon code thankskristina at checkout on all orders of $35 or more
To add some more visual softness and "grounding" to the dog house, I fussy cut out some "shrubbery" to line either side of the door in front of the house. This was a painstaking task, but I love how by adding some of the leaves with double sided foam adhesive, it also added some dimension and interest.
2016 was marked by tragic mass shootings, notable police killings of citizens and ambush shootings of law enforcement officers. I think the world could be a better place if people had the ability to love unconditionally like dogs. How would we behave if we were all rainbow colored and/or changed colors randomly each day? I imagine no one would discriminate, be ostracized, bully or judge. I hope for such a better future. This is my dream house. 🙂
The following is my video share of this project:
This project is being entered into the following challenges:
Art Impressions Watercolor Stamping Challenge
Simon Says Stamp Wednesday Stamp It Challenge
Simon Says Stamp Work It Wednesday Use Stamps Challenge
Word Art Wednesday Anything Goes Challenge
Creatalicious Anything Goes with an Optional Anniversary Challenge
Penny Black and More Add A Sentiment Challenge
Lil Patch of Crafty Friends Anything Goes Challenge
Through the Craft Room Door Anything Goes Challenge
613 Avenue Create Anything Goes Challenge
Craft Your Passion Anything Goes Challenge