I have always been the kind of girl whose tastes lean more toward fantasy, science fiction, mystery, and suspense. I love Star Wars, Doctor Who, Lord of the Rings, Harry Potter, Silence of the Lambs….  Well, you get the picture.  A few years ago I was working for the BBC and got a chance to meet the then new Doctor (Matt Smith), his companion Amy Pond (Karen Gillan), and the amazingly creative executive Steven Moffat (who is also the executive producer of the brilliant show, Sherlock).  I was absolutely hooked.
This week, I am gearing up for the new season of Doctor Who with a new twelfth doctor (Peter Capaldi), which is supposed to premiere August 23, 2014 here in the US. To help celebrate, I made a few pairs of Tardis earrings (for myself and for some avid Whovian friends) out of Shrinky Dinks!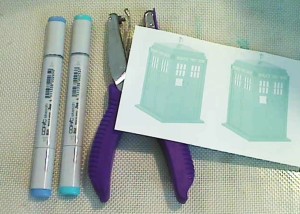 I found a clear image of the Tardis in an angle that I liked.  I took down the hue and saturation to about 50% (when Shrinky Dinks shrivel down, the color intensifies) and then I printed out 9 wallet-size (2.5″ x 3.5″) images to a sheet (I used the type of Shrinky Dinks that work with Inkjet printers).  Because Shrinky Dinks shrink to about 1/3 the original image size, I knew I wanted to start with 3.5″ images to end up with clearly visible Tardises about 1.2″ high.   I then used Copic B02 and B34 to color the backs of the images so that the earrings would be blue on both sides. I fussy cut out the images, remembering to leave a larger area at the top where I planned to put the hole in for making the earring.  I used a 1/8″ hole punch to make the hole (remember holes shrink in Shrinky Dinks too) which turned out to be the perfect size for the earrings.
Before putting a heat gun to the images, I lined my desktop with two layers of re-usable non-stick silicone baking mats (mine are from Costco, but there are brands like Silpat).  This protects the surface; one layer still seems to let heat travel through.  Of course you could also just bake the images in the oven, but I like to have "control" over the shrinking, and I also ended up coloring the front of the images while it was still warm (and absorbing?) with Copic B34 to match the blue of the earrings to actual Tardis blue.
I added little aqua seed beads and a little black faceted bead to each earring to help give added sparkle, color and movement. Because Shrinky Dinks are so light weight and the beads I used were so small, the earrings are super comfortable and light weight.  I love how the earrings turned out, and I plan to wear my pair when I watch the first episode of the new season in two days!
The following is a how-to video of these earrings:
These earrings are also being entered into the Simon Says Stamp Work It Wednesday Blue Challenge and
the Simon Says Stamp Anything Goes Monday Challenge
Thanks for stopping by. Please subscribe if you wish, and have a great day! WOOF