For those of you who are Doctor Who fans, I hope this card thrills you like it does me. LOL For those of you who aren't I hope you'll bear with me as I get my nerd on and get excited about the new season and new Doctor of the fabulous tv series, "Doctor Who," which is premiering in the U.S. tomorrow. Woot woot!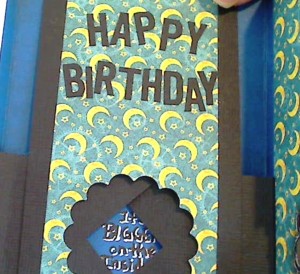 I made this Exploding Tardis magical marquee card inspired by the episode, "The Pandorica Opens."  In that episode, the Tardis is exploded to reboot the universe (long fantastic story that I won't do justice here).  On the iconic front free for public sign on the left, I added a tiny "Happy B-day" message for the card recipient. I made the card so that when you open the two front doors (yes, I know that the "real" Tardis doesn't open on the left), you see a large "HAPPY BIRTHDAY" message (which I cut out using my Martha Stewart happy birthday punch) and the black panels open to reveal a message, "It's BIGGER on the inside!" That is a common phrase in this series that gets funnier after each time you hear it. 😛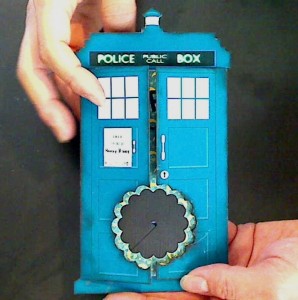 The outside Tardis images (I used 2) were ones that I downloaded from the Internet and I just constructed the magical marquee card to fit around the pieces of the images.  I added Glossy Accents to the windows and the light at the top of the police call box to add more "realism." tee hee hee
The last touch I added were the black rays that I inked on using a Tim Holtz rays stencil.  I thought that conveyed the idea of the exploding Tardis better than without the rays.
I also decorated the envelope to go with (but not be matchy matchy) with the  card. I distressed all the edges of the envelope, including the back flap using black ink.  Then I used the same Tim Holtz rays (THS003) stencil, but the center of these rays is actually a pocket watch from the "Forever in Time Paper Craft Collection that I heat embossed with American Crafts Zing! charcoal embossing powder.  This decoration is inspired by the episode, "Human Nature" and "The Family of Blood" (and thirdly, if you need a third reference, the "Utopia" episode when the Master comes back to being a Time Lord).  Ok, I'll stop. ;D
The following is a video share of the card:
This card is also being entered into the Simon Says Stamp Work it Wednesday Blue Challenge and
the Simon Says Stamp Monday Anything Goes Challenge
I thank you all for bearing with me and letting me indulge my Whovian excitement. Thanks for stopping by and have a great day! WOOF