I can't believe it, but I'm actually ahead of schedule for my hubby's anniversary card! Our anniversary isn't until September, but when I picked up the Visible Image "Ahead of Our Time" stamp set from Topflight Stamps I knew I wanted to craft a special anniversary card for Mr. CraftyPaws with them, and I just couldn't wait. The spiraling clock face, the falling people, and the open door stamps reminded me of various scenes from "Doctor Who" where characters fall out of the Tardis transport/time machine and adventures ensue with stories spanning "all of time and space." My hubby is a huge Doctor Who fan (or Whovian), and I knew this theme would speak to him.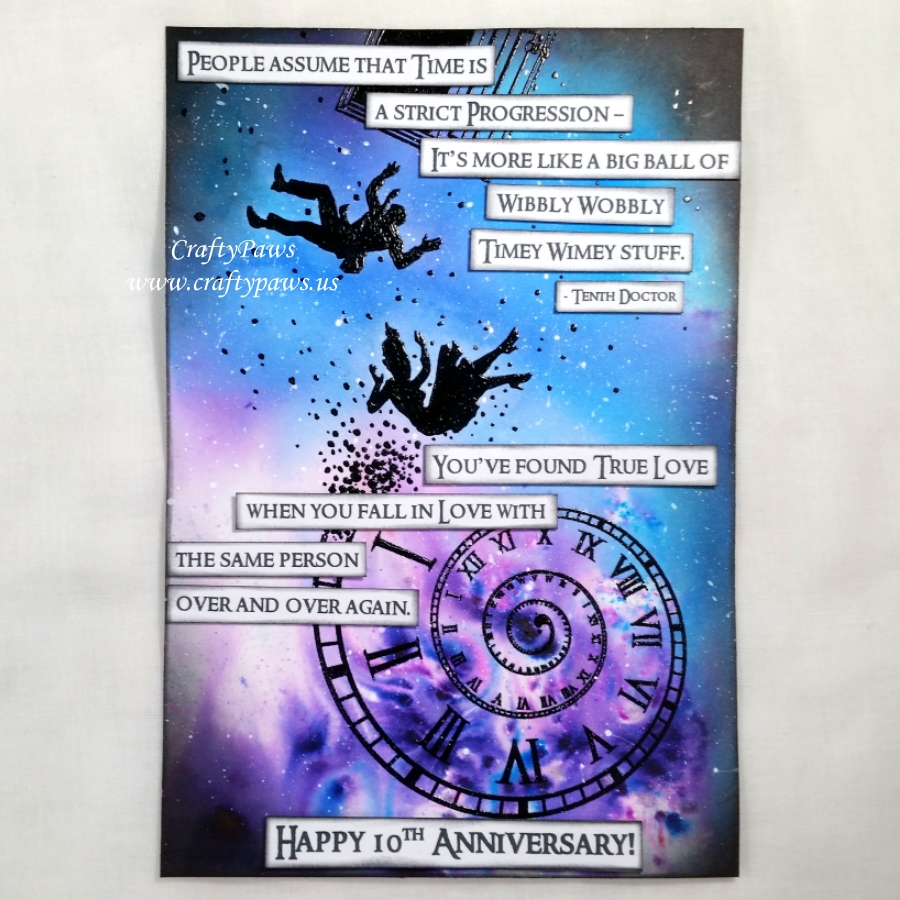 To set the scene, I created a galaxy background. I started with Strathmore Bristol Paper and sprinkled and spritzed Ken Oliver Color Bursts in Indigo and Ultramarine Blue with water. To spread the pigment particles, I sprayed water strategically over the pigment crystals. Then I fully dried the paper with my heat tool; this step is critical before moving onto the heat embossed stamping.
I wanted the stamped images to stand out from the background so I used VersaMark Ink and Ranger Black Embossing Powder to heat emboss them. I first prepped the background with my EK Success Powder Tool and then stamped the spiraling clock, the falling woman (me) and man (Mr. CraftyPaws), and the open door (representing the Tardis). I positioned the images so that it would look like the man and woman were falling out of the open door into a spiraling time warp. To connect the spiraling time warp clock a bit more with the falling couple, I also added more black splatter dots that start at the top of the time warp stamp with a Sakura Black Glaze Pen.
To create a more dramatic galaxy look, I blended Black Soot Tim Holtz Distress Ink around the edges of the entire background. And although it would have been easier to splatter watered down titanium white acrylic paint to create stars all over the galaxy background before doing the stamping, I didn't think of this until afterwards. I went ahead anyway, and because the stamped images were all heat embossed, I was able to wipe off the white splatters from most of the images with a damp paper towel before they dried (whew!). I was also able to re-emphasize the shiny black silhouettes of the man and woman with a Sakura Black Glaze Pen.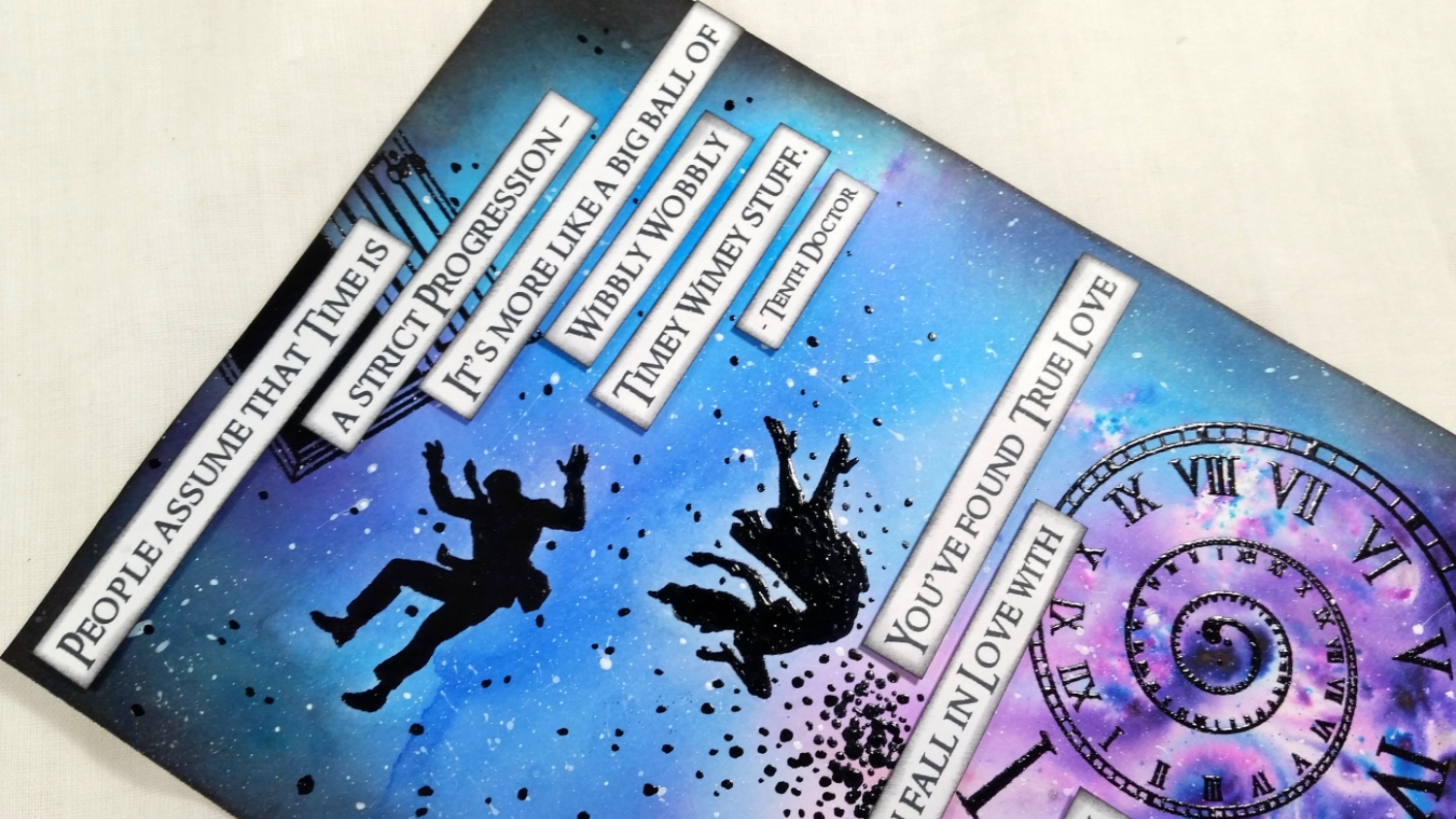 At this point, you may be thinking that this scene card doesn't really scream "anniversary". But wait. In one of our favorite "Doctor Who" episodes, "Don't Blink," the Tenth Doctor (played by David Tennant) says, "People assume that time is a strict progression — It's more like a big ball of wibbly wobbly timey wimey stuff." I thought that this sentiment went well with another saying: "You've found true love when you fall in love with the same person over and over again." I printed out these quotes on my computer and cut each line apart so that I might position each line around the scene I created. I inked all the edges with Tim Holtz Distress Ink in Black Soot and popped up each line with double sided foam adhesive for a bit of dimension.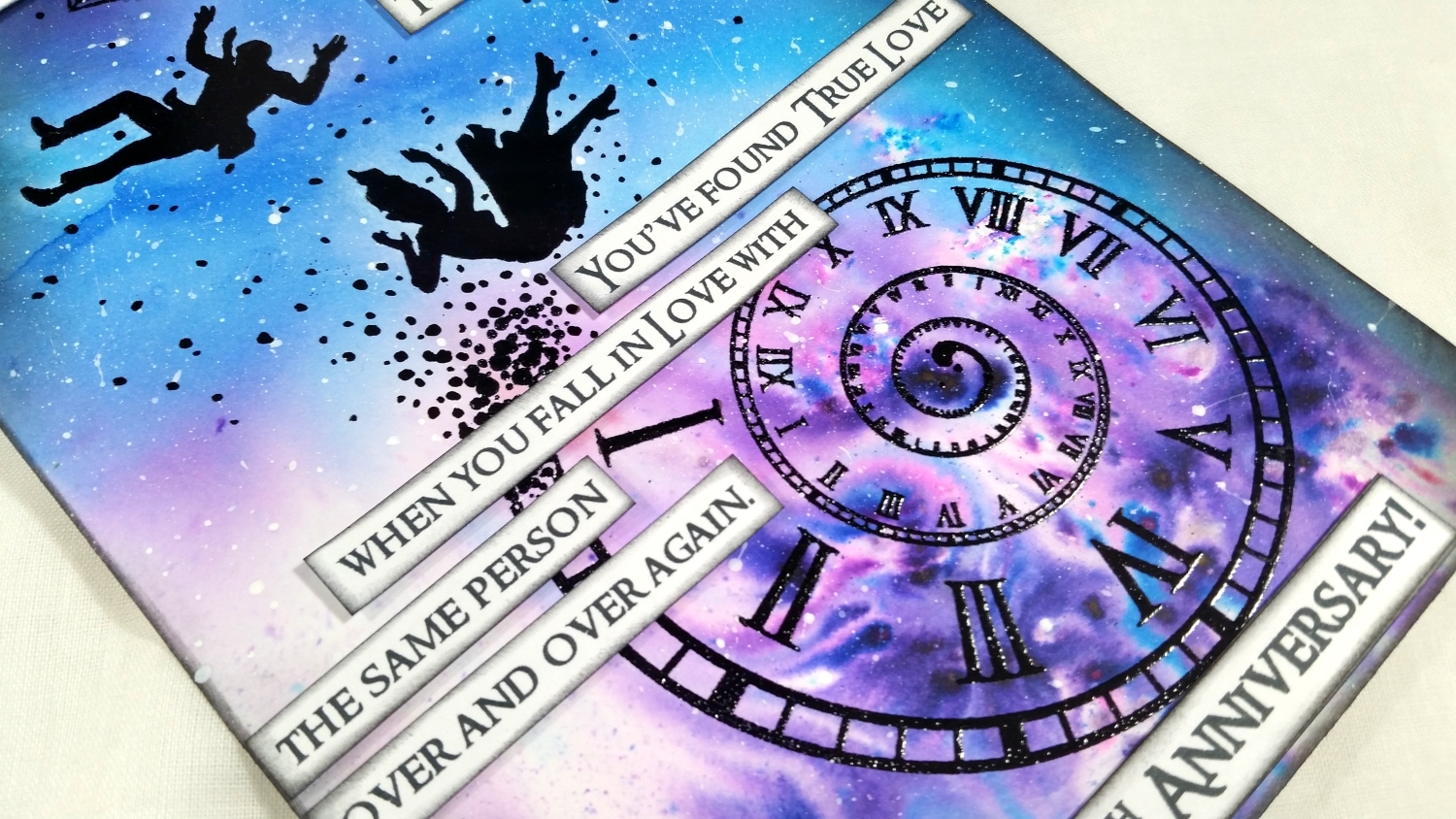 I really hope Mr. CraftyPaws likes this anniversary card as much as I enjoyed crafting it for him.
Disclosure: Many of the supplies I've used for today's project are linked. Some may be affiliate links, which means if you make a purchase I receive a small commission at no extra cost to you. I truly appreciate your support toward the costs of running this blog!
The following is a process video of creating this special anniversary card: [to come]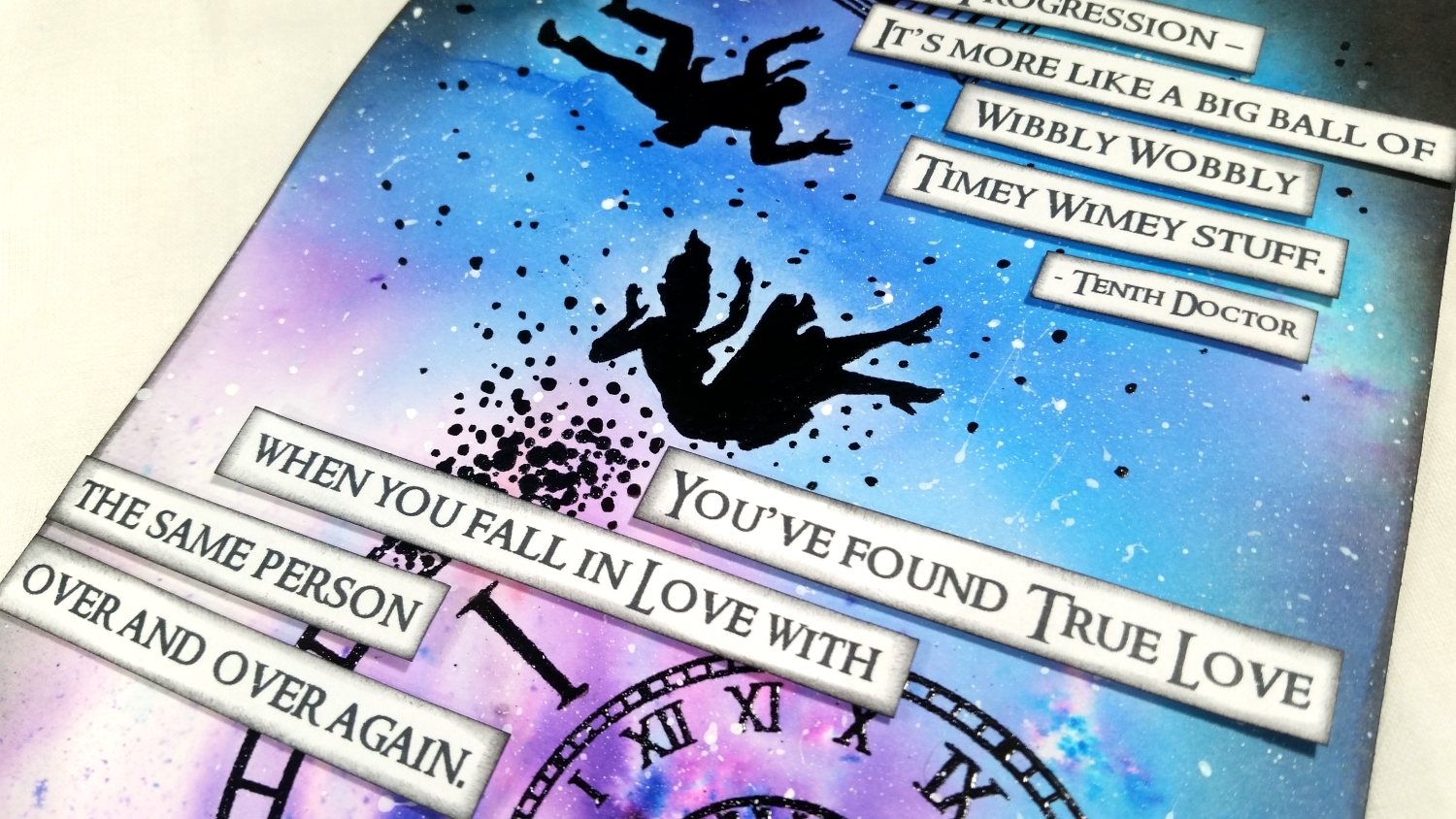 This Doctor Who themed anniversary card is being entered into the following challenges:
Stamping Sensations Anything Goes Challenge
Simon Says Stamp Monday Transport It Challenge – WINNER
Word Art Wednesday Anything Goes Challenge
Creatalicious Anything Goes with Optional Flowers Challenge
Lil Patch of Crafty Friends Anything Goes Challenge
Through the Craft Room Door Anything Goes Challenge
Crafty Gals Corner Anything Goes Challenge
The Corrosive Anything Goes Challenge
613 Avenue Create Anything Goes Challenge – WINNER