These super simple and inexpensive DIY personalized trivets (coaster versions would be great too) made me so happy!  This was the first time I made my own stencils and tried altering cork trivets–I had no idea if this would work (especially stenciling on heavily textured cork), but I'm so glad I tried something new. It was so much fun! I can't wait for my hubby to come home (he's on a business trip) so I can surprise him these personalized trivet gifts of our fur babies (different versions of this could be done for hostess gifts, baby showers, house warming, so much more–monogram, baby silhouette, house with move in date).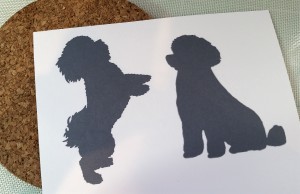 I found silhouette profile images of a Havanese (actually it was a Shitsu but they have similar silhouettes) and a Poodle online and digitally tweaked them to look more like my Biscuit and Bandito.  Then I greyed out the image (I wanted to use less of my black printer ink) and printed them out on card stock. Carefully hand cutting out the images with my favorite fussy cutting Fiskars 5 Inch Titanium Micro-Tip Easy Action Scissors
and X-Acto #2 Knife
 took a little time, but the whole time I was smiling since the images started to look more and more like my fur babies.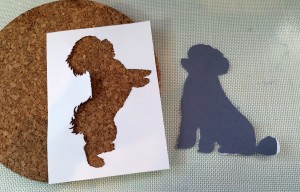 Then with the DecoArt Americana Premium Stencil Brush Set
 and a little white acrylic paint, I stenciled in the negative areas of the doggy stencils I had made. Since the IKEA trivets ($2.99) come in a three-pack, I decided to try using the positive poodle silhouette image as a mask and stenciled all around it (see top photo) for the last trivet.
I'm not sure how well these images will endure with heavy use, but I'm not too worried since they were so fast and easy to make and I LOVE them!  Plus, my guess/hope is that the cork will have absorbed the thin layers of acrylic paint well enough so that even with some wear and tear the images will simply look a little more distressed.
The following is a process video with some helpful tips and tricks for making these personalized trivets:
These doggy trivets are being entered into the following challenges:
Simon Says Stamp Monday Leap Into the Unknown Challenge
Simon Says Stamp Wednesday Touchy Feely Challenge
Addicted to CAS Gift Challenge
Fab 'n' Funky Love Challenge
Word Art Wednesday Anything Goes Challenge
Through the Craft Room Door Anything Goes Challenge
Crafty Girls Creations Anything Goes Challenge
613 Avenue Create Anything Goes Challenge – WINNER
Craft Your Passion Anything Goes Challenge