I love the little "Christmas Doggy" from My Creative Time and the sweet poodle from the Penny Black "Mimi in Paris"
stamp sets that I wanted to make custom candles with them as a little prezzie for my hubby for Valentines.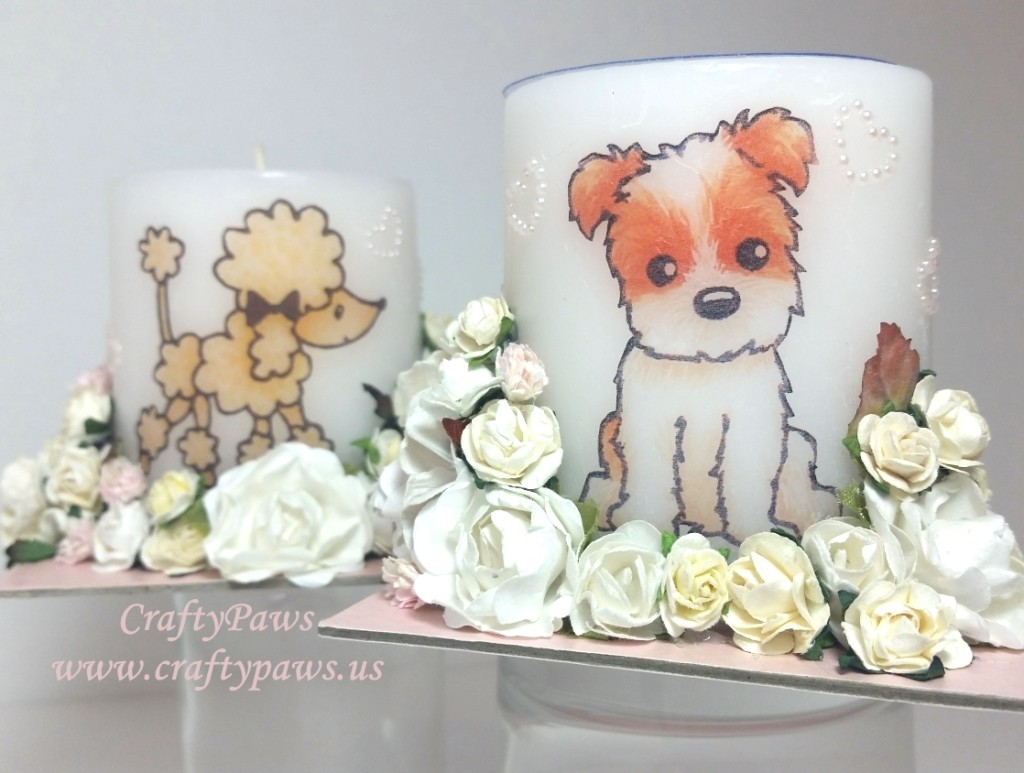 I colored up the poodle with the following Copic colors: E51, E21, E11, and E93, and the fluffy spotted dog in: W1, W3, E33, E23 and E25
Then I scanned in both images into my computer and taped some tissue paper onto card stock to run through my printer.  I printed out several images of each pup onto the tissue paper and then loosely cut them out.
I adhered the tissue paper images of the pups onto fragrant white candles from the Dollar Tree by covering them with wax paper to hold them in place as I slightly melted the wax of the candles with my heat tool.  This light melting embeds the tissue paper into the surface of the candle wax, and voila! Custom candle!
Then I created sturdy chip board candle bases and had fun decorating the bases and the lower part of the candles with loads of paper flowers.  I used hot glue to adhere all the roses and then added a finishing touch of small pearl heart stickers, also from the Dollar Tree. This was a new-to-me technique, and I'm so pleased with the results. I'm made a set of poodle ones for my sister (she has 2 poodles) so she can have them by her soaking tub.  She and I are kindred spirits when it comes to our pups, and I know she'll love the ones I made for her.
The following is a process video of making these custom candles:
These candles are being entered into the following challenges:
MarkerPOP Valentines Challenge
Simon Says Stamp Monday Something New Challenge
Simon Says Stamp Wednesday Something New Challenge
Penny Black and More One for the Girls
Not Just Cards Anything Goes Challenge
Crafts Galore Encore Anything Goes Challenge
Fab 'n' Funky Something New Challenge
Lil Patch of Crafty Friends Anything Goes Challenge
Thanks for stopping by, and have a fabulous crafty day! WOOF