Making action wobbles is really fun and easy. All you need is a little bit of cardstock, some invisible tape, a fine gauge wire (I used 28 gauge), and that's it!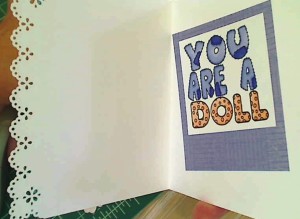 I made this card using a free image from Tiddly Inks.  I colored up both the rag doll and the sentiment using my Copic markers (Dress and Shoes: YR 000, 00, 02, and 04; Blue parts of lsentiment to match my background patterned paper: B63, 66, and 69; and Rag doll body: E21 and 31).  The white polka dots on the doll's dress were made with my white Tsukineko Gelly Roll pen.  The inside of the card was simple. I just used one of the coordinating sentiments that I colored up and backed it with a scrap of the same patterned paper that I used on the front of the card. This was a paper from the Dog Days Deja Views paper stack; the simple pattern reminded me of a quilt and somehow that seemed to fit with the rag doll.
I cut the card base so that my Martha Stewart punch around the page could make the corners of the front of the card fit with the punch set (5″ x 8″) and used my doily punch set to just add a lacy front edge.  Then I just had fun layering on embellishments to create a little floral scene for the doll to "dance" around in. I started with a small paper doily (adhered with a glue stick), then gathered a pile of small faux flowers (glued on with hot glue), added a pretty resin butterfly (stuck on with E6000), and finished off the edge of the patterned paper alongside the punched doily border with baby blue and bling trim (again with the glue gun).
A sweet special card that is not hard to make! We could all use that in our lives, right?!
The following is a card share video that includes a tutorial on how to make an action wobble:
https://www.youtube.com/watch?v=ojicf_EgSy0
Thanks for stopping by and have a great day! WOOF