Ok, I couldn't stop at just those Doctor Who projects that I made for my friend's brother, James, over the last few days. I wanted a Doctor Who ornament for my own tree! Is that bad? LOL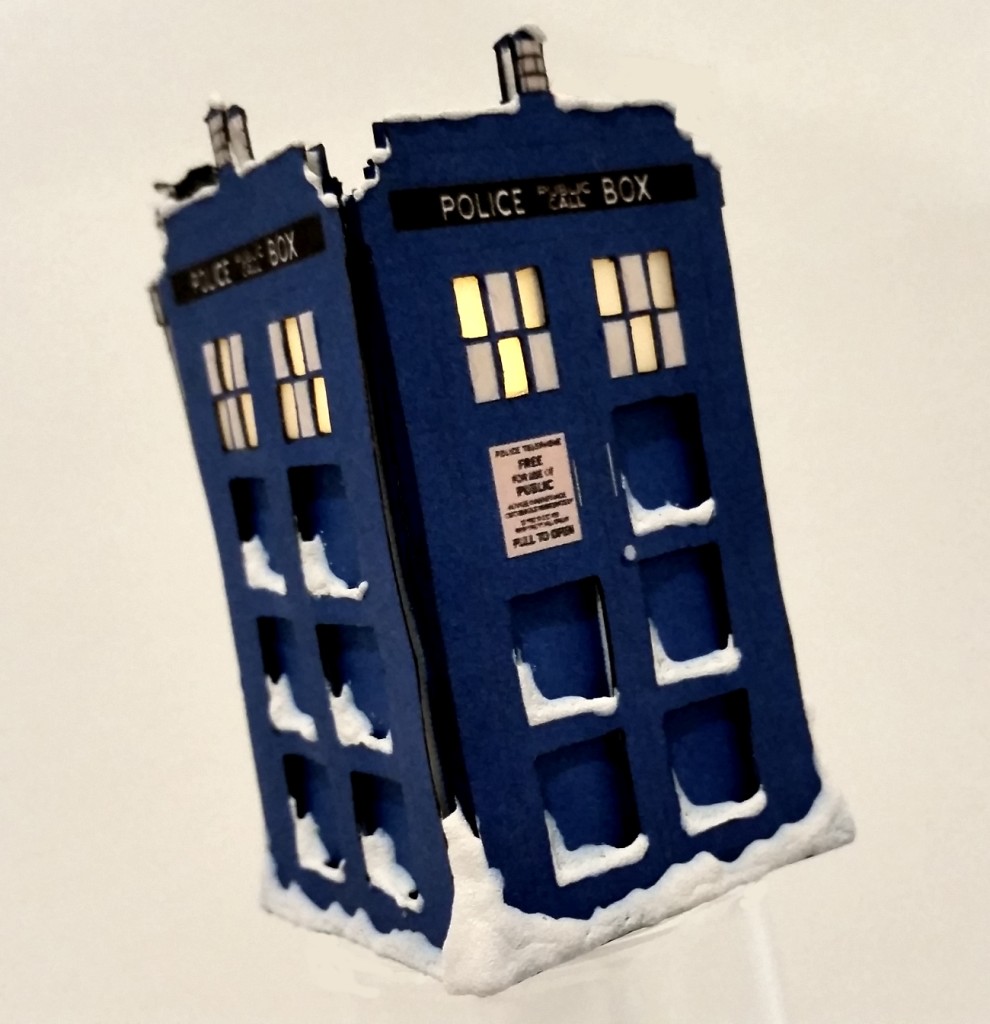 I found online a clean front door image of the Tardis (Doctor Who's time traveling space ship), then I used paint.net to alter it to make it look like one of the side walls and replicated it 2 more times (3 sides total). I printed out 2 images of each side of the Tardis and fussy cut each of them out. Then I used an Xacto knife and cut out all the panels on the doors of half of the images. I also used an Xacto knife to cut out half of the windows at the top of each door (alternating every other window panel so as not to accidentally cut away or rip the window sills) and lined them with vellum.  For the second set of Tardis sides (the ones I'll put behind the ones with the panels cut out), I cut out the windows completely. Then I painstakingly inked all the cut edges (yes, even inside every window pane) with a black felt tip marker to hide the white of the paper and give a finished look. Finally, I layered all of sides using double sided foam adhesive, creating a dimensional paneled look for each wall.
With some black card stock, I constructed a little box about 1.5″ square at the base and 1″ high.  I flipped this over so the bottom was on the top and then adhered each side of the Tardis to each side of the box.  This created a great 3D look as well as a platform on which to inset a battery operated tea light.  This tea light addition adds a great glow behind the cut out windows that I had lined with vellum and took this little 3D ornament to the next level (my hubby said he thought this was the best craft project I had ever made! hehehe).
To add a little extra interest, I also added DecoArt Snow Writer on the tops and bottoms of each side of the Tardis and along the left side and bottom of each inset panel.  As it takes 2-3 hours for each side to dry enough to move on to the next wall, this was a great lesson in patience for me. :o)  What is fantastic about this product, though, is that it dries completely hard and secure (no more deflated puffy texture like from Liquid Applique).  As a finishing touch, I added just a pinch of Glossy Accents to add shine and a glassy look to the windows that were not cut out and lined with vellum. I used a remnant black satin ribbon to create a hanging loop, making sure to leave space so that I could turn on and off the tea light inside as needed.
This 3D Light Up Doctor Who Ornament is being entered into the following challenges:
Simon Says Stamp Monday Just A Pinch Challenge
613 Avenue Create Anything Goes Challenge
Through the Craft Room Door Anything Goes Challenge – WINNER
Craft Your Passion Challenges Anything Goes
Card Mania Christmas Challenge
Thanks for stopping by, and I hope you are having a wonderful crafty day! WOOF