I think layout, which I am titling, "Home is Where the Dogs Are," may be the best layout I've ever made. I worked on it in parts over about a week's time, and it became a labor of love. The theme, "Fall is in the Air" is one of the three we had to choose from as Diemond Dies' design team members participating in the fall YT hop. (Oh yes, I am now an official permanent design team member! YAY!)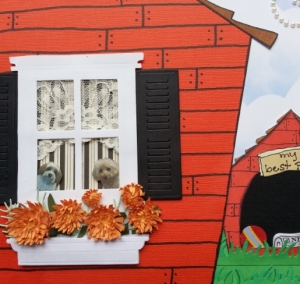 Coupon Code and Sale: If you are placing an order at Diemond Dies, please use the code: "thankskristina" for 10% off your entire purchase (including sale items–everything is on sale an extra 10% from Sept 26-Oct 5, 2014) and free worldwide shipping on orders over $35!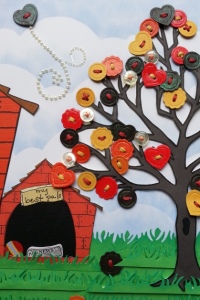 I knew I wanted to create a tree with fanciful button "leaves" (tutorial included in video share below). I used all except the largest in the Diemond Dies Vintage Button die set.
I also knew I wanted to include my dogs (who are often my muses–LOL). I took a couple of pictures of them, printed them out in thumbnail size, and fussy cut them out. I used the super cute and very versatile Diemond Dies Window die set and and popped my pups behind the window so that they looked like they were peering out of a cozy home. I adhered the window with foam adhesive so that I could give a sense of dimension behind it with "wallpaper" and a lacy curtain.
Making the yard was fun with the Diemond Dies Grass Border die (both the positive and negative). It was easy to create a sense of texture and depth by inking the edges with some green ink.  I could tuck a few fallen button "leaves" behind blades of grass and some dog toys for some pops of color in the sea of grass.
Finally, I used the three smallest flowers from the Diemond Dies Asters die set to make my first handmade paper flowers for the flower box under the window. I must admit this was very time consuming, but I think the detail and richness of the chrysanthemum flowers that I was able to make are unmatched in store-bought paper flowers.
For a more detailed share of the layout, please see the video below:
This LO is being entered into the Simon Says Stamp Work it Wednesday Color Recipe Challenge and
the Simon Says Stamp Anything Goes Wednesday Challenge
Thanks for stopping by and have a great day! WOOF