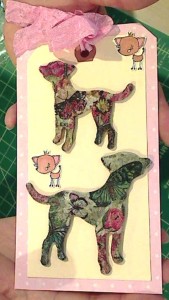 I have tried to cover intricate wood veneer pieces with patterned paper, paint them, and decoupage them, and the best and easiest results seem to come from decoupaging with paper napkins.
It is really quite easy. Best to start with a clean base so I paint the base wood piece with acrylic paint (remember to paint the edges as well). Then I brush on gloss gel medium (I use Liquitex, but Mod Podge would work just as well I'm sure). After removing the 1 or 2 under ply layers of the napkin, I pick an area of the napkin that has a pretty pattern to adhere to the gloss gel. Then I wet my finger with water and dab around the edges of the wood piece. This weakens the napkin so that it can be torn away from the wood right at the edge. If the images on the napkin are not dense enough to give you the decorative intensity you want, just tear more little bits of the napkin images you want and add them over top with the gel medium.  If you want to further distress it, you can ink around the edges of the decoupaged wood veneer as well. Finally, a top coat of gloss gel seals the whole thing and makes for a pretty resilient embellishment.
Super easy, right?  The results are always gorgeous too. Those paper napkin images are often so luxe!
These wood veneer dogs are being entered into the Simon Says Stamp Work it Wednesday Challenge
Thanks for stopping by and have a great day! WOOF