Another quick and easy embellishment to craft are altered clothes pins. You know, the wooden kind that no one seems to use anymore with dryer machines so readily available, but that they sell in hardware stores and dollar stores everywhere.  I'd never tried this before, but I've been admiring so many of these in shops and on other folks' YT channels, so I thought why not try?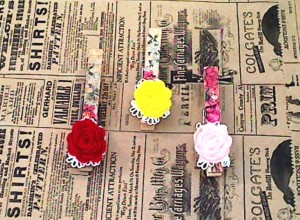 I took 3 clothes pins and decoupaged small pieces of a beautiful paper napkin. Just paint on the decoupage medium (Mod Podge, gel medium, glue with water) onto the wooden face, lay down the top thin layer of a pretty napkin, and use a wet finger to remove the excess paper napkin from around the clothes pin. Do this to both sides and stand them up vertically to dry. After the first layer dried (in minutes), I put an extra layer of decoupage medium to seal the napkin in.  Then I took a little Victorian Velvet Distress ink to add some lovely color to the edges.
Then comes the extra fun part! You can embellish with wood veneers, stickers, flowers, pearl trim, sequins, etcetera. I used detailed small crocheted flowers and bright felt flowers to finish off these sweet and simple altered clothes pins.
These clothes pins are being entered into the Simon Says Stamp Monday Challenge
Thanks for stopping by and have a great day! WOOF