Uh, this is about decking the halls…and not your family (teeheehee).  I just love the C.C. Designs "Snarky Christmas" sentiment stamp set.  So many of the sentiments make me laugh. Rather than taking the "decking someone" phrase to mean punching them out (which seemed a little violent to me), I decided to take it more literally as if it meant to not decorate them.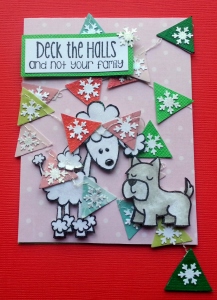 This led me to think about making a card with this sentiment using some doggy stamps (since I consider my dogs family members). 🙂  As the person who is receiving this card loves Lawn Fawn, I knew I had to include a dog from their "Critters in the Dog Park" set.  However, when I added him to the card, he seemed too small.  So I decided to add a larger poodle from the Recollections "Woof Woof" set. In my mind, the Scottie has been a little mischievous and decked out his big sister with this holiday banner. *wink*
Now these dogs are not supposed to represent my dogs (although if the terrier had drop ears, I could have colored him like Bandito). In fact, because I wanted to keep the color story very tight on this card (I only used shades of pink, green, red and white), these dogs stayed white (one a little dirtier with a little Copic W1–LOL).  I fussy cut each of the dogs out twice and layered them up with some foam adhesive to add some interest and dimension. HINT: When doing this kind of layering, I think it is important to take the time to edge the fussy cut images out with black marker so the white edges of the paper don't show. This gives a much more finished look.  I use an SB width Faber-Castell PITT artist pen, but I know some folks even use a black Sharpie.
To create the Christmas banner decor, I used the Dear Lizzy 5th and Frolic Flutterbys.  However, because these ready made pennants were in the typical sorbet colors of that collection, I had to hand cut small triangles in red and green to maintain the Christmas-y feel of the card and the tight color palette.  I also used my Martha Stewart snowflake border punch to punch out some snowflakes that I could adhere to each pennant.  All this took a lot of detail work but the final results seem worth it. I coated each of the snowflakes, the Poodle, and the Scottie dog, with Folk Art Extreme Glitter acrylic paint in hologram to get a very sparkly look (this is much more sparkly than Wink of Stella).  I left the last pennant (which I decorated on both sides) dangling off the bottom edge of the card for a little added whimsy and some movement.
The following is a video share of this card:
This card is also being entered into the following challenge:
Raisin Boat Christmas and Holiday Challenge
Naughty or Nice Festive Furballs Challenge in the naughty category
CARDZ TV Color My Christmas Challenge
The Paper Nest Dolls Anything Goes Challenge