Oh my gosh, I had so much fun making these easy to make healthy dog treats, that both Biscuit and Bandito LOVE!!! I got the recipe (detailed below) from this fabulous book, Eco Dog: Healthy Living for Your Pet
, which also has great recipes for healthy homemade dog food, gentle cleaners and shampoos, doggy sewing craft projects, and so much more!  HINT: This could make a great holiday gift!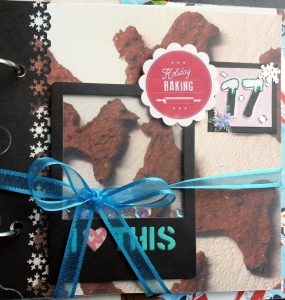 Then to be able to document this in my December Daily was crazy fun! LOL Seriously, I had a blast!  I made a little stencil using a Fiskars paw print punch. Then I mixed some brown acrylic paint with some latex caulk to use with the stencil to make it appear as though there were doughy paw prints up the page. I snapped a picture of the doggy cookie cutters and taped them in using some silver and gold glitter washi tape. I hand wrote in some thoughts I had about making these faux gingerbread dog cookies, and finished off the page using the border punch from the Martha Stewart Crafts Punch Around The Page Aspen Set
 to decorate the hole reinforcement strips.
For the next page, I created my own background patterned paper by printing out a close up of the finished cookies (life size).  Then I decided I wanted to add a traditional shaker (not a sewn acetate one like I've made recently). I printed out the cookies photo again, a bit smaller so it would fit better in the Polaroid frame from the Sizzix Jillibean Soup "I Heart This" Die Set
, and used some scrap acetate (from some left over embellishment packaging), some thin strips of foam adhesive, and some pale pink and teal sequins to create a shaker.  HINT: To avoid having the sequins accidentally stick to the sides of the shaker, brush on a thin coating of baby powder or baking soda along the edges before taking the backing off the foam adhesive and adding the back panel of the shaker.
I taped on some sheer teal ribbon to the sides of the page and tied a bow on the front. With the tails of the bow, I created a kind of net/pocket by taping those to the back of the page too. It's a loose structure, but it works just fine to hold the shaker card in place.
The following is a video share of these pages:
Doggy Treat Recipe:
Preheat oven to 350 degrees
2 jars of organic baby food (a meaty flavor like beef with vegetables was a hit)
1 cup of wheat germ
Mix ingredients in a bowl and lay out on a lined cookie sheet in 1-2″ flattened balls OR use cookie cutters and use a small silicone spatula to lay in the wet dough into fun shapes like these dogs
Bake for 30 mins. Let cool. Treat your dogs to healthy doggy treats!
The caulked doggy paw print page is being entered into the following challenges:
Simon Says Stamp Anything Goes Challenge
The finished doggy cookies page with the shaker is being entered into the following challenges:
Simon Says Stamp Winter Inspiration Challenge (oh that doggy licking his chops is just adorable!)
Challenge Up Your Life Christmas Without Christmas Stamps Challenge #4