My friend, Anny (YT: StargrlAnny), is so kind, thoughtful, a talented colorer and paper crafter. For her 1 year on Youtube challenge, she asked folks to make tags in their own style. I can't claim only one style so I decided to create a tag in a style that I hoped Anny would like. 🙂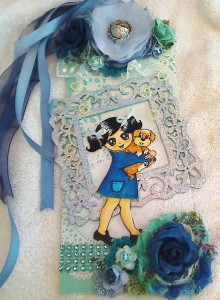 I started with my latest free digi "Darla and Rex" (which is available for 1 month on my digi page — see drop down menu on home page), added a completely glittered up wood veneer frame to add even more of a focus on the girl, and then went to town with all the doilies, flowers, bling, ribbons, lace, pearl hearts, etc.
I used to try to put lace all around tags, but I've found that for me, if I can keep a focal point toward the middle of the tag and cluster flowers (or other embellishments) at the top or bottom and a smaller cluster in the opposite end (and perhaps one side) of the tag, I usually end up with a nicely balanced tag. No matter the style (cutsie, vintage, clean and simple (CAS), or Steampunk), this seems to work for me as a general "sketch" for tags (and even LOs).
The following is a video share of the tag:
Thanks for stopping by, and I hope you're having a great day! WOOF