I love Steampunk, but I don't get to craft in that style nearly as much as I'd like. I also love and naturally craft in the Cutsie and CAS styles (yes, they don't normally go with Steampunk). So I was really happy to get the chance to do a light almost CAS Cutsie Steampunk altered canvas project just for me (also something I don't often do – craft something for myself). 😀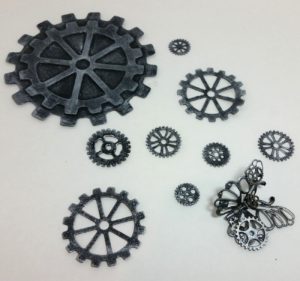 This project was something I crafted as part of the Diemond Dies Spring YouTube Hop (links to the other hop stops are in the description box of my video (see below)), and each design team member is giving away a $10 gift certificate to Diemond Dies so go hop along and get lots of great inspiration!
For this project, I made faux metal gears using recycled cereal boxes, the Diemond Dies Steampunk Gears Die Set and the Steampunk Gears Mini Album Die Set, some DecoArt Media black gesso and fantastic DecoArt Metallic Lustre in Black Shimmer and Silver Spark (I also used these Metallic Lustres to change the bronze metal butterfly to more of a steel-looking Steampunk butterfly; the gears on the wings and key body were glued on with E6000).  My readers can get 10% off and free worldwide shipping at Diemond Dies by using the coupon code: thankskristina on any orders of $35 or more.
Anyway, since the video is a process video of me making the whole project start-to-finish, I'll simply share that the product I used to do the image transfer was Americana Decor Image Transfer Medium and the border texture and ink splotching was made with DecoArt Dimensional Effects through the DecoArt Americana Pixelated stencil and DecoArt Media Shimmer Mister in Turquise.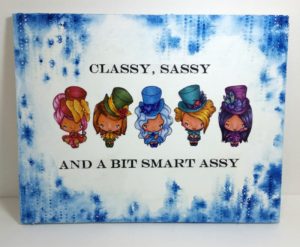 The following are all of the Copic colors I used to color up these adorable Hatters girls from The Greeting Farm:
Pink Haired Girl (a la Niki Minaj – HAHAHA): Skin: E000, 00, 21, 11, 04 and R20; Yellow/Gold: Y32, Y35 and YR 24; Burgandy: R83, 85 and 89; Hair: RV00, 52, 55 and 66
Irish Girl: Skin: E000, 00, 21, 11 and R20; Hair: E97, 99 and 29; Red flowers: R83, 85 and 89; Green: G85, 94 and 99
White/Blue Girl (a la Elsa from Frozen): Skin: E000, 00, 21 and R20; Hair: B60, BV 31 and B21; Medium Blue: B21, 24, 95 and BG45; Dark Blue: B63 66 and 69
Blonde Girl: Skin: E000, 00, 21, 11, 04, and R20; Hair: Y21, Y26, YR24, E25; Grapes: V12 and 09; Strawberry: R83, 85 and 89; Blue plum: B34 and 39; Hat and blouse: BG45, 49 and 78; Grey skirt: C3, 6, and 9
Peacock Feather Girl (a la me {smile}): Skin: E000, 00, 21, 11, and R20; Hair: C6, BV04 and BV08; Hat and outfit: V12, 06 and 09; Ribbon, collar and bow: BV01, 04 and 08; Peacock feathers: G09, YG21, E13, B04 and B69
The following is the process video:
This altered canvas is being entered into the following challenges:
Simon Says Stamp Monday Butterfly Beauty Challenge
Simon Says Stamp Wednesday Make it Girlie Challenge
Fab 'n' Funky Winged Things Challenge
Art Impressions Show Off Your Stamps Challenge
Sandee and Amelie Anything Goes Steampunk/Industrial Challenge – WINNER
Craft Your Passion Anything Goes Challenge
Not Just Cards Anything Goes Challenge
Crafty Gals Corner Cute As A Button Challenge
Crafty Girls Creations Anything Goes Challenge
Seven Hills Crafts April Colour Challenge – (right)