Have I mentioned lately that I have totally fallen in love with C.C. Design's little girl image stamps? Oh yes, in just about every other post. LOL
I used C.C. Design'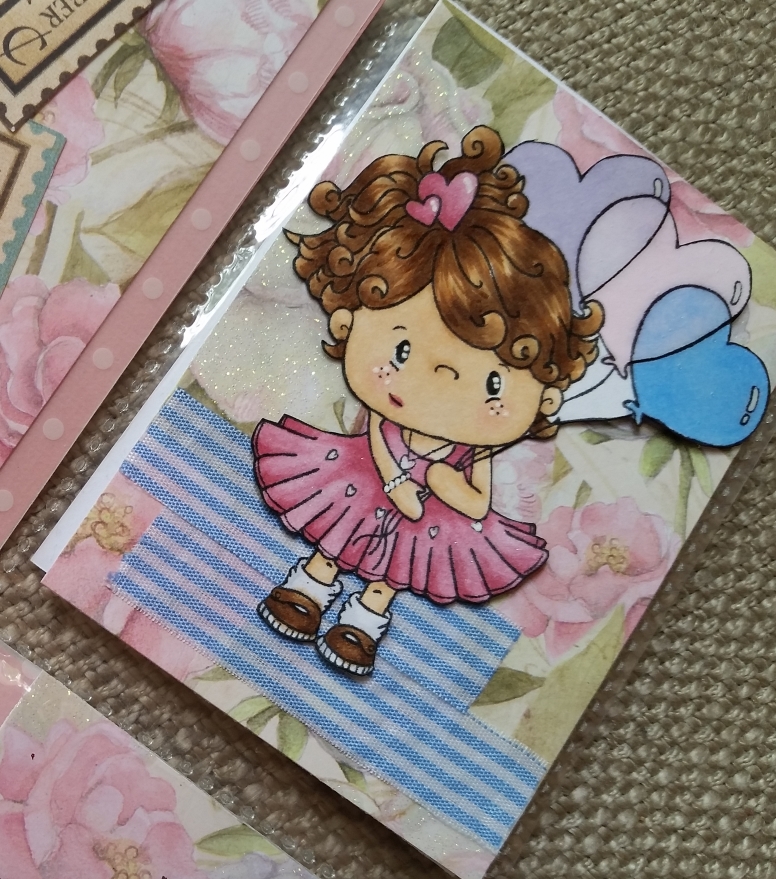 s Rose, Elfie, and the latest, Sweetheart, in three of the pockets in the shabby chic/cutsie pocket letter that I made for a new crafty friend of mine who favors these styles. All of these stamps are from the Not2ShabbyShop, where you can get 10% off your entire order (including sale items) by using the coupon code: CRAFTYPAWS at check out. HOT SALE on all Whimsy stamps from April 22-26, 2015!
For the background paper, I used a beautiful K and Company rose patterned paper with embedded glitter. Along some of the sides, to add a little interest, I added a pink card stock backing and a little polka dot vellum. To tie together the pockets with the stamped images with the whole pocket letter, I used the same blue and white fabric washi tape to create a floor for the little girls to "stand on" as well as along the side binding of the pocket letter.
To fill in the other pockets, I used chipboard gears cut out with the Tim Holtz Bigz Sizzix Gadget Gears die, some pretty Graphic 45 die cuts, five wood veneer birds by Studio Calico, a handmade cupcake embellishment and a pink poodle die cut (representing my s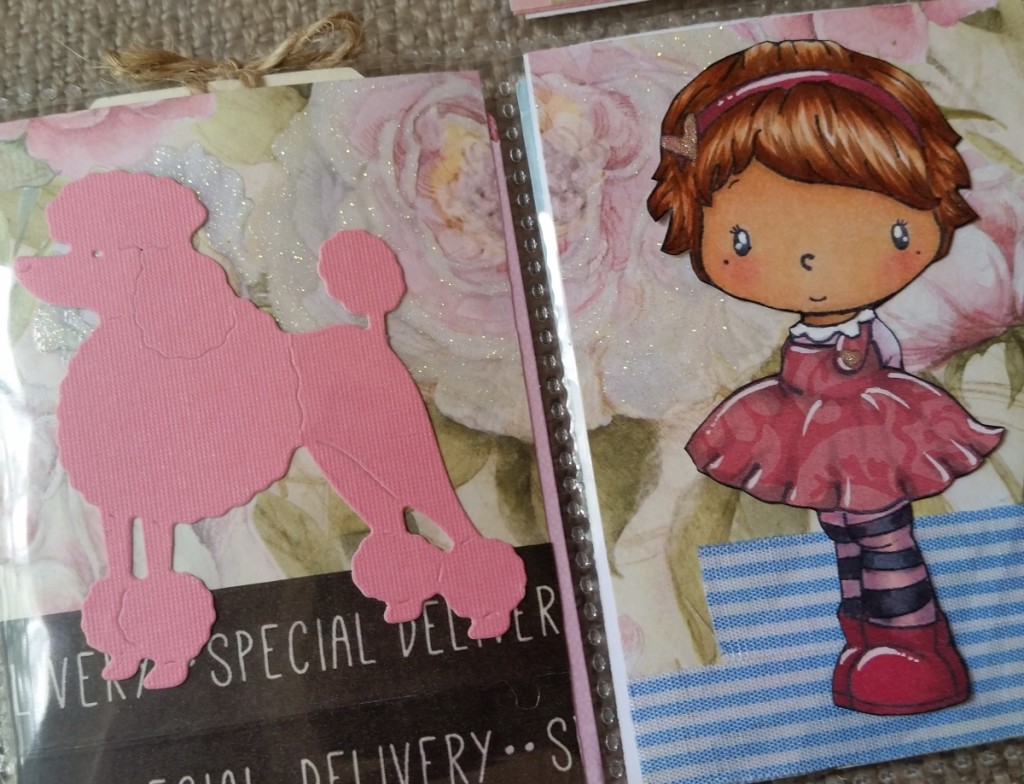 weet Biscuit) standing on some black and white "special delivery" washi for the pocket that holds my letter. The pocket that I think may be the most fun is the shaker with various different sized sequins in pinks, silver and cream, a few iridescent pink embellies by Webster's Pages, and a Bead Gallery word bead. I used my sewing machine to just stitch the pocket closed after filling it up.  I'm keeping the little crafty gifts in the back of each pocket a secret so they can be surprises for my pocket pal. 🙂
For each of the C.C. Designs girl/elf images, I colored them with Copic markers, all with different shades of brown hair (because my pocket pal has brown hair). I also did a little paper piecing, and added Glossy Accents and clear Wink of Stella to add some shimmer and shine. The biggest changes I made were to Rose, by fussy cutting away the bouquet of roses to make her a little more versatile, and the lines I added to the heart balloons held by Sweetheart so that I could have some extra fun coloring them in as if they were more translucent.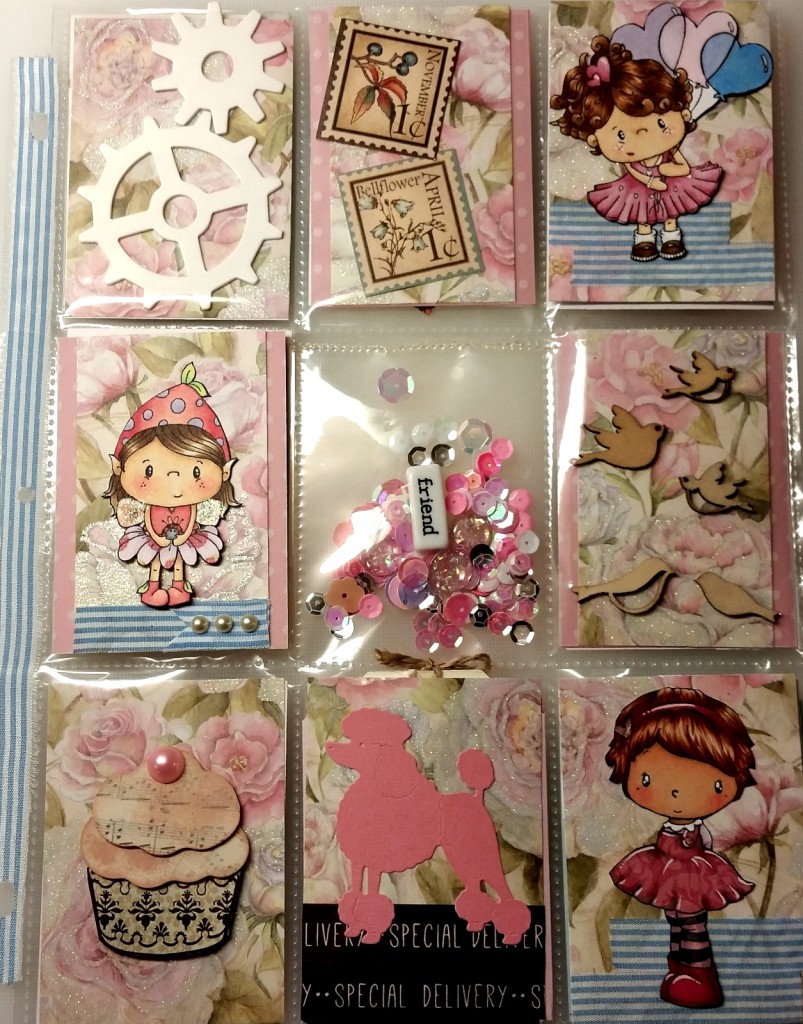 The following are all the Copic colors I used:
All skin: E50, 51, and 53 with R30 and/0r R20 for blush
Sweetheart's dress: R81, 83 and 85
Sweetheart's hair and shoes: E55, 57  and 59
Sweetheart's socks: C1
Sweetheart's balloons: BV000, RV000 and B32, covered over top with a healthy coating of Glossy Accents to add a shine to the balloons
Elfie's hair: E50, 55, and 57
Elfie's hat, top and shoes: R30, 32 and 35
Elfie's purple polka dots on her hat: BV00 and 01
Elfie's wings: R30 and BV00, coated with a soft glitter glue to add extra sparkle magic to her wings
Elfie's leaves on hat and shoes: YG01 and 06
Rose was pre-colored (an image I had previously paper pieced and colored and scanned into my computer) and then colored over top again so the Copic markers I used will not, on their own, result in these colors so I won't list all these colors here.  I will share, however, that using a white Sakura Gelly Roll pen to add highlights really helped bring this image to life.
The following is a video share of this pocket letter project:
This pocket page is being entered into the following challenges:
Addicted to Stamps Anything Goes Challenge
Suzy Bee's Bloomin' Anything Goes with a Die or Punch Challenge
Thanks for stopping by! Hope you're having a wonderful crafty day! WOOF