I just love Saturated Canary images, and this "Little Loves" is absolutely one of my favorites. I made up this card for my friend Sarah in the cutsie style I know she favors. Plus, because I know she is a dog lover like me, I finally went into my hoard vault and used this adorable patterned doggy paper from Studio Calico Here + There Collection
. LOL 🙂
I started by first just adding some layering with some teal colored card stock and then the doggy paper. Then I used the La-La Land Crafts Heart Doily Die
 to cut out some pink card stock and a piece of polka dot vellum to layer under the image.
I used the following Copic colors to color the little girl:
Hair: E55, 57 and 59
Skin: E000, 00, 11 and 13 with R20 blush and BV01 shading
Eyes: BG72 and 75 (I also used a 0.03 point Copic multiliner to clarify the lines of the eyes and add some more eyelashes to glam her up a bit)
Butterfly: R20
Lips: R85 and 89
Shading on paper pieced dress (which I cut from the same doggy paper): W1 and 3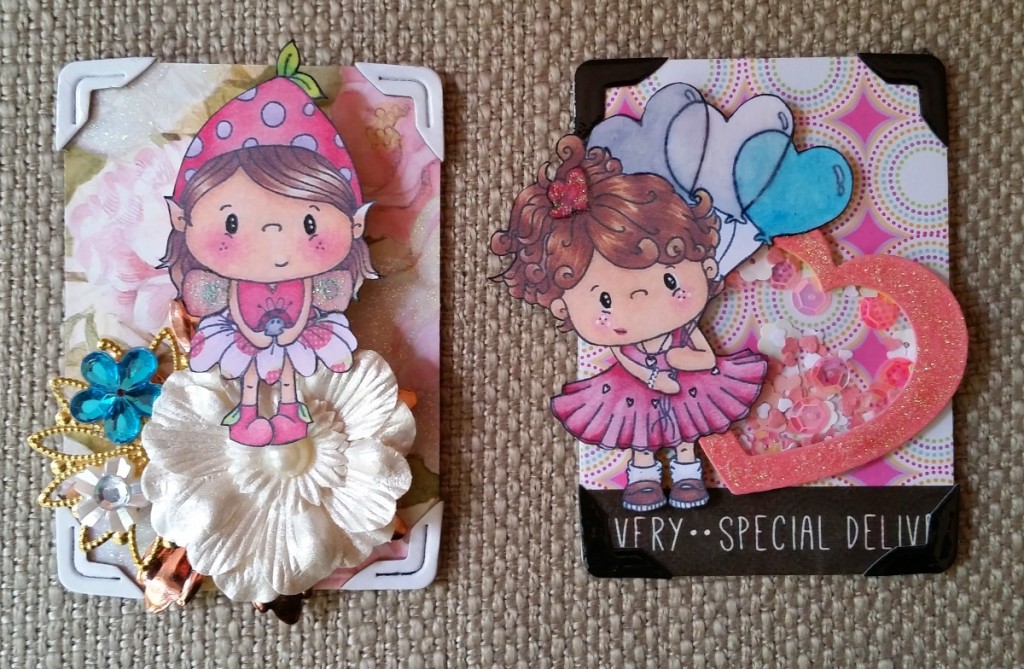 For the sentiment, I used the word dies "hello" and "love" from the Diemond Dies Word Die Set #1, which I cut out three times each and glued together to give some more dimension to the words. To finish off the front I used some sheer teal ribbon, used my Craft-Dee BowZ to tie a triple loop bow, and added some pink and white roses and a little pink and green leaf.
I also made two ATCs for Sarah's daughters Emma (10) and Libby (4).  They, like their mom also like teal and pink and are very girlie girls. 😀 The C.C. Designs Elfie standing on a bed of dimensional bling, paper and metal flowers is for Libby, and the C.C. Designs Sweetheart ATC with the heart shaker, which I made using the Diemond Dies Nesting Heart Die Set, is for Emma.
To add shimmer, shine and sparkle to all three images, I used glitter glue on Elfie's wings and the heart shaker; clear Wink of Stella on Little Love's butterfly and lips; and Glossy Accents on Little Love's eyes and Sweetheart's balloons.  YAY for shimmer, shine and sparkle!
The following is a video share of these projects:
This cutsie card is being entered into the following challenges:
MarkerPOP Flowers Challenge
Craft-Dee BowZ Anything Goes with a Handmade Bow Challenge
The Pink Elephant Anything Goes Challenge
Thanks for stopping by and I hope you have a wonderful crafty day! WOOF