My type A personality sometimes is helpful, even in crafting. Yes, we usually think of the free spirits as the most creative folks, and that may be true. However, I do take pride in my super regimented way of upcycling, recycling, and using up scraps. LOL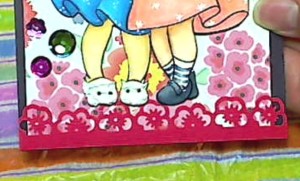 I wanted to make a cute pocket tag for a crafty friend (YT: Charlotte Miller) who has two little girls. When I saw this super cute pair of girls as a freebie digi stamp from Little Blue Button Stamps, I knew it would be perfect for what I had in mind.  I colored them up using my Copic markers (I have 26 and am pining for more but am waiting patiently for a sale), making them blondes (like Charlotte) but making sure to use different shades for skin and hair so that they looked like individuals. Does that make any sense? I used my Martha Stewart pansy edge punch to make a cute border on the top and bottom of the tag (this also gave the girls something to "stand" on).  I also played with a new-to-me material called Liquid Applique (which you squeeze out and then heat up with a heat tool to puff up). What fun it was to be able to make the little kitty slippers one of the girls is wearing dimensional and puffy!
I used a portion of a rich eggplant colored box as the tag base, used beautiful scraps that were left overs from a shipping box that had been decorated with Dear Lizzy Lucky Charm floral patterned paper, little scraps of orange and red card stock from my scrap box (yes, I only keep one and it is 1.5″ x 10″ x 13″), and even some chenille ribbon that I re-used from lovely packaging that I received in a happy mail. Of course there were new satin ribbons and some fun bright sequins too, but the vast majority of this project was made from bits and bobs. I love that!
If you are feeling up for a new crafty challenge, you might consider trying to make a project with only 3 new things (I didn't count adhesives in that number). I certainly had fun trying it. 🙂
This is also entered into the Simon Says Stamp Work it Wednesday.
The following is a process video in which I assemble this tag:
Thanks for stopping by! Hope you are having a great day.  WOOF