I was so excited to be one of the lucky winners of the Lawn Fawn New Release Sneak Peek Giveaways.  I chose the adorable newly released "Mom + Me" stamp and coordinating die set for my prize, and I have to say that I think this is my new favorite non-doggy stamp set (you knew I had to qualify that sentence to be non-doggy, right?!).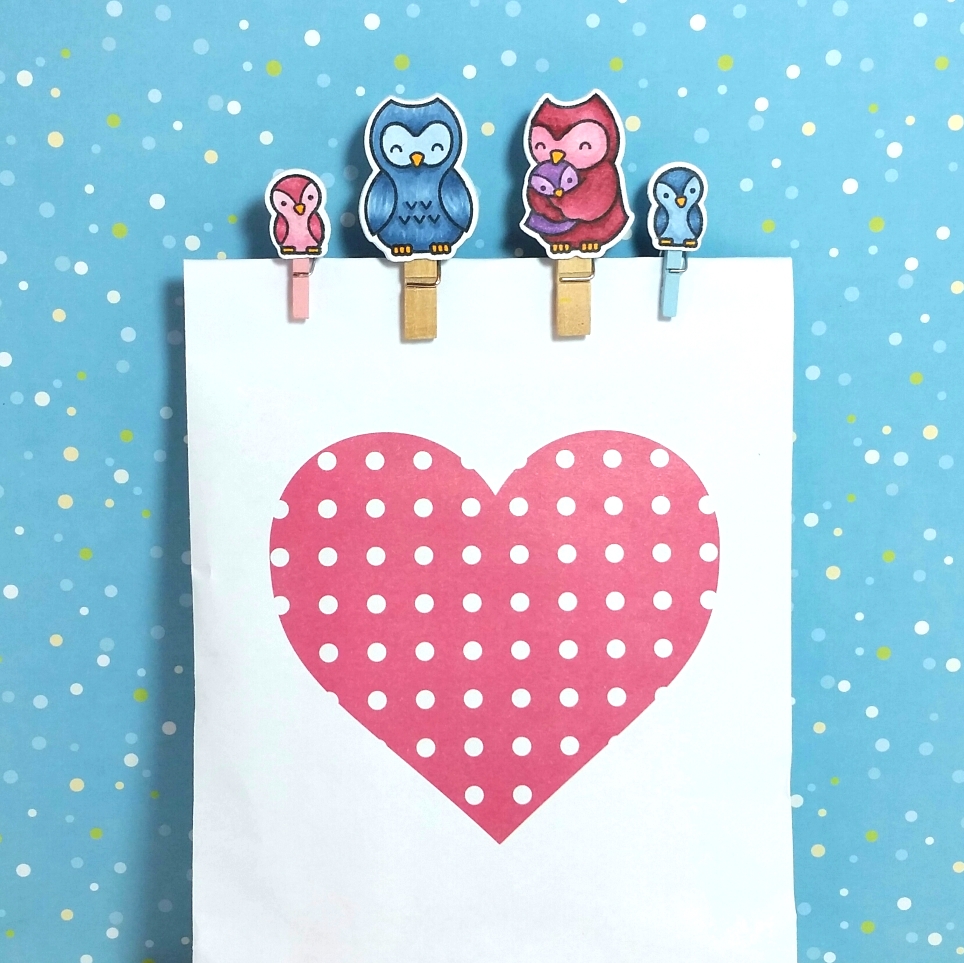 I decided to stamp and color up the owls first (the foxes will have to wait for a later project).  I colored up three sets of owl families with the following Copic colors:
Pink and Blue make Purple Family – R81, 83, 85, 89; B91, 93, 95, 97; V12, 15, 17
Brown and Blue Family – Dad: E11, 21, 23, 25, 29 with hint of B91 in face; Mom: E21, 11, 97, 99 with hint of B91 in face; Kids: B91, 93, 95, 97 with hint of E21 in faces and bellies
Traditional Colored Family – Dad and Mom are colored the same as in Brown and Blue Family except without the hints of B91 in the faces; Kids: Y11, Y23, YR24 and E33
All the beaks and feet were colored with Y15 and Y38.
Then with the magic of the coordinating dies, I was able to quickly cut out each set and back them with more die cut card stock scraps to make them thicker and more sturdy. I made a couple families into altered paper clips (great for planners, packaging up little treat bags, etc.), using E 6000 glue and art glitter glue to sandwich the paper clips with the colored owls on one side and the extra die cut backings on the other.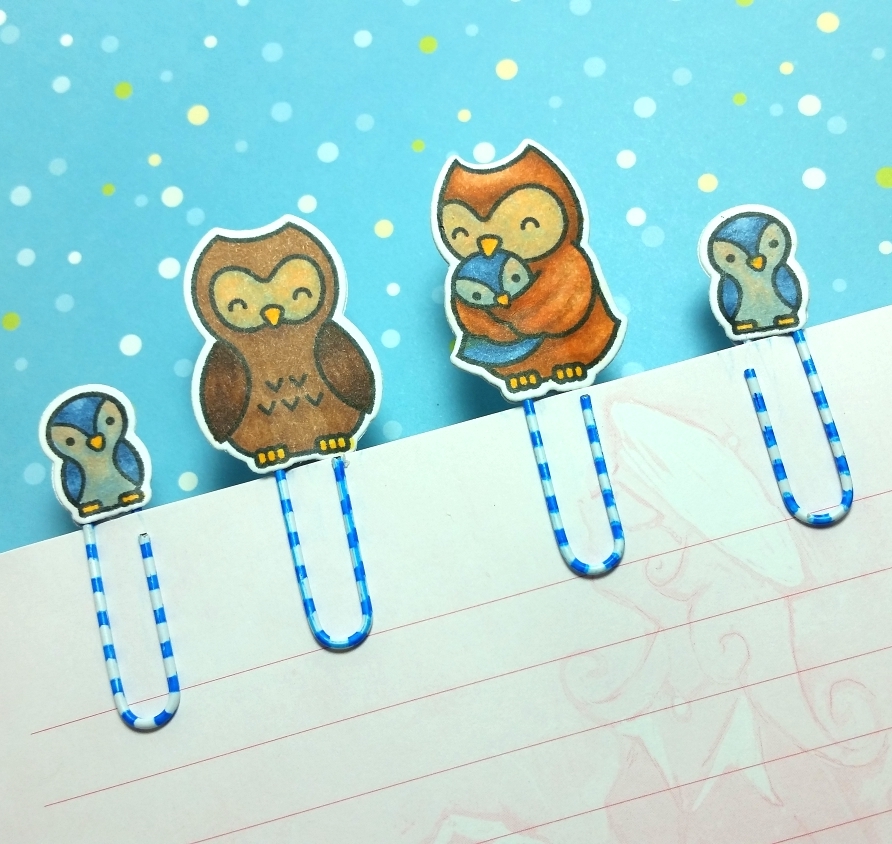 For the fun pink and blue make purple owl family, I attached them to small clothes pins. The larger clothes pins were the perfect size for the mom and dad and the tiny pink and blue ones (from a Recollections set of mini clothes pins that I picked up using a 50% off coupon a couple years ago when they were all the rage) made cute little bases for the pink and blue kiddie owls.
I have to say that I don't often buy the coordinating die sets for stamps because I don't mind fussy cutting and dies can be so expensive.  However, these projects really showed me how they can be a huge time saver.   Plus, when trying to make altered item projects like these that require finished pieces to be thicker and stronger, they seem absolutely essential for layering and gluing exact cut outs together. I know these projects would have taken much longer and not been as precise without the matching dies.
The following is a video share of these altered paper clips and clothes pins:
These altered paper clips and clothes pins are being entered into the following challenges:
MarkerPOP Anything Goes Challenge
Simon Says Stamp Wednesday Anything Goes Challenge
Simon Says Stamp Work It Wednesday Something New Challenge
Through the Craft Room Door Anything Goes Challenge
Not Just Cards Anything Goes Challenge
Crafty Gals Corner Anything Goes Challenge
Crafty Girls Creations Anything Goes Challenge
613 Avenue Create Anything Goes Challenge