Today I've made a card for a dear friend who is contemplating shuttering his start-up. It has been his baby, and a lot of dreams and hopes are being dashed as he makes this decision, but I think he is right to close this chapter and move on to the next. I made this card for him not only to let him know that he is in my thoughts, but to remind him of the quote, "Success is not final. Failure is not fatal. It is the courage to continue that counts."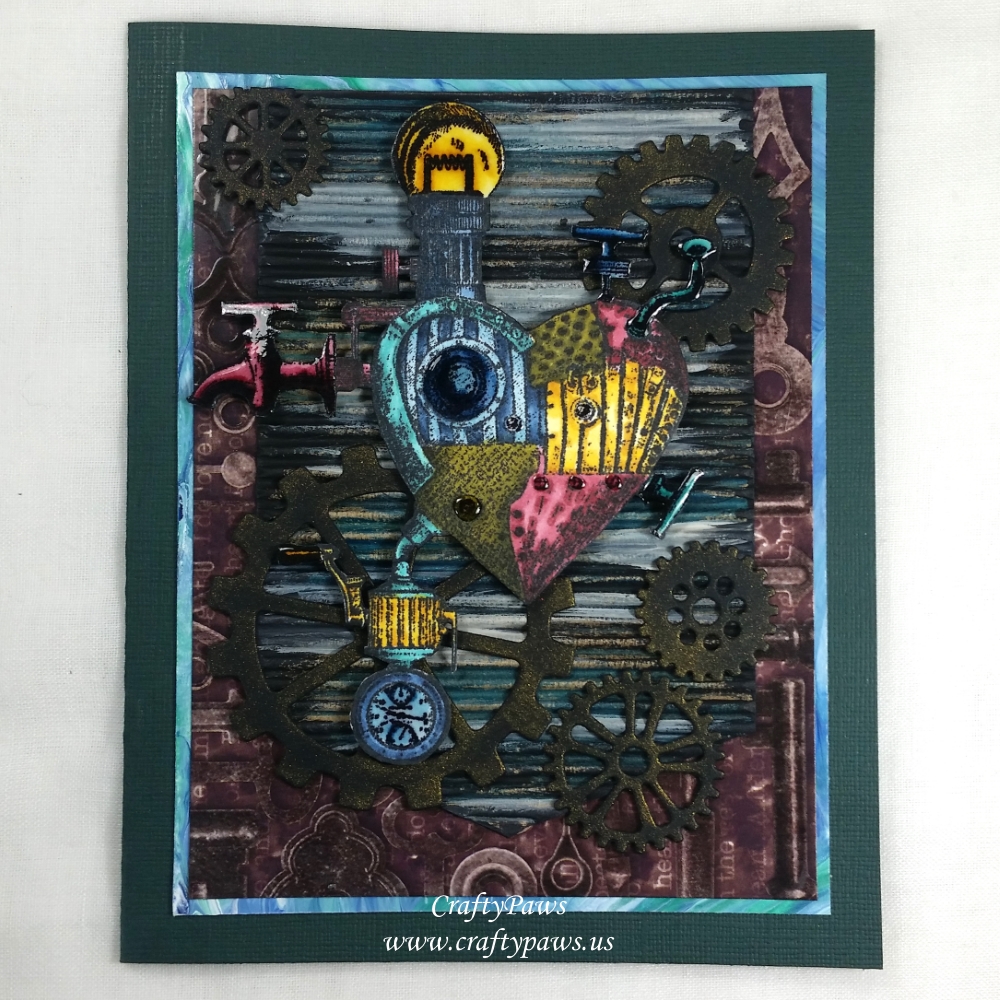 I created this Industrial Steampunk style card inspired by the striking Carabelle-Studio "The heart has its reasons" stamp set. I Copic colored it in the following rich secondary tones: Khaki: YG95, YT97, YG99; Golden Yellow: Y00, Y15, YR24; Teal: BG13, BG15, BG18; Burgundy: R83, R85, R89; Blues: B52, B93, B95, B97 and B99. Next I painstakingly fussy cut it out and carefully backed each part of the detailed image up on fun foam for added dimension. I also coated some parts of the image with Ranger Glossy Accents to give it some shine and interest.
For the card front, I really wanted to create a layered and textured grungy background. I rummaged through my paper scrap box and found some thick watercolor paper that I had long-ago painted with DecoArt fluid acrylics in Titanium White, Phthalo Blue, Cobalt Teal Blue, and Cerulean Blue. Just a bit of that peeks around the next layer up, which is a glossy and slightly textured patterned paper of keys and clock work hands that has been in my scrap box for years! I also found a bit of corrugated kraft card stock that I cut into a banner shape and then loosely painted with streaks using a DecoArt Media turquoise shimmer mister, dry brushed black acrylic paint and added light swaths of Martha Stewart Multi-Surface Satin Putty acrylic paint. I love the way the liquid mediums highlight the texture of the corrugated card stock and give this banner layer the look of something that has gotten painted numerous times over many years.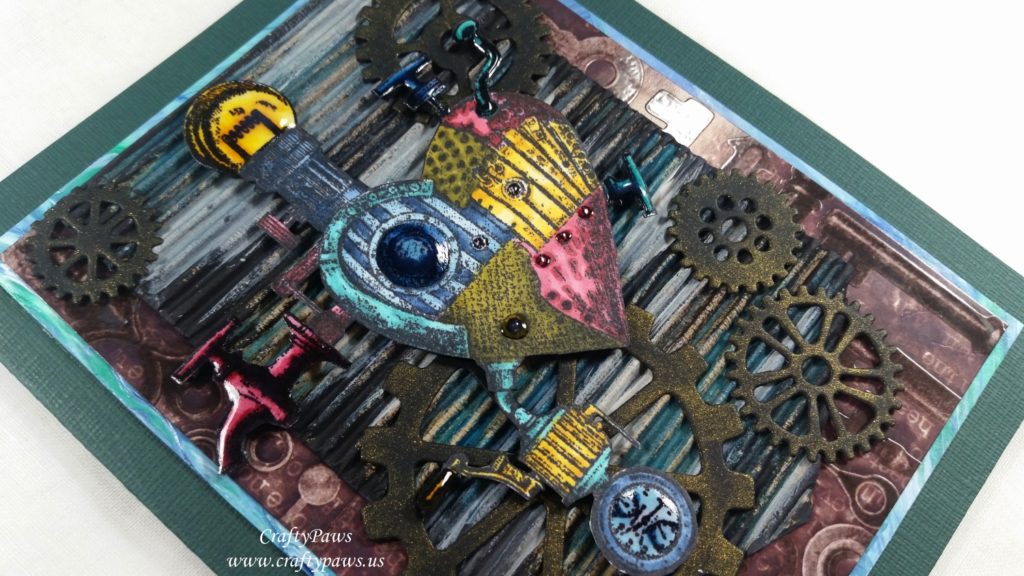 For some Steampunk accents, I die cut 5 gears from 100 lb black card stock using some Diemond Dies Steampunk Gears Dies. To give them a metallic shimmer, I blended on some Delicata Golden Glitz Pigment Ink to the die cut gears. I positioned them around and behind the top focal point image layer, which was the beautiful Steampunk heart image. The whole assembly was mounted on a dark forest green cardstock card base. My readers can get 10% off and free worldwide shipping on all orders of $35 or more at Diemond Dies by using the coupon code: thankskristina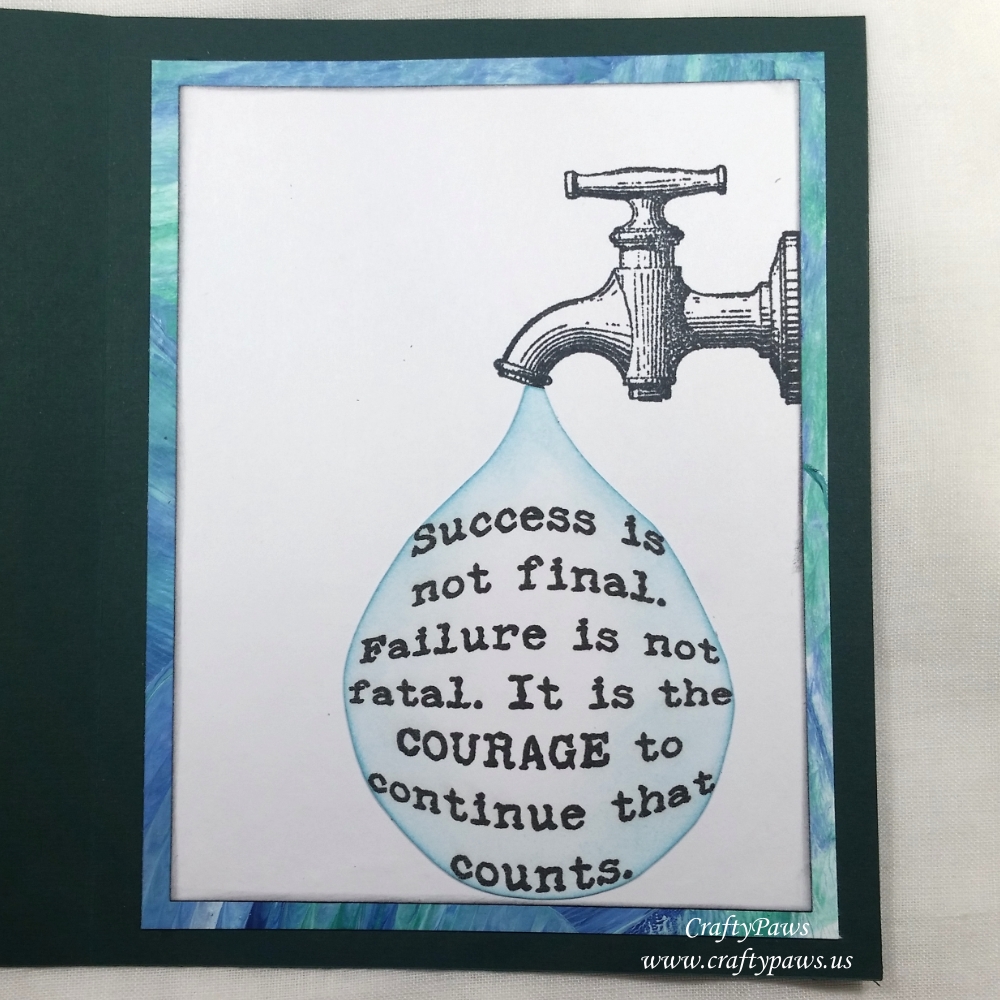 For the inside card liner, I simply stamped out the faucet from the Carabelle Studio "The heart has its reasons" stamp set on the upper right side. I matted it on more of the watercolor paper with the blue and green fluid acrylic paint to echo the matting on the card front.
Then I used Microsoft Word to shape the quote into a droplet shape. I inserted a circle shape that I made white with a white outline. Then I right clicked to insert text. I used a free distressed typewriter font to type in the quote in black. Then I used the "format" tab and clicked the "text effects" choice button which opened a drop down menu that had the "transform" choice as the last option. I clicked on the various options to shape the text into a rounded circle shape that I hoped I could cut into the form of a big drop of water. I printed out the quote and hand fussy cut it out into the droplet shape. Lastly, to add a bit of color and set the shaped sentiment apart from the white liner sheet, I blended on some Tim Holtz Distress Ink in Tumbled Glass.
Disclosure: Many of the supplies I've used for today's project are linked. Some may be affiliate links, which means if you make a purchase I receive a small commission at no extra cost to you. I truly appreciate your support toward the costs of running this blog!
The following is a video share along with a Copic coloring process video: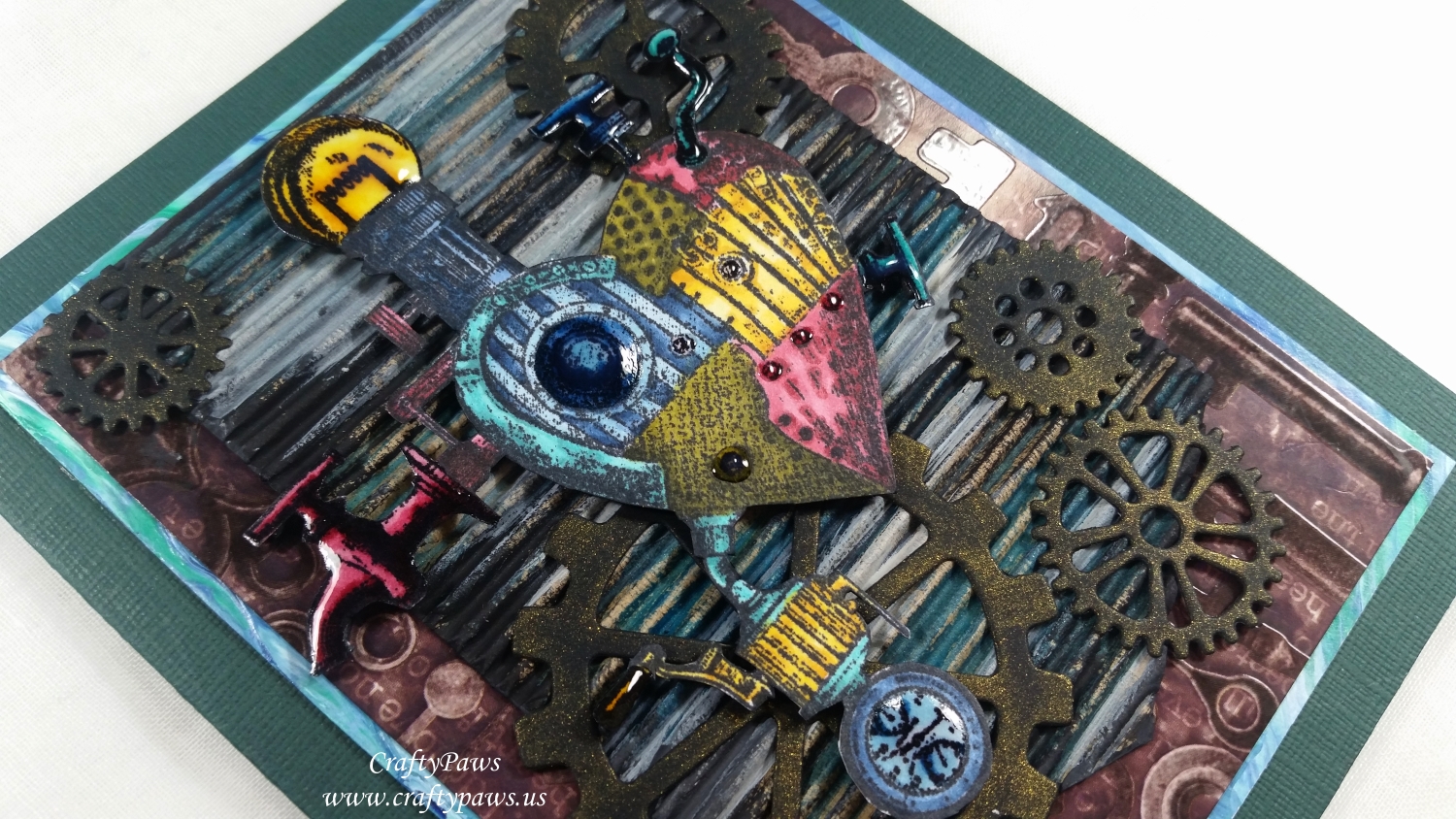 This Steampunk Industrial card is being entered into the following challenges:
CropStop April Linky Party Challenge #38
Simon Says Stamp Wednesday Anything Goes Challenge
Word Art Wednesday Anything Goes Challenge
Creatalicious Anything Goes with Optional Dies or Punches Challenge
Lil Patch of Crafty Friends Anything Goes Challenge
Crafty Gals Corner Anything Goes Challenge
613 Avenue Create Anything Goes Challenge with Optional Use Vellum
Through the Craft Room Door Anything Goes Challenge
SanDee & Amelia's Anything Goes Steampunk Industrial Challenge
MFT Sketch Challenge #382