After coloring up foxes a couple days ago, I was in the mood to continue coloring so I decided to practice coloring human hair. LOL
A crafty friend, Marla (YT: Marla H), who loves coffee, has a challenge going on to celebrate 1000 subbies so I knew I wanted to color up a couple of Stamping Bella teacup girls for her. I had "Tilly the Teacup Girl" and "Chloe the Coffee Mug Girl" to play with.  I also wanted to try coloring some braided hair so I picked a free Sureya digital image called "Pockets" to be the focal point for my card.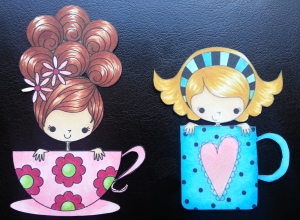 Tilly has a fun stylized bouffant, and I wanted to make her a redhead, channeling Lucille Ball.  I tried to follow the curves of the waives and curls in my strokes and tried to keep a light hand using Copics E97, 19 and 39.  Chloe only had a really simple outline for hair so I had to create where I thought highlights and shadows might be.  I decided to make her a blonde because for some reason she reminded me of Reese Witherspoon from Legally Blonde.  For the golden blonde hair, I used Copics Y32, Y35 and YR24. Finally for Pockets, I wanted the little girl to look a little like a cross between me and Judy Garland in the Wizard of Oz so I made her a brunette using E59, 74 and 79.  Although I had a bit of a glopping accident with my E79, I think I was able to still keep the darkest shadows where I wanted them to be–in the center of the braids and roots of her hair.  For all their skin, I used E50, 51, 53 and R30 or R11 for blush.  The teacup, mug, and dress colors were picked just keeping in mind colors that my friend Marla likes.
The index card I made representing me was made with lots of scraps of torn patterned paper layered one over the other. I inked the edges of each piece with Tim Holtz peacock feathers and black soot.  I added a little poodle from the Penny Black "Mimi in Paris" stamp set to represent my little Biscuit and a little image that looked a tiny bit like my Bandito from a business card of a local artist who makes doggy earrings from metal.   The upcycling totally represents me, and, of course, I had to include representations of my pups. 🙂  The bubbletop sticker house letters were from Sticker Studio's "alpha pet" and the dog bone dome stickers were from Daisy Hill.
The following is a video share of the coloring and the little index card I made:
The card is being entered into the following challenges:
The Simon Says Stamp Wednesday Anything Goes Challenge
Challenge Up Your Life Anything Goes Challenge
The Aviary Paper Wings Productions Anything Goes November Challenge
Thanks for stopping by and have a great day! WOOF